Angela Lambert is running a marathon for Alzheimer's Society in memory of her Grandma
From the April/May 2016 issue of our magazine, asupporter in Lincolnshire is running this year's London Marathon for Alzheimer's Society in memory of her grandmother.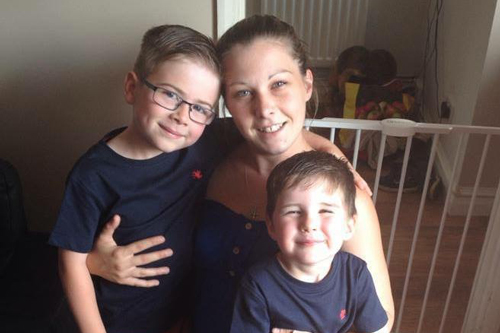 Angela with her sons Jake and Oliver
As a little girl, Angela Lambert remembers watching the London Marathon on TV and admiring the thousands of runners taking part.
She says,
'I used to say to Grandma that one day I would change the world! She said no matter what you want to do, just go and do it.'
Years later her grandmother was diagnosed with Alzheimer's disease, passing away almost four years ago after what Angela describes as some very dark times.
Angela, now 30, is helping to raise awareness in her memory by running the London Marathon on 24 April for Alzheimer's Society.
'I want to help stop this happening to other people. Why should someone's life be robbed like that?'
Huge impact
Angela, near Grantham in Lincolnshire, was always close to her grandmother. Her diagnosis had a huge impact on the whole family.
She says,
'Grandma was my absolute world, a massive part of my childhood.'
Angela lived nearby and visited daily with her then newborn son Jake, now eight.
'I'd walk in and she'd have no idea who I was, but as soon as I put my son into her arms she'd go straight into being a mum.'
Angela got information and support from the Society, and did a lot of research into ways to cope with the condition.
Find out more about fundraising events to challenge yourself while raising money for Alzheimer's Society.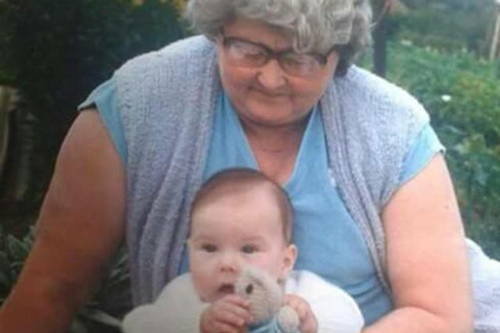 Angela as a baby with her grandmother
Ecstatic
Angela has always kept fit, but her announcement – while driving their two children to the local pool – that she would run the marathon was still a shock for her husband.
Ecstatic when she secured a place in the ballot, she says,
'The first thing I did was ring Alzheimer's Society.'
The training has been physically and mentally draining, particularly through the harsh winter weather.
'I have been through an absolute rollercoaster of emotions. It's hard to think that Grandma's not going to see me cross the finish line and know that I've done it.'
Ready for it
With so much attached to her taking part, Angela says it can feel overwhelming.
'I have to refocus, remember why I'm doing it.
'I'm really hitting the miles now and can picture myself at the start line, with all the people there, wearing my Alzheimer's Society vest. I feel ready for it.
'Since I've been talking to people about doing the marathon, it's amazing how many have also been affected by dementia. It's important for people to speak about it – you're not alone.'