Enjoyable exercise classes with Oomph! for people with dementia and carers
Oomph! has been working with Alzheimer's Society to provide enjoyable exercise classes for people with dementia. Sal McKeown experiences a session and witnesses its benefits.
It may be a gloomy winter's afternoon in Droitwich Spa, Worcestershire but I am singing Delilah at the top of my voice, swaying in time with the music and making big conducting movements in the air.
As I look around, everyone is entering into the spirit of the song and when we get to the line, 'She stood there laughing,' we manage an impressive cackle.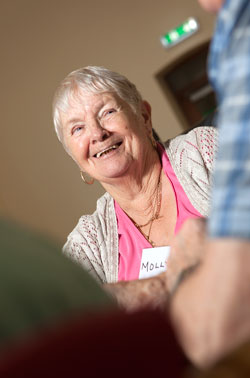 It is all part of Oomph!, a fun, chair-based exercise class for older people to maintain and improve physical mobility, alertness and social skills.
Feeling good
Oomph! – which stands for 'Our organisation makes people happy!' – usually trains care home staff, but recently they've been training Alzheimer's Society staff to deliver classes in the community.
Ideally participants do sessions three times a week, and the benefits include better co-ordination, fewer falls and less chance of broken bones.
Sam Arnold, the Society's Day Support Manager in Droitwich, says Oomph! generates a party atmosphere.
'People don't realise they are exercising and they go away feeling good about themselves. There are benefits for spatial awareness and self-esteem, and I think it would work well in lots of different settings.'
Warming up
Sam and Janet Chance, Day Support Worker, don distinctive Oomph! blue T-shirts to run a session.
Singing along to an upbeat version of Over the rainbow, the group tackles the warm-up – 'Roll your shoulders back, roll them forward. Raise your knees, come on, just a little bit more!'
Janet, who has a great voice, launches into a gutsy Shake, rattle and roll. It's rhythmic, it's fun and as everyone claps, sings along and follows simple routines they are using different parts of the brain as well as their bodies.
Instead of struggling for words or trying to make sense of the world, people are engaged and enjoying themselves.
Excited and stimulated
Bruce is restless. He wants to stand up for Raindrops keep falling on my head, and Janet stands with him.
As Sam gets them toe-tapping and moving their legs from side to side, he asks,
'Can anybody whistle?

'Anybody been to Greece lately? Did you do that thing where you smash the plates?'
Soon we are all doing a sitting down version of Zorba the Greek, slapping thighs, clapping hands and then adding a bit of hand-jiving with finger twirls, building up to a sequence of four movements.
When we stop Janet asks if anybody wants a drink of water, though Michael asks if there's anything stronger on offer.
Bruce appoints himself monitor to hand out pompoms, suggesting which colours people might prefer, and June is mesmerised by their swish and colour.
Louis Armstrong is singing We have all the time in the world, and pompoms have given way to an Octaband, a wide fabric circle with 'arms' for people to hold on to. Sam throws a large balloon into the middle and everyone works together to anticipate its movement and stop it going out of the circle.
Bruce gets a bit vigorous and heads the balloon instead. Despite a cooling down period, everyone is quite excited and looking far more stimulated than when I arrived.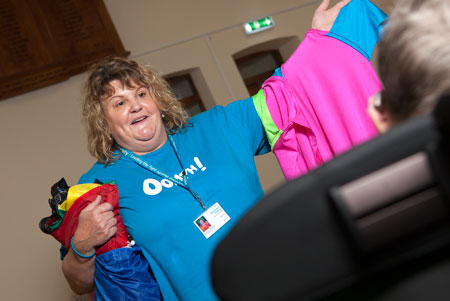 Getting life back
Over a cup of tea I get a chance to quiz the regulars. Jeff, a former college lecturer, says,
'It seemed weird to start with but it's quite a pleasure, I'm not really a sports person.

'We've all got dementia in one form or another and it's nice to be among people with similar problems. You feel like you've lost your life but coming here you get some of it back.'
Michael played football and rugby as a child and says,
'I'm not sure it makes me move any quicker but I'm using muscles and it's a social event which has to be a good thing.'
Joe feels it's had a good effect on him,
'I've done a lot more walking since I've been coming here.'
His wife Molly agrees,
'We went to Blackpool last week and I could hardly keep up with him.'
Janet attends with her husband Stan, who has also had a stroke and uses a wheelchair. She says,
'Carers also benefit because we have something to talk about afterwards. It's a great mood lifter.'
As I watch everyone smiling, chatting and feeding biscuits to Jeff's poodle at the session's end, I have to agree.
Next steps
Look for local opportunities to volunteer with us.
Find out more about Oomph!