A dementia support worker hopes an ITV storyline can help to tackle stigma
Becci Dobbs, Dementia Support Worker in Wakefield, talks about the input we've had into a dementia storyline on ITV's Emmerdale.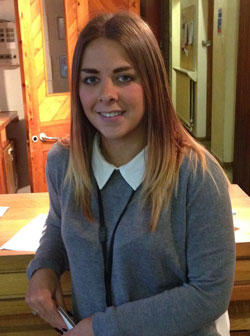 I've been a Dementia Support Worker for two years now, having previously worked in a dementia unit with people in the late stages of the condition.
My experience has made me very aware of the huge impact dementia has on families, so I was delighted to be asked to use my knowledge on the set of Emmerdale.
Alzheimer's Society has been advising on scripts featuring the character of local vicar, Ashley Thomas, who is diagnosed with vascular dementia. I spoke to the director as well as the actor, John Middleton, about their expectations for a particular scene where Ashley is concerned about his health.
John was fantastic on set and had already done a lot of research into the role, including visiting one of our services. I was able to give examples of real-life experiences to help him be more person-focused with his character, demonstrating how each journey is unique to the individual.
It's great that the writers chose to tackle vascular dementia, the second most common form of dementia in the UK, which affects around 150,000 people.
Everyone working on the storyline has been hugely receptive to our guidance and it's been exciting to work on such a high profile show.
Many people still face a huge amount of stigma and misunderstanding, which programmes like Emmerdale can help to address. I hope the show's audience will be able to identify with Ashley's journey.