'Lift the lid' on sex and intimacy in care homes: workshop in a box
An innovation project about sex and intimacy in care homes led by Alzheimer's Society. It shows that people with more advanced dementia can still share their experiences, through innovation and empathy.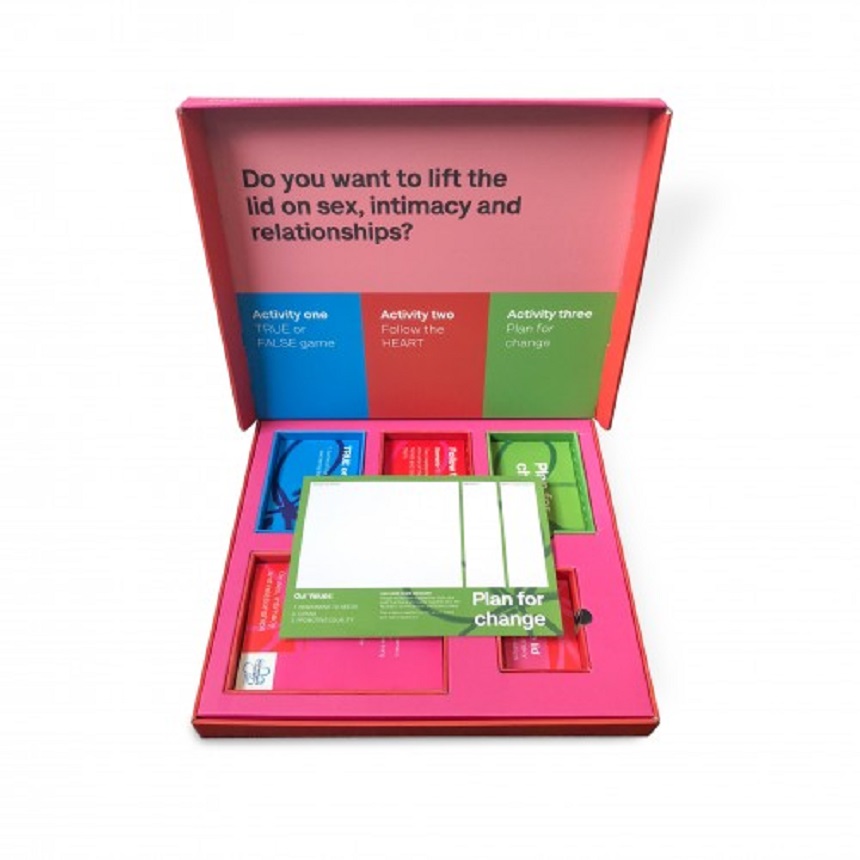 ​
The Purpose
70% of people in care homes are living with dementia.
Traditionally going into a care home is about focussing on an individual and their care needs. In doing so, other personal, less visible, needs, including sex and intimacy (such as holding hands, having a cuddle, sharing a bed), may become unmet. 
The purpose of this project was to understand the experiences of people with dementia, carers and staff, in relation to sex and intimacy, to identify potential solutions and develop one of those solutions as fast as possible. 
Preparation
Alzheimer's Society's Innovation Team decided to work with Good Innovation using a 'sprint' (or fast) approach to bring about change. They decided to apply the 'LIFE' model to learn about the issues, identify, test and co-develop a solution.

​
Over nine weeks, the team learned about how to better support care homes with residents living with dementia on the subject of sex and intimacy, then developed a solution.
What happened
Learn stage: desktop research found a mistaken belief that older people don't have sex and feelings of disgust that older people would have sex.
The team found that these feelings often changed when people imagine themselves being the older people and living in a care home.

The team found that there were issues to do with fluctuating consent and risk, and to do with aspects of provision - such as the tradition of providing single beds. People from sexual minority groups might be invisible. 

The team spoke to 20 experts including the research team from OPUS (Older People's Understanding of Sexuality), and others working in health and social care to make sure they would be asking the right questions during the investigate stage.
Investigate stage:  the team engaged with six care homes and spoke to 11 residents living with dementia and their families, and 37 care home staff and care home managers.
The team grouped the feedback into themes by similar viewpoints. From these grouping the team made anonymous 'personas' representing the groups of viewpoints. These helped them to discuss very personal things in safe ways. They were useful for testing potential solutions.

Examples of feedback from people affected by dementia as used in the personas

'I still have needs. I don't have a man, so there is no one to cuddle or kiss.' (from the persona of a person with dementia)

'I love my wife dearly, I would like intimacy to continue, holding hands, a kiss on the cheek, having a cuddle lying on the bed together, these things have always been important to us.' (from a partner's persona)

'I could never see my mother in a relationship with anyone other than my dad. I think this is down to the dementia.' (from a family member's persona)

Feedback from care home staff included

'I know my residents with dementia often lack closeness and companionship.' 

'I never really thought of my residents' sex and intimacy needs before.'

'When it comes to sex and intimacy and residents with dementia I worry what I'll see, how I'll feel and what I do.'

'there isn't clear and consistent guidance on how to navigate the area of sex and intimacy.'

'I know very little about my residents with dementia when it comes to sex and intimacy...I don't know how to broach the subject.'
Find stage: the team identified ideas and prioritised which ones to explore in more detail.
The team held a creative workshop for a large group of professional experts on the subjects of care homes, sex, intimacy and dementia. The workshop participants came up with over 70 ideas for solutions.  The team then identified a top five ideas to consider further.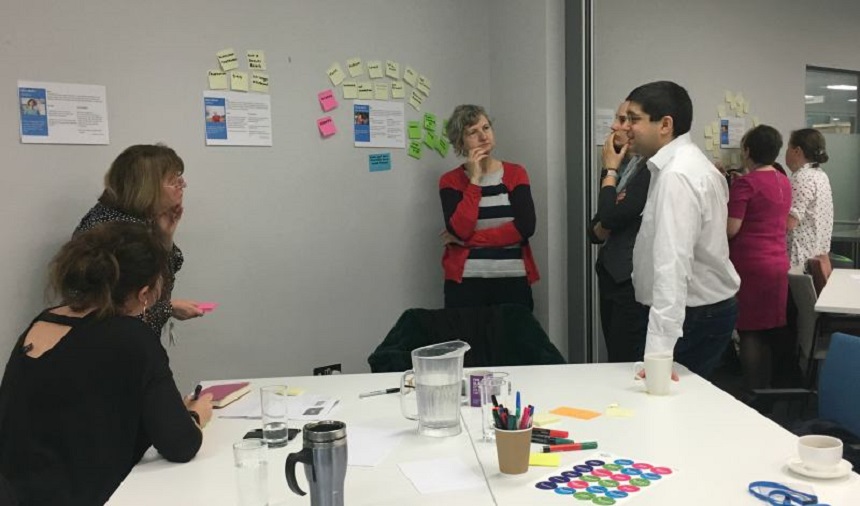 ​
The team shared  their top 5 ideas for solutions in an ideas gallery in Alzheimer's Society's head office. The team asked staff and volunteers to vote on their favourite idea and to provide feedback. This narrowed down the potential solutions for development to two ideas. 
The team took the two ideas from to a 'Dragons' Den' style pitch. The top two ideas were:
Follow your heart - a tool to help staff follow best practice when they come across situations involving sex or intimacy.
Lifting the lid on intimacy and sex in care homes, a workshop in a box - a pack for care homes with everything they need to run their own session to help them embed and create a new internal culture around sex and intimacy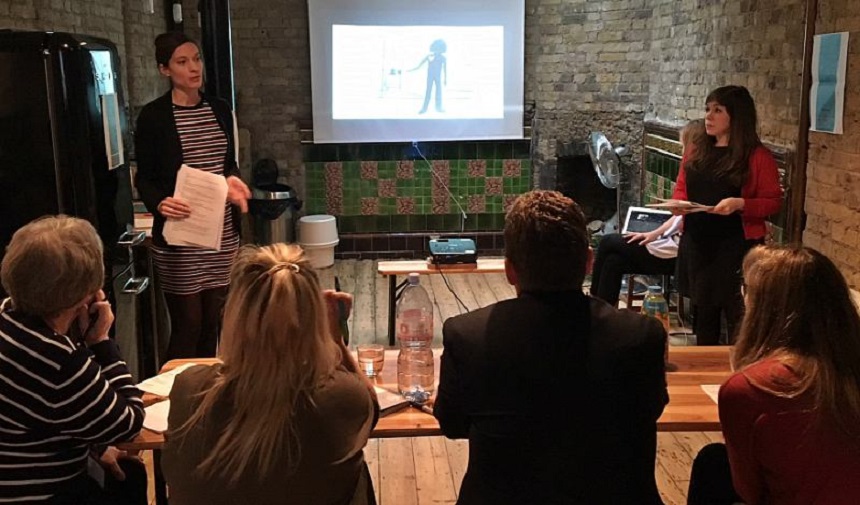 Experiment stage: the team tested a prototype of 'Lift the Lid... on Sex and Intimacy' in 10 care homes across the country. 
Care homes that took part said they were intrigued and excited to be involved in testing the prototype. 

All workshop shared their views before after doing the workshop activity.

The team made face to face visits to all care homes involved to discuss their reflections. This feedback informed improvements in content and design for the final product. Examples of feedback from care home staff who took part:

'It helps you to be open, honest, brings your team together. It is quite an intimate subject, but in a safe environment and with the tools of Lift the Lid it means even the quietest of members were engaging. Everyone got something out of it'.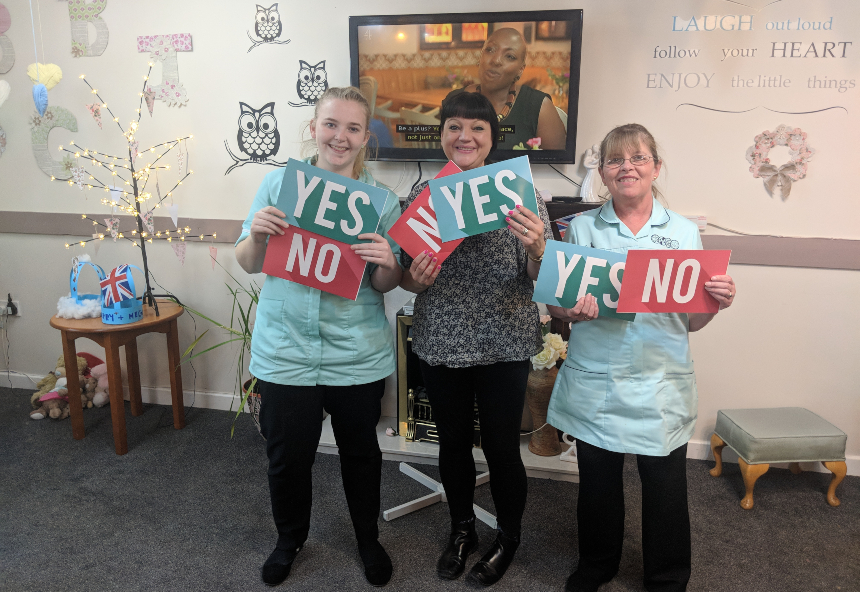 The results
Care homes feedback on implementing Lift the Lid was very positive. Asked about recommending it to others, they said they would recommend it - and some had already done so.
They also said:
'Really nice exercise, concise and appropriate. I feel I could present it to a multi disciplinary team and I will think about it with relatives.

'We were reluctant at first having never discussed this as a staff team before - I would say to others that it will make you think of things never even thought of before - gave confidence to speak about relationships and has put us on the right track for our residents.'
'It needs highlighting – yes it's ok to have these discussions and yes it's ok for these relationships to happen. I think it's good for the staff  because this home is supposed to be a home from home environment.' 
The 'workshop in a box' was then made available from Alzheimer's Society to enable care home staff 
to develop a sex and intimacy policy about providing all-round person-centred care, in line with guidance from regulators such as the Care Quality Commission.
to recognise and meet the needs of people with dementia, rather than get stuck in a cycle of concern about mental capacity, wanting to avoid any risk at all, unfairly restricting privacy, rights and choice for people with dementia.
What changed for people with dementia
Feedback from a member of staff who tested the prototype in the care home where she works, suggests the workshop will improve experience for people with dementia:
'The activities in the box give staff an understanding, ability and confidence to respond in an appropriate and respectful manner, and to not react out of embarrassment and fear – this should be about dignified care and this will help us to provide that'.
Learning Points
People living with dementia in care homes may no longer be well enough to get involved in some types of workshops and other activities, but some people with dementia in care homes are still able and willing to have a voice beyond their own care planning. They may want, and be able, to help influence improvements in care for other people with dementia and their families.  
Useful Links
Article in 'Care and Cure' magazine (November 2018)
Care Quality Commission guidance (February 2019) on relationships and sexuality among people using adult care services.
Sex, intimacy and dementia: care homes - blog (January 2018)
Tips for care staff from the OPUS Research Group
Key contacts to find out more
Innovation Team, Alzheimer's Society. Email: [email protected].