Being home alone whilst self-isolating could mean some people affected by dementia are more likely to be vulnerable to financial abuse. Coronavirus-related scams can take place over the phone, online and face-to-face. Here are our tips on how to avoid them.
This was first published in March 2020 and most recently updated in March 2021.
For a small group of people, the coronavirus (COVID-19) pandemic may increase their susceptibility to the risk of financial abuse due to being home alone, answering telephones and being on the internet more than usual.
Fraudsters are exploiting the spread of coronavirus to commit various types of fraud and cyber crime. It's important to be cautious, as fraudsters are changing their methods all the time.
Four ways to avoid coronavirus scams
1. Be wary of fake online companies
There have been reports of people who have purchased protective face masks or coronavirus testing kits online that have then not arrived.
They were purchased from fraudulent sellers who have stolen money from the victims.
Tip: Check you're buying from a real company.
You can search for a company's details on GOV.UK. This will tell you if they're a registered company or not. If you're buying something on a site you haven't used before, spend a few minutes checking it – start by finding its terms and conditions. The company's address should have a street name, not just a post office box.
Check to see what people have said about the company. It's worth looking for reviews on different websites such as Which? – don't rely on reviews the company has put on its own website.

Which? offer a free scam alert email service that gives anyone who signs up the information to know how to spot, avoid and report a scam.
If you decide to go ahead with the purchase, use a credit card if you have one, as most major credit card providers insure online purchases.
Also, don't rely on seeing a padlock in the address bar of your browser - this doesn't guarantee you're buying from a real company.
2. Learn how to spot a phishing scam
Fraudsters are also sending out coronavirus-themed emails that appear to be from a legitimate company, government department, utility provider, or financial service.
They attempt to trick you into clicking on a malicious link in the email then ask you to provide sensitive information e.g. personal and financial details. This is known as 'phishing'.
One common tactic used by fraudsters is to contact potential victims over email purporting to be from research organisations affiliated with the Centers for Disease Control and Prevention (CDC) and the World Health Organisation (WHO).
They claim to be able to provide the recipient with a list of coronavirus-infected people in their area. In order to access this information, the victim needs to click on a link, which leads to a malicious website or is asked to make a payment in Bitcoin.
Tip: Be careful where you click.
If you get an email from a company with a strange email address or one that has never emailed you before asking you for money/payment unexpectedly, don't click on links to download anything. Doing this could infect your computer with a virus. Make sure your antivirus software is up to date to give you more protection.
If you're not sure an email from a company is genuine, head to their website to find ways to contact them from there (using the telephone number or email address provided).
There is also plenty of COVID-19 information available online from reputable sources, including Alzheimer's Society, GOV.UK, and the WHO.
Three examples of coronavirus phishing scams
Test and Trace and NHS vaccines
The Government's NHS Test and Trace service aims to give advice to people who may have been in contact with someone who then tests positive for coronavirus. The Test and Trace scams exist in phone, text or email versions and they all attempt to steal personal data from you.
The NHS says that official Test and Trace texts will come from NHStracing, and calls will come from 0300 0135000. Contact tracers will ask for your full name, date of birth and postcode, and will offer you advice if you have come into contact with somebody who has coronavirus symptoms.
The NHS Test and Trace service will not: ask for bank details or payments, ask for details of any other accounts, such as social media, ask you to set up a password or PIN number over the phone, ask you to call a premium rate number, such as those starting 09 or 087.
In January 2021, there have been reports of bogus NHS text messages about the vaccine that are part of a banking fraud scam. See example below.
The NHS has warned people to beware of fake invitations to have a COVID-19 vaccine:
The COVID-19 vaccine is free of charge on the NHS.

We will never ask for:

❌ your bank account or card details

❌ your pin or banking password

❌ copies of personal documents to prove your identity such as your passport, driving licence, bills or pay slips. pic.twitter.com/fZtLhBAMCp

— NHS (@NHSuk) January 25, 2021

If you're unsure about a message you have received, there is information about how you will be contacted for your coronavirus vaccination on the NHS website.
TV licence
Watch out for the latest TV licensing scams. They will ask you to renew your TV license, claim your direct debit has failed and tell you to pay to avoid prosecution.
Emails also claim you're eligible for a 'COVID-19 Personalized Offer' of six months for free.
The messages contain links to genuine-looking websites that are designed to steal your personal and financial information.
GOV.UK
There are text messages impersonating GOV.UK that contain fraudulent links. See example below.
3. Stay safe from 'do-gooders' who ask for money upfront
Since everyone must now stay at home and avoid unnecessary travel, there have been reports of people using coronavirus as a guise to gain entry to homes and steal.

Whilst isolating, you may be approached by volunteers who you don't recognise, offering to do your shopping for you.
Don't feel pressured to accept help from, or answer your door to, a stranger.

Tip: Remember it's okay to keep the door closed to strangers.
Never hand-over money, bank details or bank cards to someone you don't know who is offering to help you. Offers of help for most things should be free of charge, for example dog walking.
If someone offers to do your shopping, ask the person what organisation they are from. Make sure to request a receipt so that you can pay for the cost of the items once they have returned.
If someone claims to be from a recognised organisation, then don't be afraid to ask to see proof (e.g. ID card) or check with the organisation itself.
If possible, call a friend or family member to let them know that someone has come to the house you don't recognise and discuss the help you've been offered.
4. Keep away from bank or utility impersonators
There are reports of people receiving emails or phone calls claiming to be your bank or utility provider asking you to move money to another account, to make a payment or to provide personal or financial information.
Tip: Contact your provider to ask how they might contact you.
Check your bank or utility provider's website or call them to see how your bank will and won't communicate with you. For example, find out what type of security questions they'll ask if they phone you. During this time you will notice that banks, utilities and other organisations are providing further support free to all customers.
Download our free dementia-friendly postcard
Made in collaboration with National Trading Standards (Friends Against Scams), featuring expert advice on how to avoid scams.
Download, print and share a full size version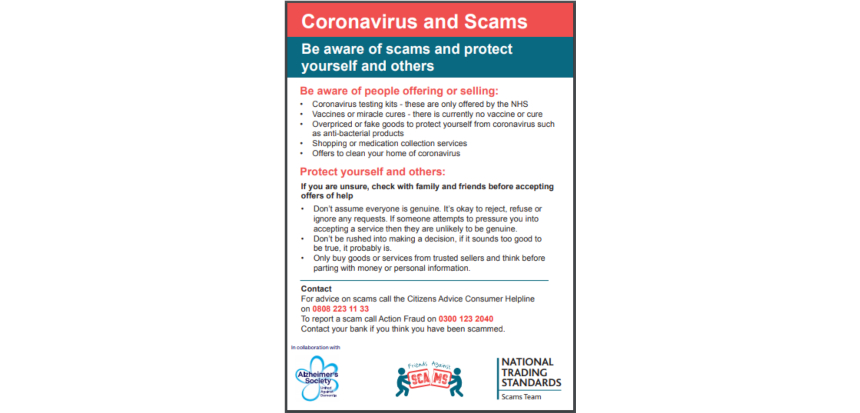 Action Fraud is the UK's national reporting centre for fraud and cyber crime. You can sign up for email alerts about recent scams in your area - registering is free, simple and easy. Citizens Advice can also provide help with online scams.
Action Fraud
Citizens Advice