Tony's wife, Sheila, has Alzheimer's disease and lives in residential care. They have been separated for most of the year because of the coronavirus pandemic. We are delighted to share Tony's latest poem, which is titled Out of Lockdown.
My poem, Out of Lockdown, was inspired by a whole series of happy events over the last few days, not least the long-awaited 'hug'.
Out of Lockdown
by Tony Ward
Once more the Winter Solstice,
shortest day, longest night,
no Christmas cheer, no end in sight,
but there, amid the gloom,
appeared the Star of Bethlehem,
planets conjoined - new light.
The fast-flow test, the half-hour wait,
the hoped-for negative.
Out of lockdown, no Covid screen,
two lives re-joined, new light.
Out the door, into the car, but …
"Who is this gentleman?"
Did my wife no longer know me?
Her laugh, her hug, gave answer.
Too overcast to see the Star,
a tour of Christmas lights.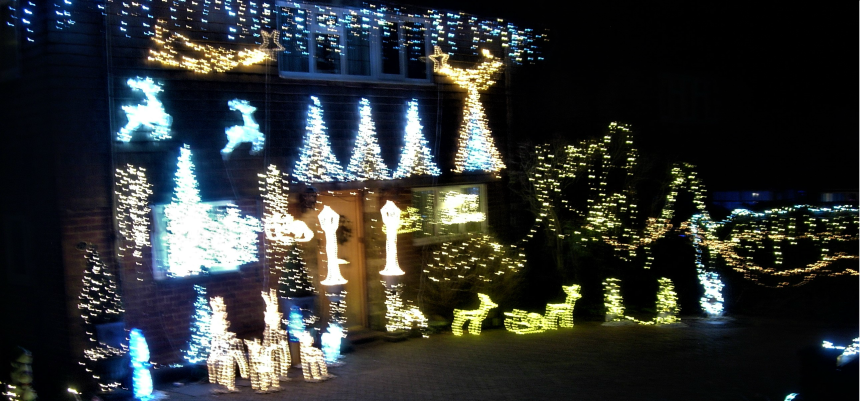 Then come the Spring, if Covid-clear,
a visit to the park,
once more, we'll feed the birds - doves, gulls,
pigeons, ducks, perhaps a swan.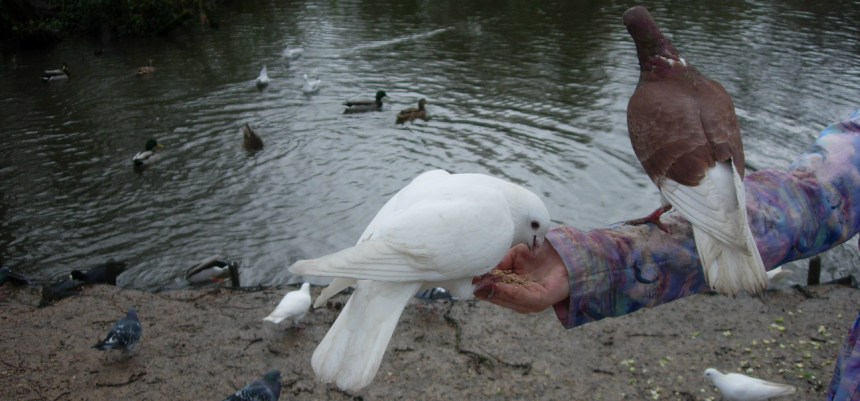 Out of lockdown, at last, a new
normal, new memories,
soon lost, no matter. Each moment
lived afresh. Golden days.
I completed this illustrated poem the day before Christmas Eve. On that same day new government guidelines for care homes cancelled further visits. However, this was not the end of our 'happy events', despite Sussex now being in Tier 4.
Up to then, telephone calls with Sheila had been largely one-sided, but deprived of our newfound 'hug-visits', calls have significantly improved.
As you would expect, some days are better than others, but she now makes a big effort to 'come to life' over the phone.
On Christmas Day, we had our best telephone session since she entered the home. I played her a recorded Christmas message from our son's family to which she responded – not stuck for words.
I then related a funny experience with our rescue dog, Rino. He had been sent a 'Dog Advent Calendar', which we had been opening each day in December. In truth, I did the opening as he was too fumble-pawed.
Up to Christmas Eve, each day was just a few pea-sized turkey or venison pieces, enjoyed but soon gone.
But on Christmas Day, Rino watched as I opened a large packet of turkey sticks, each about six inches long. Not content with one, I gave him a second then put the rest away to last to 12th night.
Rino then sat staring at me for a large part of the afternoon - 'What about the rest!'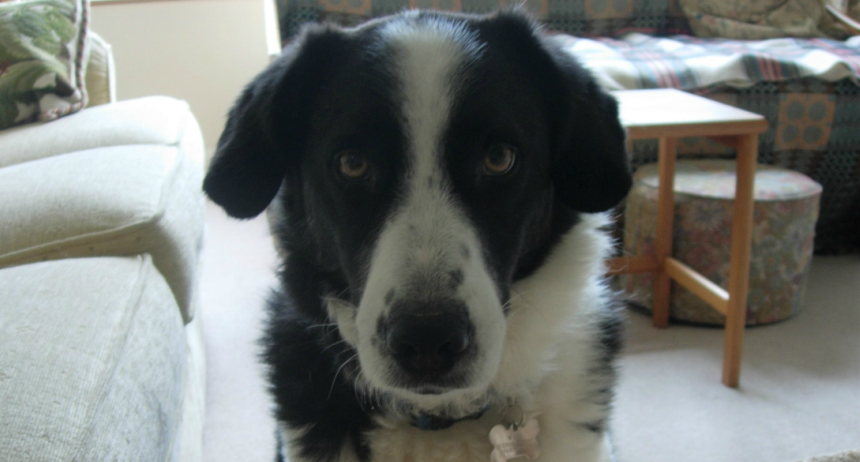 It was good to hear Sheila laughing.
If there is a message in this, it is that from The Queen's Speech on Christmas Day:
' – even on the darkest nights – there is hope in the new dawn.'
Read Tony's previous blog post from June
Following their enforced separation, Tony wrote about how the coronavirus lockdown affected them and shared his poem titled Painted Lady Summer.
Read Tony's story