Richard 'Ricky' Hewson, 78, was diagnosed with Alzheimer's disease in 2013. Here, his son Steve describes the effect that this diagnosis had on his family, especially on Maureen, Steve's mum.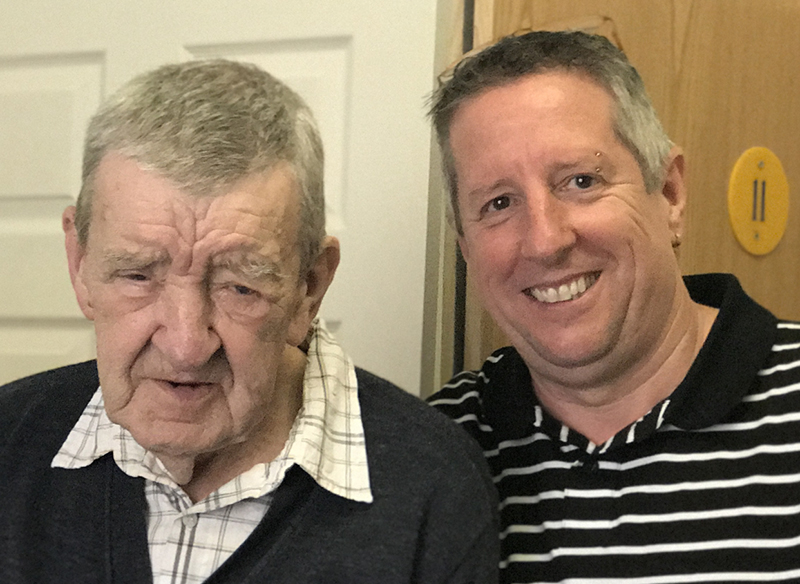 Ricky with his son, Steve
Seeing the first signs
We noticed a change in dad four years ago. Subtle things like when he received birthday cards, he'd place them upside down on the mantelpiece. He'd also pretend to have read them when he hadn't and he'd attempt to read an upside-down newspaper.
One day my mum was waiting at the bus stop with him and decided to pop into the bank for a minute, leaving dad at the bus stop. When she returned he'd disappeared. It turned out he'd just got on the bus - without her or a ticket.
The younger years
My dad was a member of the Royal Navy. He joined in 1954 and was discharged on medical grounds 12 years later following a head injury in a Jeep accident. For the rest of his working life, dad was in management at Bevan Funnell, Newhaven, specialising in reproduction furniture - a job he loved.
My dad also loved socialising. He was chairman of the darts team and pool league and could add up darts scores in his head in seconds.


Ricky and his wife, Maureen
Following diagnosis
For the first two years after dad was diagnosed with dementia, my parents were able to carry on life pretty much as normal. Then the situation started to deteriorate. However, my mum was determined to try to cope on her own, largely shielding the problems from me and my elder brother and sister.
I got a phone call one night from mum, asking me to come round to try and stop dad from leaving the house. Dad had got up in the middle of the night and was trying to go outside in the cold and rain in his boxer shorts - and this wasn't the first time.
Mum had been trying to cope with all this on her own, playing down how bad the situation had become. We discovered that mum hadn't really slept for two weeks and had been sitting up with dad to make sure he didn't leave the house.
Getting the right care
After this incident, my dad was taken to hospital then placed in a care home in Eastbourne. My mum was travelling from Newhaven to the care home every other day on the bus. I could see the strain this was causing and got in touch with social services to see if my dad could be moved closer to home. I was told there weren't any places available.
I'm a paramedic so I know the good care homes in the East Sussex area. I called a dementia care centre in Seaford to see if it had a space. Luckily, one had become free that very day and dad was able to move in as a permanent resident.
Mum does feel guilty about dad being in a home, despite the fact that my siblings and I have tried to tell her not to feel this way. She always spoilt dad and did everything for him. I think she didn't want to believe it was happening. She wanted to keep him at home for as long as possible.
Mum understands though that she can't deal with dad at home safely. The risk of him hurting himself is too high. She takes comfort in knowing that he's now safe and professionally cared for.
He doesn't always recognise us. Sometimes he harks back to his navy days and asks how many boats we've had to take to get to him.
He was a really good dad. He was also a very intelligent man. It's sad that he's ended up at the mercy of this cruel disease. However I've learnt that although it's difficult, you've got to be really positive. Remember the good times and the person they were. What's happening now isn't him; it's the disease.
Finding a care home
Good quality care that preserves dignity, treats people with respect and promotes independence can improve the lives of care home residents with dementia. Learn more from our helpful guide on finding the right care home.
Find support near you with Dementia Connect, Alzheimer's Society's comprehensive services directory for people affected by dementia in England, Wales and Northern Ireland.
If you need support and advice as someone caring for a person with dementia, you can call our National Dementia Helpline on 0300 222 11 22.