Peter has been looking after his wife, Joyce, for over 12 years. She was diagnosed with Alzheimer's disease at the age of 58. Peter finds comfort in writing poetry, and hopes others will benefit from reading his poem about dementia.
Joyce and I were married in 1974, 46 years ago. She was a trainee teacher and I was still a student. Eventually, I became a teacher as well and we mainly worked in the north of England.
After our daughter was born, Joyce suffered from a lot of gaenocological problems resulting in a hysterectomy and further major operations to clear up problems. This ultimately led to Joyce having to retire on ill-health grounds from teaching in 1999 when she was 49 yrs old.
I was working a one-hour drive away from home. This meant Joyce was on her own from 6am to 6pm on most days as our daughter had married and moved to South Wales.
I noticed she was gradually becoming quieter and morose and was starting to exhibit unusual characteristics like asking the time and date repetitively.
In 2005 I decided to take early retirement in order to be with Joyce and allay her anxieties. Two years later, we moved to Cardiff to be nearer our daughter.
By this time Joyce's symptoms were getting worse with her putting her clothes on in the wrong order, forgetting where things were, and getting lost if she was on her own when out shopping.
Eventually, I took her to the GP who referred her to the memory clinic in Cardiff where she was diagnosed with Alzheimer's in 2008 at the age of 58.
Living well with dementia
We knew nothing about it but we were determined to live each day at a time.
Although Joyce's condition has deteriorated a lot over the last 12 years, she is still with us, still mobile, and still laughs from time to time although communication is difficult.
Information from the Alzheimer's Society has been invaluable, as has joining the Forget-me-Not Chorus in Cardiff which we stayed with for over seven years before Joyce stopped singing.
Now we have a very orderly life, getting up, washing, having breakfast, walking the dog, having lunch, relaxing until dinner then going to bed at about 8-9pm.
Luckily I've managed to get food deliveries throughout the pandemic which has protected us.
Joyce is doubly incontinent and can't eat 'lumpy' food as she chokes very easily, but most supermarkets have ready meals which are suitable.
She's also on a range of medications to help her relax and control the Alzheimer's as much as possible.
I often take Joyce for a drive in the car, when not under lockdown, which she enjoys. We regularly WhatsApp our daughter although we are all missing the physical contact and company which isn't possible at the present time.
Throughout the whole time since diagnosis, Joyce has been positive and a real credit to herself, making my life a lot easier than it might otherwise have been.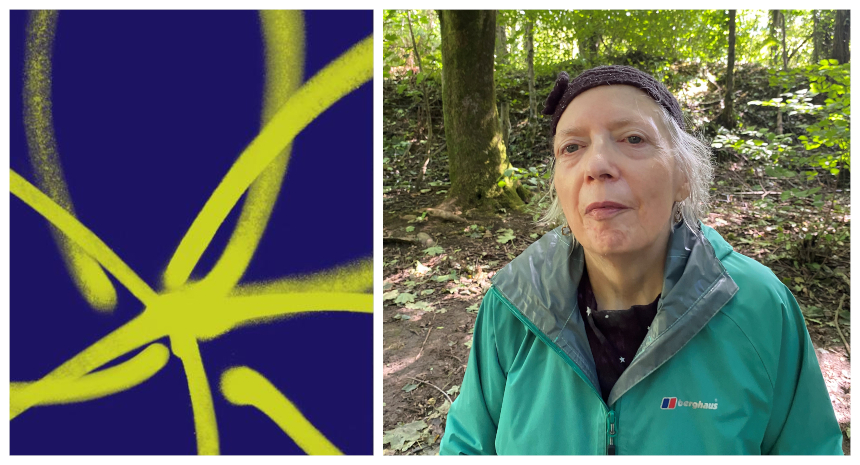 Joyce this year, photographed by Peter
I find that writing poems helps immensely. I wrote the following some years ago and my daughter recently read it and thought it might help others if they did too.
A Changing Life
by Peter Baker
My wife was young, not one of the old timers
When she was diagnosed with Alzheimer's.
I saw it coming, but it was a stranger
And no-one told me of the danger.
At first she got worried
When I wasn't home;
She doesn't like
Being alone.
As time goes by, her memory falters,
Interest fades, reality alters.
I love her so much
I'll never leave;
Even though
I already grieve.
Day by day our world turns round
Different to yours, I'll be bound.
Sometimes she's happy
Sometimes she's sad;
I'm still with her
Of that I'm glad.
The story's end may be far or near
When and where will never be clear.
The mind may go
There are no cures;
The body weakens
But love endures.