Gareth Bracken, from our Dementia together magazine, tells us more about listening to people with dementia tell their own stories in our audio interviews as podcasts.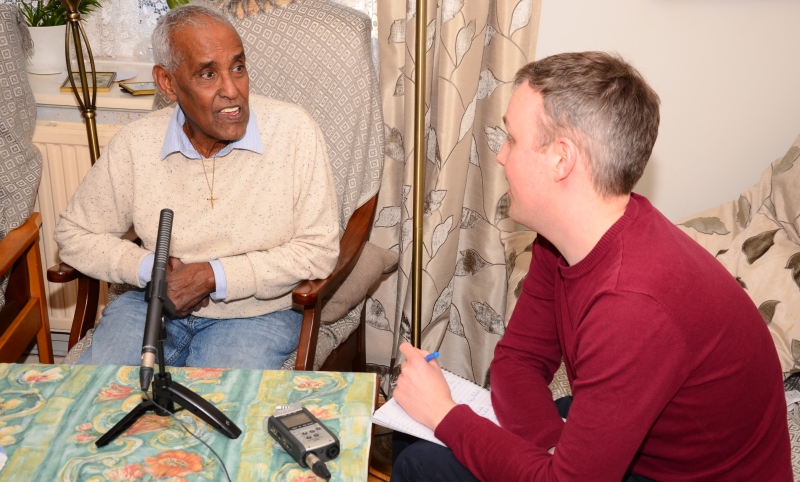 ​
Abdul-Fady Othman records an audio interview with Gareth Bracken.
Every issue of our magazine, Dementia together, includes the voices of people living with dementia. They share their often very personal stories with you – their hopes and fears, challenges and victories. We're continually humbled by how bold, open and honest they are, all to support others and raise awareness.
We always want a person's true voice to come through in our articles. We recently took this a step further by literally including their voices in our new-style podcasts.
These audio interviews mean you can hear the person we're speaking to in their own words. You can either play them online or download and listen to them later.
New territory
The first of these features Avril Staunton, a former senior consultant who was diagnosed with atypical early-onset Alzheimer's in 2015.
'It's new territory for me, to be more unsure of myself,' you can hear her say. 'I've never been unsure really, ever – even as a very small child.'
Powerful words in print, but hearing Avril speak them makes all the difference.
Martin Anderton, 62, has posterior cortical atrophy, a rarer cause of dementia that damages the rear of the brain first. His interview captures his vibrant personality and the strength of his friendship with volunteer Andrew, who supports him through our Side by Side service.
Abdul-Fady Othman has overcome alcoholism, schizophrenia and cancer. Now he is living with Alzheimer's. Abdul-Fady's personality really comes across as he jokes about his childhood experiences. But you can also hear the strain that his mental health issues caused.
'You wouldn't believe how I walked up and down those streets thinking to myself, "He's looking at me, she's looking at me." That was a period of hell.'
You can hear Chris Maddocks speak to us in our most recent interview, which is something of a love story. She recalls her partner, Heather, suggesting they move in together after Chris's diagnosis with young-onset vascular dementia.
'I couldn't believe that somebody loved me and cared for me enough that they would be prepared to look after me. I think it's a huge sacrifice.'
Enjoyable and accessible
Our audio interviews are an enjoyable way to listen to people's real-life experiences if you can't read our articles in print, whether because of dementia or another reason.
They're also for anyone who wants to hear people with dementia speaking in their own words. Why not start listening to them today?
Next steps
Listen to Dementia together magazine audio interviews.
Subscribe to Dementia together magazine in print.
Sign up to receive each new issue of our magazine as an RNIB audio CD.