Joanna's mum, Sue, has Frontotemporal dementia. She's also a huge Swansea City fan. Joanna explains how football continues to help Sue feel part of a community, even after her diagnosis.
In 2020, at the age of 67, my mum Sue was diagnosed with Frontotemporal dementia (also known as Pick's disease).
Mum started being poorly during the coronavirus lockdown, but the GP put it down to low mood and other health issues. We didn't know at the time mum had ovarian cancer, but once diagnosed that was dealt with quite quickly.
Mum had an operation, but came out a different person. She was finding some things really difficult, like finding the right words. 
Phone conversations with the GP weren't useful and didn't get us any closer to a diagnosis. She was eventually referred to the hospital and initially had a CT scan which didn't show anything.
We fought for her to have a PET scan, which finally revealed she had dementia.
Adjusting to the dementia diagnosis
Mum had been through the lockdown, cancer and then dementia in such a short period of time, it was hard for her to accept. She struggles with emotions, language and everyday tasks and gets sensitive to touch, noise and change of environment.
Dad didn't really understand it at first and had to adapt from full time working to being her full-time carer.
I just went into practical mode.
Alzheimer's Society's website was great for information and education, just trying to navigate things and ideas that could help us.
Football helps mum with her dementia
After family, football is mum's lifeline. She's been a Swansea City fan since she was a teenager and kept a Swansea City scrapbook. 
When my son Mckenzie came along in 2005, she really got back into it. Since his love of football blossomed it's something that has bonded them and as soon as he was big enough, they both had season tickets.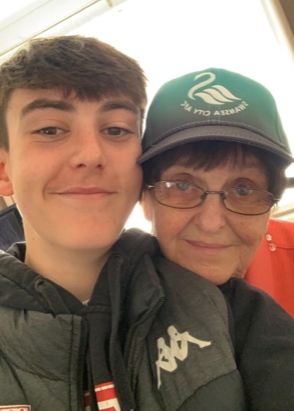 ​
Sue still goes to Swansea City matches with her grandson, Mckenzie
When his nana was first diagnosed with dementia, it was quite emotional for Mckenzie as they are so close, and there were quite a few tears.
Now, he's amazing with her, and at 17 is an unpaid carer.
Even though mum has some difficulties with everyday tasks, she never forgets the names of the Swans players or scores of the games.
Photos taking pride of place on their sideboard include wedding photos, but also a photo of her with former Swansea midfielder Leon Britton! Mum just loves to sit and look at all the things she's collected over the years.
Part of a community
During lockdown, when mum got her diagnosis, she was already missing her regular trips to the stadium.
When football was able to resume, she found the experience not just positive but therapeutic. It is something that she looks forward to, and it gives her a huge sense of belonging and community.
The games bring her to life - they give her energy and passion. When they go to games, mum is very lively and noisy.
She has no problem getting her words out then.
Mckenzie now gets a free season ticket along with mum's that we pay for, as he is her carer there.
Determined to make football more dementia friendly
As a family, we have all become involved in initiatives to make the stadium and football experience more dementia friendly and encourage inclusivity for all.
The stadium team are hugely open to suggestions and taking action to make sure everyone's football experience is as enjoyable and accessible as possible.
The stewards always help mum and Mckenzie. They ensure her safety, enable access, are vigilant and informed and go above and beyond to assist those that may need it.
As a family, although we have to adapt, in many ways we believe in fully living life in the now.
It is about embracing opportunities and enjoying whatever is possible at any point in life and enabling and making new memories for us all.
Help us be there for people like Sue
Support Sport United Against Dementia.
Donate