Dementia Research Leaders: Michael Craig
Introducing Michael Craig, Alzheimer's Society Junior Fellow. He is part of our Dementia Research Leaders programme that supports people from biomedical, clinical and social science backgrounds.
You are here: Dementia Research Leaders: Michael Craig
What's your name and where are you studying?
My name is Dr Michael Craig and I am an Alzheimer's Society Junior Research Fellow at Heriot-Watt University in Edinburgh.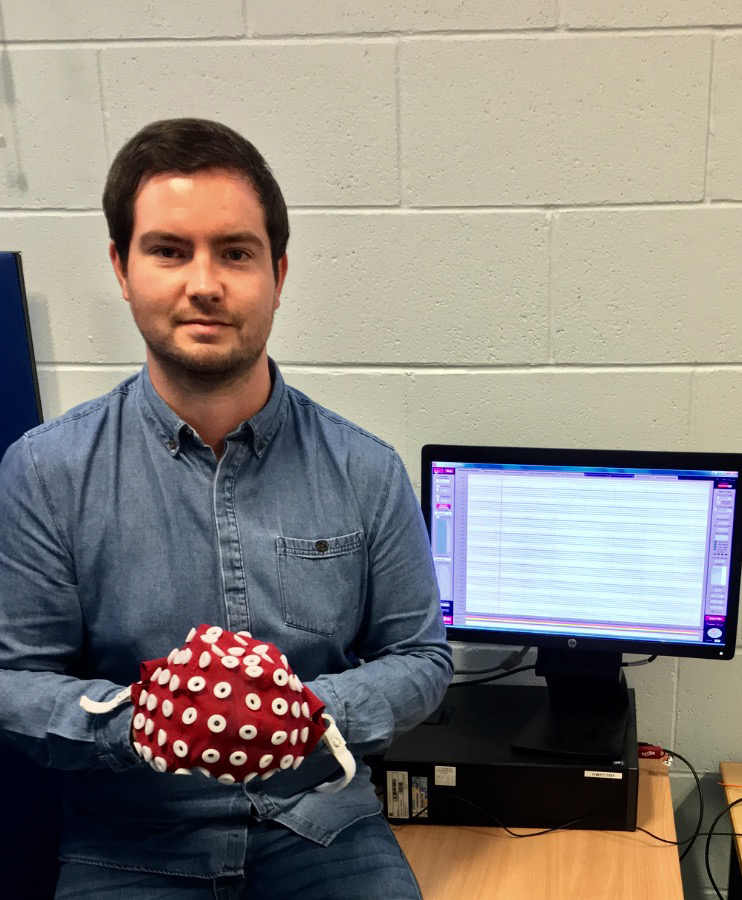 Michael with an EEG cap
What are you researching?
My research aims to understand more about why people with Alzheimer's disease experience severe problems in their memory, which is often one of the first symptoms of the disease. These memory problems typically appear as an inability to remember new experiences, even just a few minutes after the experience. This can have profound implications on the daily life of those living with dementia as well as their familiy members and carers.
Research suggests that the few minutes that follow new learning provide a critical window for new memories to be 'laid down' in the brain and thus remembered over the longer term. We refer to the process of laying down new memories as 'consolidation'. It is believed that Alzheimer's disease affects consolidation by making it more vulnerable to being disrupted.
However, recent research from our lab has shown that if people with Alzheimer's disease simply rest quietly for a few minutes after learning something new, they can remember learned information much better than if they are busy taking in further information in the minutes that follow new learning. The memory boost of rest is long lasting as these people can often still remember the new information at least one week later. We believe that rest boosts memory because it provides a state that is helpful to consolidation by reducing disruption as much as possible.
"Recent research from our lab has shown that if people with Alzheimer's disease simply rest quietly for a few minutes after learning something new, they can remember learned information much better."
My project aims to understand how consolidation becomes more vulnerable to disruption in people with Alzheimer's disease and why a short rest after learning has such a beneficial effect on memory. To do this, I will combine sensitive memory testing methods with state-of-the-art brain activity recording methods, using an EEG scan. This will enable me to establish the brain activity that is associated with the consolidation of new memories. I will then examine how this brain activity changes in Alzheimer's disease and what effect rest has on consolidation-related activity in the brain.

How will this help people affected by dementia?
If we are able to show that the severe memory problems in Alzheimer's disease are related to a specific disease-related change in the consolidation of new memories in the brain, we may be able to identify new targets for potential drugs to support memory. Also, given that memory problems are one of the first symptoms of Alzheimer's disease, we may also be able to use our memory testing method as a new tool for early detection and diagnosis.
What is your most exciting finding so far?
The most exciting finding to come from this line of research is the striking memory boost seen in people with Alzheimer's disease when the person rests for a few minutes after learning something new. In healthy younger and older adults, we typically find a significant, but modest, benefit of post-learning rest. However, in people with Alzheimer's disease we can see a much more striking benefit of rest in people who may typically remember very little.
Research from our lab shows that the striking memory benefit of rest can last for at least 7 days in people with Alzheimer's disease. As a result, there is a lot of potential associated with this promising finding. If we can understand why rest has a beneficial effect on memory - which this project will begin to examine - this could provide the foundations for future work that could develop new treatments and diagnostic methods.
You did your PhD with Alzheimer's Society- how did you find that and how did it help with your work now?
I thoroughly enjoyed my time as a PhD student working with the Alzheimer's Society. It was a pleasure to conduct my own research project, which examined the effect of resting after learning on memory consolidation. I also felt part of a bigger movement, where all members of the Society are moving in the same direction to understand dementia better and how to care for those affected.
It was especially pleasant to work closely with the Society's Research Network volunteers - people who have direct experience of living with dementia or caring for someone with the condition. Two members of the Network monitored and guided my project throughout its duration. Their expertise and experience provided a valuable contribution to my work.
The PhD project provided me with the knowledge and skills that were essential for me to embark on my current Alzheimer's Society Fellowship project. Indeed, my Fellowship project is an extension of the work that I conducted during my PhD. I am delighted to be working with the Society again and look forward to my research developing over the coming years.
What is the best thing about being a researcher?
I thoroughly enjoy working as a dementia researcher. There are many positives related to working as a researcher, but from my perspective, there are two aspects that I enjoy most. The first is the ability to learn and develop new knowledge by testing original research questions that we currently do not have the answers for. This test/learn approach can be frustrating at times, as studies often do not work out on the first, second...or tenth occasion. However, each failure is a learning curve to achieve an end goal.
Related to this, the second aspect that I enjoy most is the drive to achieve a long-term goal that is ambitious, but attainable. The ultimate goal of my research is to better our understanding of the memory problems faced by people with dementia. If we can achieve this goal, we may be able to develop new treatments and targets for diagnosis and finding ways to treat the condition, which can ultimately improve people's health and well-being.
What are the biggest challenges that you face in your research?
I believe that limited time is probably the biggest challenge that I face as a researcher. My research examines the consolidation of new memories while a person is awake, which is a relatively un-tested and poorly understood topic. As a result, as I progress with my research, the outcomes of each study often lead to additional important new research questions that we would like to answer. Limited time and resources to tackle this ever-growing list of research questions can be frustrating. Prioritising research questions and very carefully designing studies do somewhat deal with this challenge, but time remains a limitation.
However, I am fortunate to work as part of an excellent team of researchers in the Heriot-Watt Memory lab and Neurophysiology lab. These labs involve a number of talented students as volunteer research assistants who have been a great help in aiding me with the testing of different methods and hypotheses that will contribute toward my Fellowship project. Moreover, it has been a pleasure to train and work with these junior researchers, who are passionate about research and may become the next generation of Dementia Research Leaders.