Gemma Roberts, a clinical fellow at Newcastle University, is looking at new ways to improve brain and heart scanning methods for better accuracy when diagnosing Lewy body disease.
Tell us about yourself, Gemma.
I am an Alzheimer's Society-funded clinical fellow. This means that I carry out my PhD research while continuing to work in my NHS clinical scientist role of nuclear medicine physicist, where I use radioactive chemicals to diagnose and treat diseases. For me, this mostly involves performing and reporting heart scans to look for coronary heart disease.
Outside of work, I have two dogs and sing in a chamber choir. I'm also learning to play the accordion and I do folk singing, though everything is on hold at the moment while I write my PhD thesis!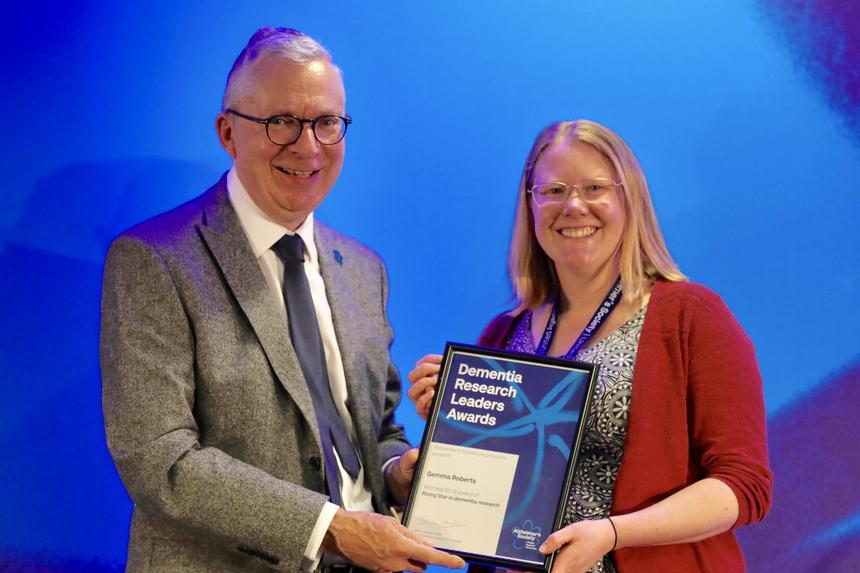 What is your research about?
Lewy body disease (LBD), referring to mild cognitive impairment with build-up of characteristic 'Lewy bodies' in the brain, can be difficult to diagnose. Its symptoms mean it can look like Alzheimer's and also like Parkinson's. Even using a brain scan, it's sometimes still hard to be certain of a diagnosis.
Part of my work is to find out if a second scan – one that looks at nerves connected to the heart – could help diagnosis. We know these nerves become damaged and degraded in LBD and in Parkinson's, but not in Alzheimer's.
I'm testing new and advanced ways to take and process these images, so we can get a more accurate idea of what is going on in the brain and heart.
I'm also using a combination of models called 'phantoms' and computer models to make scans clearer and cancel out the signal loss caused by other organs and body fat.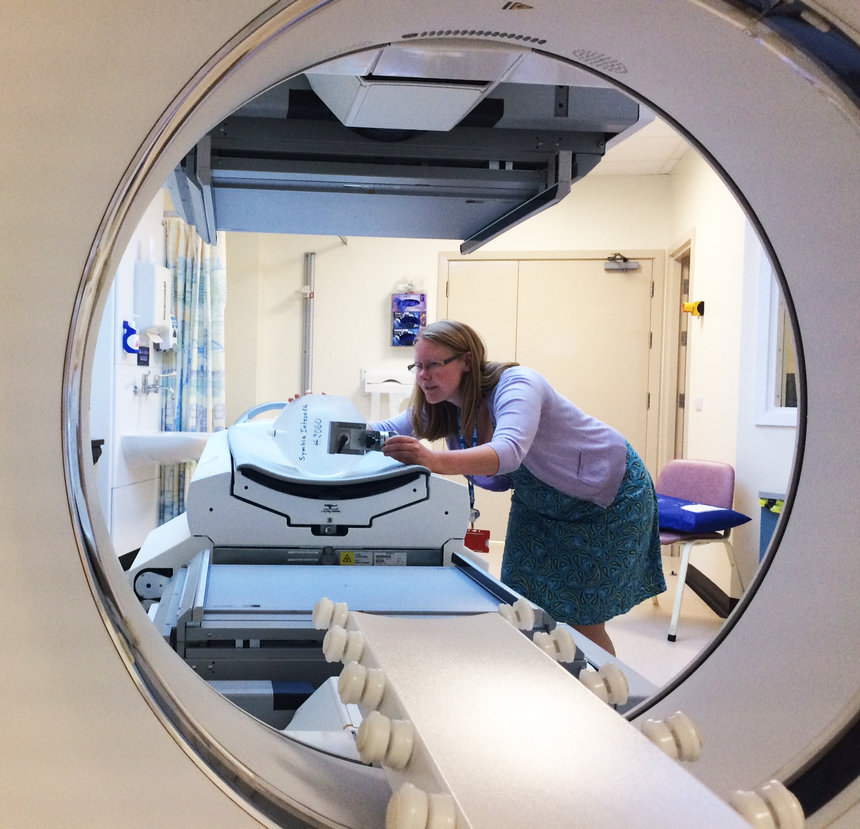 What drew you to this area?
Newcastle is one of the world's leading centres for ageing and dementia research.
It's a great place to work, with a lot of collaboration between leading names researching dementia with Lewy bodies, in areas from nuclear medicine and old-age psychiatry to biomedical research departments.
I first got involved in dementia research through the SUPErB project. This showed some early results related to LBD that made me want to take the research further.
I also have a personal connection to dementia. Several of my family members have lived with the condition, and my aunt sadly passed away during the course of my research with Alzheimer's.
How do you carry out your work?
My work involves using both brain and body scanning machines, healthy older volunteers, computer modelling systems and phantom models.
Scans can look blurry if the signal from the radioactive tracer is blocked or deflected by other body parts or body fat. 'Phantoms' are detailed mannequins of the head and chest that I use to help make scans more accurate.
For example, I used the chest phantom to show how a scan of a healthy person can look abnormal when I add panels to represent body fat. I was then able to use computer software to correct this, producing a clear and accurate scan.
Why is this research important?
Getting an early diagnosis of dementia and identifying which disease has caused the condition is very important.
With the advance of more accurate diagnostic techniques, we have learned that more people than we had initially thought have a mixture of Alzheimer's and LBD.
I think it is really important that we move away from thinking about these conditions in binary terms, but instead think more about their combination, how this affects the person and how new treatments could target both.
Spotting the early signs of dementia: What's the point?
There is currently no cure for dementia, so why is early diagnosis so important? We explore why it matters for everyone affected by dementia and why we are supporting research to improve diagnosis.
Read why
Care and cure magazine: Autumn 19
Care and cure is the research magazine of Alzheimer's Society is for anyone interested in dementia research.
Subscribe now
Care and cure is the research magazine of Alzheimer's Society is for anyone interested in dementia research.
Subscribe now