Women: United Against Dementia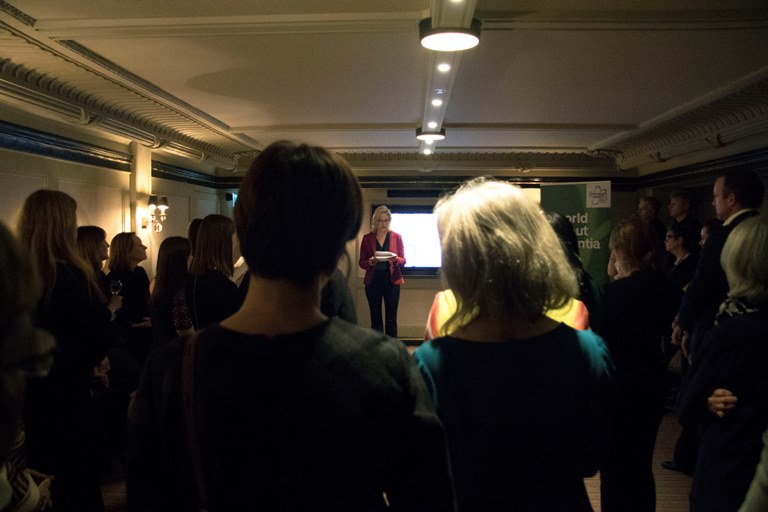 Shockingly, 61% of people living with dementia in the UK are women. Women are also more likely to be an unpaid carer for a loved one with dementia. In order to highlight the disproportionate impact dementia has on women, Alzheimer's Society hosted a 'Women: United Against Dementia' reception for over 30 highly influential business women and men at The Vilandry St James's, an elegant restaurant in the centre of London, on International Women's Day, 8 March 2017.
The evening was hosted by Alzheimer's Society's fantastic trustee, Sarah Weir OBE, who highlighted the significance of International Women's Day, the need for all of us to come together, and encouraged attendees to #BeBoldForChange – the key theme and message of the event.
The keynote speech was provided by Nadja Swarovski, Member of Executive Board of Swarovski Crystal. She spoke passionately about the radical, global consequences of dementia and how it's a women's issue that needs greater recognition. Nadja also reflected on her own connection to dementia and conveyed how we must all be agents of change and work together to bring dementia to the forefront of public discussion.
Lastly, we were joined by Alzheimer's Society Ambassador, Lorraine Brown, who has been living with dementia since 2014. Lorraine spoke about her three-year battle to receive a diagnosis, a problem which is far too common in the UK. She spoke about how her work as an Ambassador enables her to promote dementia friendly communities and how she now dedicates her time to raising awareness and fighting for better hospitals for people with dementia.
The evening was incredibly inspirational, giving guests the chance to get involved in our fight against dementia by putting women and dementia at the forefront of public discussion.