A volunteer moderator who has got a lot of support from other Talking Point members
From the February/March 2016 issue of our magazine, a carer in Greater Manchester who has valued the support of other Talking Point members decided to give something back as a volunteer moderator.
When Sue Houghton's father was diagnosed with dementia a decade ago, his consultant referred her to the Society's website, where she discovered our online community Talking Point.
Sue, 47 and in Wigan, says,
'I didn't know anyone else dealing with a diagnosis. It was such a relief to find people who were experiencing the same challenges, and who understood what we were going through as a family.'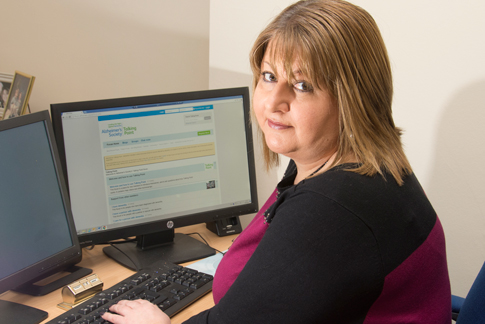 Since 2010, Sue has been a volunteer moderator on Talking Point, helping to create a safe and welcoming place for others to find vital information and support.
Fellow members
Sue's father was originally diagnosed with mixed dementia, though this was later changed to a rarer type of frontotemporal dementia. She gained a huge amount from fellow Talking Point members.
'Almost everything I have learned about dementia started with a reference on Talking Point – from "sundowning" to council tax reductions.'
Keen to give something back, she applied to become a volunteer three years after joining.
'While my application was going through, my dad sadly passed away. On the day of his funeral I obviously had my phone turned off, and when I turned it back on that evening there was a voicemail telling me that my application had been successful. The timing seemed to be perfect.'
Day or night
Sue fits her Talking Point role around her work as a solicitor, and ongoing support is available from other volunteers and staff in addition to the team's twice-yearly meetups.
She knows first-hand how important it is to have support available whenever it's needed, day or night.
'When my dad was in hospital in the last week of his life, my sisters and I took it in turns to stay with him 24 hours a day.
'One night I was there with him on my own and even in the early hours of the morning I had messages of support from members, some of whom had gone through the same thing with their loved ones.'
Her mother was also recently diagnosed with mixed dementia – Alzheimer's disease and vascular dementia – and Sue finds volunteering immensely rewarding.
'I have been surprised by how addictive it can be! Many's the time I have got involved with an issue on Talking Point, lost track of time and discovered it's one o'clock in the morning.'