Supporting people with dementia and carers before, during and after a stay in hospital
From the October/November 2015 issue of our magazine, going into hospital can be particularly intimidating if you have dementia. Heather Stephen finds out about a scheme in Barnsley helping people to cope before, during and afterwards.
When Anne Simmons' late mother, who had dementia, went into hospital five years ago, she was surprised by how challenging it was for her mother's needs to be met.
'I visited during mealtimes to encourage her to eat and drink. She became very disorientated.

'I could see the nurses were overstretched, finding it difficult to provide the practical and emotional support that my mother and I both needed.'
Now managing Alzheimer's Society services in Barnsley, Anne is determined to improve other people's experiences. Working in partnership with Barnsley Hospital, she set up the Hospital Dementia Support Service 18 months ago.
Since then the award-winning scheme has helped many people with dementia through the disorientating process of a hospital admission - from the first outpatient appointment to support at home after discharge.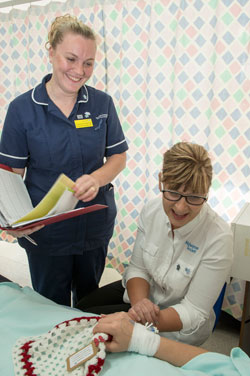 Anne says,
'This project is so close to my heart. I know at first hand the difficulties that carers and people with dementia can face when they go into hospital.

'Everybody works really hard in the NHS but there has not always been the understanding about the very complex needs of people with dementia.'
Patients' concerns
Alzheimer's Society's dementia support workers share patients' concerns through the service, raising awareness of how hospital staff can support people with dementia.
Anne says,
'If we can make someone's experience of hospital better we will. Sometimes all it takes is taking a little bit more time to explain things and talking to relatives, who know that person best.'
The service means that people can have hospital processes explained and questions answered, and that relevant information is passed on to hospital staff.
Society staff continue to support people up to four weeks after discharge from hospital, signposting services and giving information about benefits and adaptations.
Anne says,
'Having a support network can reduce anxiety and prevent families reaching the crisis point where they may feel they have no other option but to go to A&E.'
Joined up
Victoria Faxon-Wastnage, dementia nurse specialist at Barnsley Hospital, says her close relationship with the dementia support workers has led to a joined-up service where patients are identified in the community, outpatient clinics and while in hospital.
She explains,
'The scheme is not just about nursing care. It provides the social and emotional support families need and gives people information about other services which might help.

'Support workers speak to patients before they enter hospital about what to expect and this can reduce anxiety considerably. And we can talk to nursing staff about the individual's needs so their care is part of a joined-up service.'
The hospital has also introduced specialist staff training, flexible visiting times and the Butterfly Scheme, which helps staff to be aware of patients with dementia and respond to their needs.
'Through sheer passion and commitment we have developed so much for people over the years. You don't have to take all the help but it's like a pick and mix where you just take the support you need.'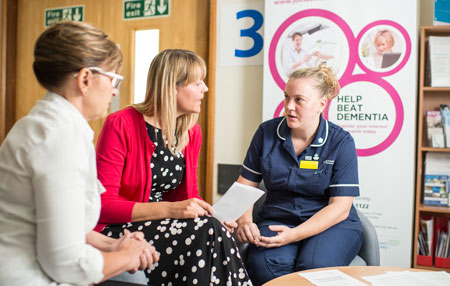 Whole process
Susan Parden and her family benefited from this work when her mum Dorothy Vickers, who has vascular dementia and Alzheimer's, needed a cataract operation earlier this year.
Susan, from Hoyland Common near Barnsley, says,
'The dementia support workers, Gill and Diane, were absolutely brilliant throughout the whole process.

'They were there for my dad whenever we couldn't be, and I don't know how he would have gone on without them.

'My mum can get impatient but they were able to reassure her and make things a little bit easier by liaising with staff. We really appreciate everything they did and we couldn't have asked for more.'
Jane Catchpole, Susan's sister, agreed,
'It was so helpful having Gill and Diane there to keep in contact with nurses and tell Mum and Dad what was going to happen next.

'It was great for Susan and me because it put our minds at rest that my parents were being looked after when we weren't around.'
Worth calling
Hospital support schemes operate in other areas of the country, including Leicester and Scarborough, but if there is none in your area Anne says you should still be able to get help.
She says,
'If your loved one is going into hospital it is always worth calling your local Alzheimer's Society first as quite a few have links with local hospitals.

'Even if your area doesn't have a scheme, the more people request this support the more we can promote this issue and make sure everyone has access.'
Next steps
Join our campaigns to improve dementia care.
See our factsheet Care on a hospital ward, or call 0300 303 5933 to order.
Use our online directory of dementia services, Dementia Connect.