Research is identifying how employers can help people with dementia stay in work for longer
From the July 2015 issue of our magazine, more people are being diagnosed with dementia while still in employment. Heather Stephen finds out about research that is pinpointing how employers can help people stay in work for longer.
As people are diagnosed with dementia earlier, and with the scrapping of the compulsory retirement age, more organisations will need to adapt to support workers living with the condition.
However, few employers have the knowledge or plans in place to help people with dementia to work as long as they want to. Some people leave work because they are afraid to disclose their diagnosis or feel unable to handle the demands of the job.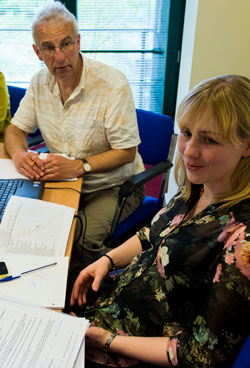 The Dementia in the workplace project, funded by Alzheimer's Society, was launched by the University of the West of Scotland in 2013. It is finding out how people with either dementia or mild cognitive impairment cope at work, and about the support they need from employers and colleagues.
Reasonable adjustment
After speaking to doctors, employers and HR professionals, the researchers were surprised that no manager believed they had ever worked with a person with dementia.
From people with dementia, family members and colleagues, there were stories about feeling unable to continue working, facing stigma and a fear of dismissal.
Professor Debbie Tolson, Director of the Alzheimer Scotland Centre for Policy and Practice, says, 'A lot of people leave their job even before they are diagnosed because they are struggling.
'But we know that when someone feels they have to leave work it can have a detrimental effect on their emotional wellbeing because of social isolation and loss of identity.'
While legislation requires employers to make reasonable adjustments for staff with dementia and other conditions, Debbie adds,
'We believe employers have a moral obligation to help and support people too.

'People with dementia should feel they can come forward and share diagnosis early, and employers need to be ready to respond appropriately if people are showing possible signs of dementia at work.'
Research Fellow Louise Ritchie says,
'Although not everyone with dementia wants to remain working, we want to see what could be done to make that possible if they want to.'
Need for support
Wendy Mitchell, 59, from York, spoke to the researchers about her experiences after being diagnosed with early-onset Alzheimer's last July.
She says,
'As an NHS team leader I thought I was working in the right place to have a condition like this. But although the NHS is very good at looking after patients, they are not so good at supporting their employees.'
Wendy says she came up with her own ways to adapt how she worked without the help she had hoped for from managers. These changes included working from the quieter environment of home on alternate days and using notes to aid her memory.
Shocked at feeling left on her own to cope with this complex condition at work, Wendy got involved in the research to help improve the situation.
Beneficial research
Through the Society's 250-strong Research Network, people with dementia and carers have clear roles in choosing what research is funded and also in monitoring how it develops.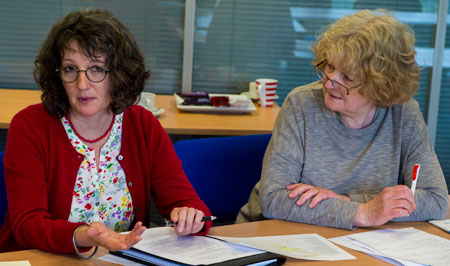 Ian Le Guillou, Research Communications Officer, emphasises the importance of projects such as Dementia in the workplace within Alzheimer's Society's programme of funded research.
He says,
'Obviously, finding a cure is our ultimate aim but this kind of research is also very beneficial, particularly to the 40,000 people with dementia who are under 65.

'People may have mortgages to pay off and employers will not want to lose people who have worked with them a long time. We are hoping this research will find ways that people can still contribute.'
Wendy, who has now retired, says,
'I believe the best way employers can help is to have an open attitude and create an environment where people feel comfortable about talking about their diagnosis.

'Next they need to be able to sit down with employees and come up with practical ways they can make work accessible to everyone.

'With the right support there is no reason why people can't continue to be valuable to an organisation for as long as they feel able to.'
See Creating a dementia-friendly workplace: a practical guide for employers, to which the researchers contributed.
Register your interest in taking part in dementia research with Join Dementia Research.