Ellie Lynch answers our questions
From the October/November 2016 issue of our magazine, Ellie Lynch, who has Alzheimer's disease and lives in Peterborough, answers our questions.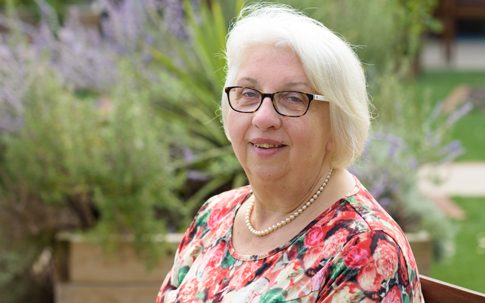 Q&A: Ellie Lynch
Peterborough, Cambridgeshire, aged 62 with Alzheimer's disease
What changed most after your diagnosis?
Most people I have told treat me differently, as if I can't think or do anything for myself anymore – having to fight to maintain my normal life.
What would you take to your desert island?
The biggest and most up-to-date encyclopaedia, so I could dip into it whenever I wanted for info, interest and how to do and make things. It would be my survival bible – it would take me a long while to read and its usefulness would be invaluable.
How has Alzheimer's Society helped you?
The Society has been a godsend. I am treated as a normal person and not as stupid. The activities are varied and accessible at our Dementia Resource Centre in Peterborough. The medical and other staff there have also been approachable.
If you could go back in time, where would you go?
I would go back to when I was a teenager and met my husband, because we met purely by chance and it was love at first sight. I had 43 years with him – best thing I ever did was meet him.
What is your most treasured possession?
The ring my husband bought me for our first wedding anniversary, bought in Germany while we were living there. It's my eternity ring.