3 Nations Dementia Working Group
The 3 Nations Dementia Working Group are a friendly group of people diagnosed with dementia who want to make a difference whilst we still can.
Who are we?
We are a small group with big ambitions and we hope to do the following:
Bring the lived experience as experts with our personal knowledge of dementia that people value whether in a professional or non-professional capacity. As such our aim is to become the 'go to' group within the three nations (of England, Northern Ireland and Wales) for anyone seeking input from people with dementia.
Continue to contribute to society, to give value, advice and information where required and requested.
Help each other through mutual support, friendship and understanding.
Help all those affected by dementia. We understand what you are dealing with.
Help those who are trying to help us (such as policy makers, service providers, academics, researchers, businesses).
Join the 3 Nations Dementia Working Group
If you too have a diagnosis of dementia, and live in England, Northern Ireland or Wales, why not join us?
You choose how active you would like to be. It may be you just want to hear what is going on or you may want to contribute to project work. You may be surprised at the difference you can make.
Hear from members of 3NDWG
Many members of the 3 Nations Dementia Working Group share their experiences over on our blog. Take a look to find out what they're up to and how they're making the world a better place for people affected by dementia.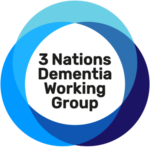 3 Nations Dementia Working Group Website
We have been working hard to create our very own website where you can find more information, resources, stories and more.
Visit the 3NDWG website