David Latcham, a Service User Review Panel (SURP) Group Facilitator talks about his experience of setting up his first SURP group, and how the last 12 months have gone.
'I find it relaxing, feel more confident, it's a 'positive' way to talk about dementia.'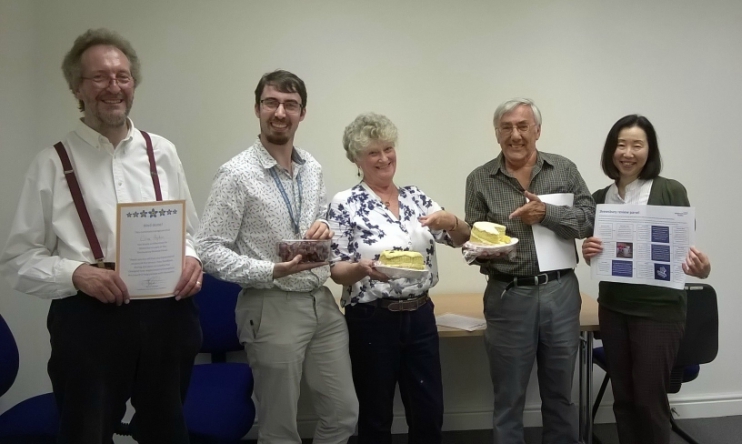 The group meet monthly to discuss a whole range of topics from Alzheimer's Society teams and local organisations. This includes a fun session on Dementia Friends, the new Alzheimer's Society strategy on how to involve people in dementia research and access information and a visit to a local venue to review the dementia friendliness of it.
Together they've directly influenced their local health strategy, the image of dementia in the media, and even the design of a range of Royal Doulton crockery!
How do some of the members feel about the group?
'Once we knew we could trust you, we felt we could come out with the way we feel'.

'I find it relaxing, feel more confident, it's a 'positive' way to talk about dementia'

'You gave me a voice.'

'I'm so keen to say things.'

'I think it's brilliant you can be part of it and everyone is listening to us.'
David was supported by a volunteer who helped run the group. We asked the volunteer what the best thing about supporting the Shrewsbury Review Panel was, they replied:
'I did not expect this but, my understanding, appreciation, feeling and possibly attitude has been changed and deepened towards dementia, people living with dementia and Alzheimer's Society.'
David shares his thoughts about his experience:
'People with dementia have lots of insightful opinions and life experience to offer, so enabling their voice to be heard is really important. I've been privileged to hear the funny, sad, and eye-opening things the group has shared over the past 12 months, and look forward to enabling more people with dementia to make a difference when the new groups start.'
If you have a diagnosis of dementia and would be interested in sharing your experiences and shaping decisions around dementia, then contact David Latcham on [email protected], or 01952 250401.