Taking family leave from work can be complicated. This may be even more difficult in a research career, where positions are often not permanent, and funding may have strict time limits. Dr. Natalie Marchant shares her experiences of maternity leave and advice on how to manage starting a family as well as continuing a successful career.
Dr. Natalie Marchant is an Associate Professor in the Division of Psychiatry at UCL. Her work focusses on how our mental health and the way we think can influence how our brains age. 
Natalie has two children, aged three and four. At the time of their births, she was the recipient of a Senior Research Fellowship, which was funded by Alzheimer's Society.
I have felt very supported by Alzheimer's Society, both of the times I have gone on maternity leave.
'Alzheimer's Society supported my leave request without too much paperwork to complete. Then, when I wanted to come back, the Society gave me the flexibility to come back part-time which helped too.'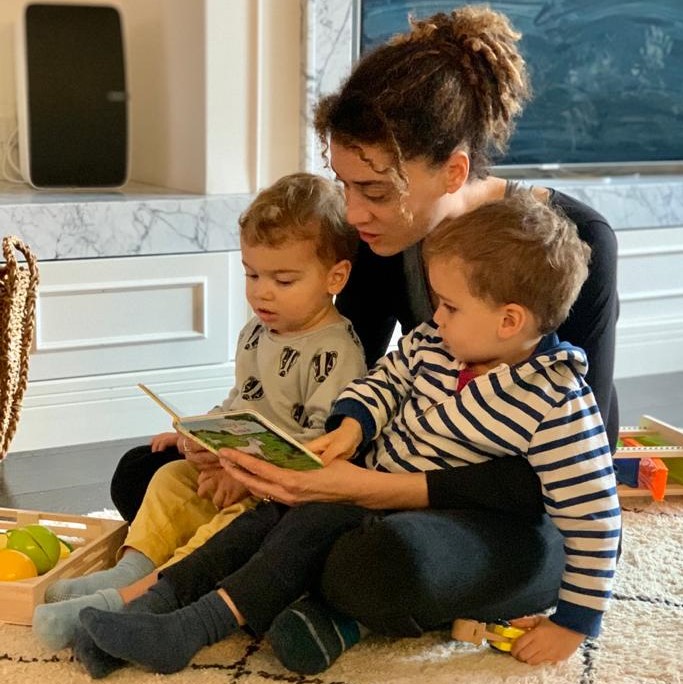 ​
Organising family leave
Natalie's fellowship was designed to support a researcher to do their own research and so could be easily paused for family or sick leave.
However, other funding schemes, like project grants, involve several researchers and so are harder to stop if one of the researchers goes on leave. Natalie recalls the difficulty with finding support.
'With Alzheimer's Society I could pause my fellowship, but I wasn't able to do this for my other grants, and that's when it became incredibly complicated.
There were so many questions I had to deal with.
'Who has the expertise, time and willingness to cover me? Is there any money to help that person cover me? Who supervises my students or manages my staff? How will they access the funding? Who writes up any papers or do we wait?
'These things are a minefield and unfortunately, the support is very much based on who's around you and it isn't systematised. In my division, we are working to improve the internal support around family leave.'
Choosing whether to stay involved with work while on maternity leave
Once the preparations have been made, actually being on family leave can mean very different things to different people. Some may relish the time to have an extended hiatus from having to think about work.
Others, like Natalie, may prefer to keep up-to-date with that was going on with work.
'I think it comes down to the individual and how much they want to be totally cut off from the work environment. I felt compelled to stay in touch because I had a project ongoing, and I didn't want to let it go.
'I also found it helpful to stay in touch as it provided a nice balance for me. It also helped me transition to coming back. I didn't have to then catch up on things I'd been cut off from for the last eight to nine months. I was current.
I don't think I would support carrying on with work for everybody at all. That arrangement worked for me.
'For others, they should feel free to be totally cut off on maternity leave. To know that they 100% have that choice themselves and feel no pressure externally.
'I certainly had times where I felt pressured to work when I didn't want to. Sometimes people needed my knowledge, and things would halt for a lot of people if I didn't respond.
'When it came to email, some people were extremely respectful, very rarely contacting me, and telling me to answer only when I could. Other people were not like that. If I started responding to emails, they got used to me responding and a few emails turned into many.'
Coming back to work after taking leave
It's not just organising and managing your family leave that can be hard, coming back to work afterwards can be tough too.
Natalie said, 'Coming back to work was challenging - after my first child in particular.
When you go on leave, you don't know if you will want to come back immediately or if you will want to give up your job completely. It's a strange unknown.
'When I realised I did want to come back, phasing my return to work gradually (three days a week, then four) was very helpful.'
Better support when returning to work
This is another area of support that can sometimes be lacking. It is important for people going on family leave to feel supported in their transition back into work. Again, sometimes the support can come down to who you know and who is in the team around you.
'I've talked to other colleagues who have gone on maternity leave who know what it's like. It can be isolating.
'Before going on maternity leave, you can be very tired. For colleagues who may not be so aware of that, it might be nice to remind them.
Don't set a meeting late in the day. Make sure you have seating. This is just basic stuff to help raise awareness.
'When I came back, it was really hard to mentally function again, and to have intellectual and data-driven conversations after many nights of little sleep. That's why I did my second maternity leave differently so I could stay in touch more and keep my brain more active. But, I was still feeling like I couldn't talk with people about science and that I was a fraud.
'I was wondering if I was ever going to be able to think quickly and scientifically again. But then it does come back.'
What are the positives of taking leave that you'd share with others?
It is important to remember, that whilst organising work when going on family leave can be stressful, and has many practical challenges, it can improve your working life as well as your home life. Natalie had lots to say about the positive aspects of her leave and how having her children changed her way of working.
'I loved being pregnant and being on maternity leave. I loved doing baby things and doing a bit of work at the same time. I feel that since then, it has given my life a lot more balance and meaning.
I love coming to work and being singularly focused on one thing for a period of time. I also love coming home and being with my children and my family and feeling so much more than just the cognitive reward of work.
'I also feel like a more creative thinker, which has benefited my work and the research questions I want to pursue.
'I feel like taking leave has really expanded my life, certainly not detracted from it. Maybe it has slowed down my career, but it has given me so much more than just a career focussed on progressing up the hierarchy.
'I feel that I am a better colleague now. I can empathise with having competing priorities and commitments outside of work and I try to respect those boundaries with my colleagues.'
I have a rich and fulfilled life, and I don't obsess about work as much as I once did, so I can enjoy it more now more than I used to be able to.
Recognising the importance of leave for researchers
As Natalie has shown, taking leave to have a family can be a logistically challenging thing to do. The most important things to keep in mind are to anticipate what needs to be arranged if your project is going to carry on in your absence.
It is also important to have open and honest conversations with colleagues to set boundaries for how they interact with you before, during, and after your leave.
Many institutions do offer support, however other organisations also have resources out there to help you find your way. You can also find helpful advice and support from friends and colleagues – and learn the dos and don'ts from those who have been on family leave before.
At Alzheimer's Society, we have learned a lot from our conversation with Natalie about how our policies could better support our researchers to manage this big transition in their lives. Watch this space for more information and resources.
Pregnancy, maternity and childcare support for researchers