Partnership conferences and events
We attend, partner and exhibit at a number of conferences and events throughout the year. Learn more about the conferences we have coming up this year: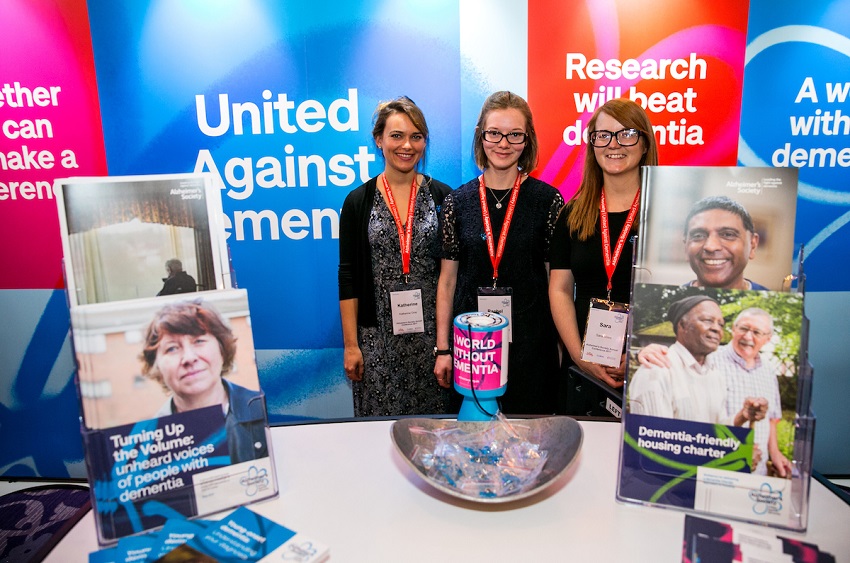 This conference will involve experts discussing key trends for the future of care in focused speaker slots.
Jeremy Hughes will be speaking in an afternoon slot on Alzheimer's in England – Understanding the Current Trends and Future Challenges.

The Dementia, Care & Nursing Home Expo aims to ensure care providers keep up-to-date with the latest products, technology and trends that are reinventing the care sector. We will have a stand on both days alongside 300 industry leading exhibitors, where we will be promoting our Training and Consultancy offer.
Additionally as part of the CPD accredited seminar programme, we have a couple of speakers at the event. Sue Brewin will lead a keynote on bridging the gap, and Raj Kapoor and Caroline Hayden-Wright will be speaking in a seminar titled 'Are you trying to be difficult?'
Come and visit us on stand D381 to find out more about our offer and how you can ensure you are providing high-quality dementia care.
Tickets to the event are free and you can register for them here.

ICIC brings together those who are engaged in the design and delivery of integrated health and social care, and this year has a theme of 'Evaluating and implement models of integrated people-centred services.'
We will be presenting a poster at this conference titled '19 times too many - Integrated health and Social Care for people living with dementia in the UK'.

Alzheimer's Society and Alzheimer's Research UK have joined forces to start the Dementia Revolution as this year's charity partners for the London marathon.
Come and visit our stand at the London Marathon Expo to learn more.

Dementia 2020
30 April 2019, Royal Society of Medicine, London, UK
Dementia 2020 will follow the progress of the Dementia 2020 strategy and will look towards the future and what is to come.
Alzheimer's Society will have a stand and Jeremy Hughes will provide a keynote on Leading a nation in tackling dementia.

Elevate
8 – 9 May, London ExCeL, UK
Elevate is the UK's largest physical activity trade show.
Come to the Alzheimer's Society stand to learn about our new sport and leisure guide which aims to share good practice and creative ideas in supporting those affected by dementia within the sector.

ICPDC (International Conference on Palliative Dementia Care)
8 – 10 May, Belfast, UK
ICPDC is the inaugural conference on palliative dementia care hosted by Northern Ireland Hospice in Belfast.
We will be there with a stand, as well as speaking about the benefits of a palliative care approach towards those living with dementia.

Alzheimer Scotland Annual Conference will delve into the advances of current dementia research and explore the innovative support available to provide better care for people living with dementia today.
Visit Alzheimer's Society exhibition stand to learn about our research network and other research activity.
Alzheimer Scotland are inviting those wishing to display a poster presentation to submit an abstract outlining the area of practice or research to be presented at the conference. This is a fantastic way to showcase your work to a diverse and engaged audience of over 500 delegates. Further details including the abstract template form and guidance notes, can be found on the conference website. Deadline for submissions is 12 April 2019.
You can also save up to £30 with the early bird rate available until 26 April.