Partnership conferences and events
We attend, partner and exhibit at a number of conferences and events throughout the year. Learn more about the conferences we will be attending in the near future.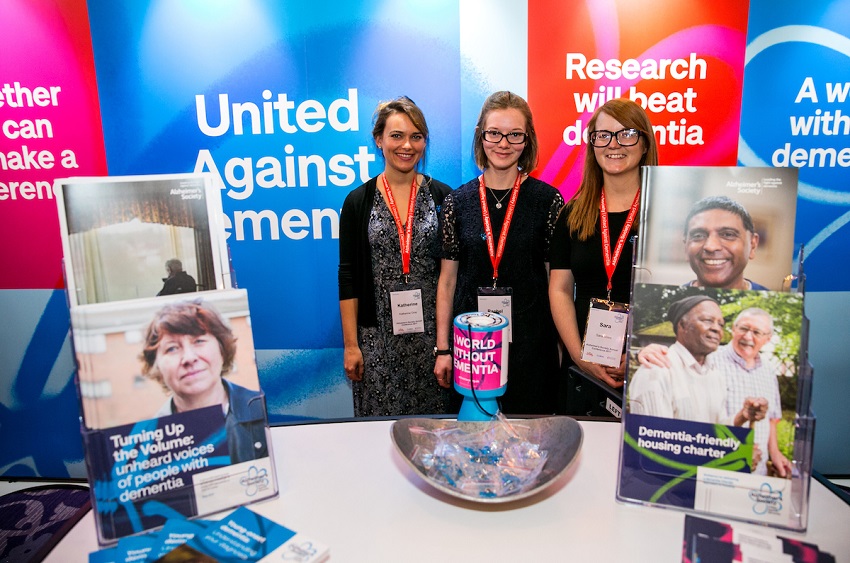 Partnership Conferences
Organised in partnership with the Alzheimer's Society, the Congress brings together the latest ideas and innovations, as well as providing a unique forum for professionals, experts and people living with dementia to network, learn and share within an exciting and positive environment.
The Alzheimer's Society will hold 2 badged talks, titled 'How to respond to distressed behaviours' and 'Meeting the sex and intimacy needs of people living with dementia in care homes', as well as other speakers. We will also provide publications and information on our stand. Come and visit us to speak to our staff and learn about our support services for individuals and organisations.
Alzheimer's Society Supporters receive 20% off using code UKDCALZ, email [email protected] to book your tickets.
Other conferences
We will be attending both party conferences, where we will be promoting our Fix dementia care campaign. We're calling on the Government to end the inequality and deliver the change that people affected by dementia deserve.
We will be attending all four days of the conference in Belfast, promoting our national services.
The theme of the event is 'Changing cities to change the world', and the conference aims to create a platform for presenting current progress and exploring the issues and challenges that will shape the future of the global Healthy Cities movement.
Best Practice Show
17 - 18 October 2018, Birmingham, UK
This year's event, hosted annually for the primary care community, will incorporate the National Association of Primary Care's Annual Conference and the DDA's Annual Conference.
Jeremy Hughes, CEO will be joining keynote speaker session 'Wellness not Illness'. Janice Le Tellier and Dr Vish Ratnasuriya will join a session to speak about our new Dementia connect service.
Alzheimer Europe
29 - 31 October 2018, Barcelona, Spain
This is the 28th Alzheimer Europe Conference, this year organised in collaboration with CEAFA and Fundación Alzheimer España. The theme is 'Making dementia a European priority' and Alzheimer's Society will be presenting a number of orals presentations as well as posters on a variety of topics. These include:
Mind the Gap: Gender & Unpaid Dementia Care in Europe
People with dementia have rights too - Adopting a rights based approach
Progressing from 'proving' to 'improving' the involvement of people affected by dementia in research
Global Dementia Friends Network: Uniting Against Dementia
This event will be attended by the entire local council sector and includes workshops, networking sessions, and updates on national lobbying campaigns.
Sally Copley, Director of Policy, Campaigns and Partnerships at Alzheimer's Society will join a workshop titled 'United against dementia' with Terry Martin, Chief Executive at Kent Association of Local Councils.
Care England
14 November 2018, London, UK
The theme for the annual conference this year is 'Making the most of data and technology', and will focus on the intelligent use of data and technology in the care sector.
We will be showcasing our training and consultancy courses, as well as our national services. Come and visit us on our stand to find out more.
NCAS is an annual conference for those with responsibility for, or an interest in the provision of services for children, young people and vulnerable adults.
We will be attending the exhibition, come and visit our stand to find out more about our dementia connect offering, as well as our national services.