1 in 3 young people know someone living with dementia. So this Universal Children's Day we're asking for your help creating a dementia friendly generation.
Today is Universal Children's Day. It's a day to promote international togetherness, campaign for the improvement of children's welfare and raise awareness among children worldwide.
You might be asking, then: why are we talking about dementia?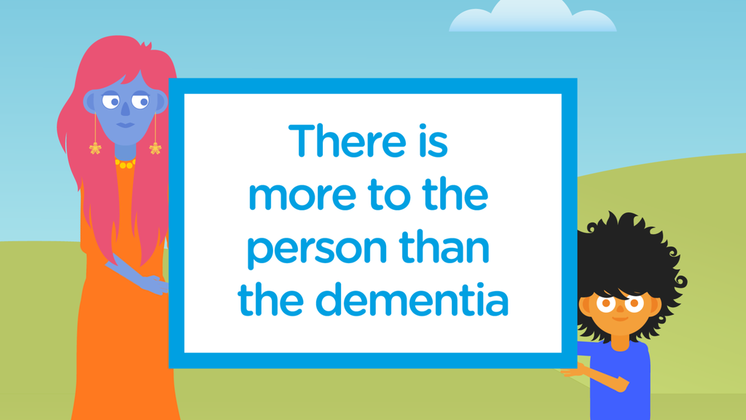 ​
Our new animation 'Memories with Grandma' aims to raise awareness of dementia for 7-11 year olds We know that dementia is steadily rising - there are approximately 850,000 people with dementia in the UK and at least 47.5 million people worldwide! We also know that people affected by dementia still face stigma, loneliness and social exclusion. And it's not just those with the condition that experience this but family, friends, carers and other loved ones… So what about children?
What happens if there is a young person in that family? How do you explain dementia to a child? And why should we make them aware of what dementia is?
Educating children about dementia
One in three young people know someone living with dementia. But children can often be sheltered from the condition, or it might not be explained in a way they can understand.
We know that explaining dementia to children can feel daunting and overwhelming. That's why Alzheimer's Society have created a range of resources to enable anyone to discuss and teach about dementia. We hope this will help tackle the stigma that currently exists.
Our new animation 'Memories with Grandma' raises awareness of dementia for 7-11 year olds, explaining the condition in an easy and engaging way. It addresses the challenges that people with dementia may face, and gives tips on what we (at whatever age) can do to support them.
People living with dementia helped to develop the story and script, and Grandma Mary is voiced by Dianne, one of our fantastic supporters who is living with dementia. We have also adapted the video with subtitles in four languages so that it can be used to raise awareness internationally.
Other activities and resources available on our website include factsheets on how to explain dementia to young people, engaging resources for schools and youth groups, and fun activities for children.
'It helps me, in and outside of school, knowing that my friends know about dementia. Because if they didn't know and I came to school really upset, they wouldn't know what dementia meant and it would be really hard for me to explain it.'

– Jennifer, grandchild to Trevor who is living with dementia
Young people have no hangs up about dementia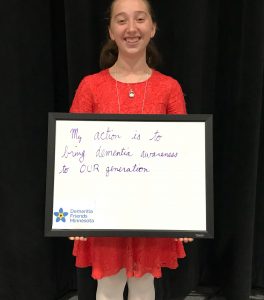 ​
A young dementia friend pledges to help raise awareness
Children are remarkable and sometimes can even understand dementia better than adults.
When learning of the effects dementia can have on a person—whether that be a family member or friend—many of them just accept it and embrace the way the symptoms manifest themselves without fear or judgement. Not only can this have a positive impact on the person with dementia, but it can also help the young person and the whole family. Sometimes it even strengthens the bond between the young person and person living with dementia.
Relationships change with dementia but that doesn't mean it has to be always negative.
Gina Shaw was diagnosed with dementia in August 2013, and is a passionate advocate of the Society's Dementia Friends programme. Over the past few years Gina has been amazed by how receptive children have been to her diagnosis of dementia. She's done a lot of work raising awareness of dementia in schools:
'I am so grateful. It's a bit overwhelming how fantastic the children are and the changes they have made. They don't see me as a person with dementia, they see me as a person who may need help, and they give me some help.'

– Gina Shaw, Dementia Friends advocate
Young people can help to bring around change
We want to create a dementia-friendly generation by raising awareness of dementia among young people. This means creating a society full of children who think about a diagnosis of dementia without stigma. They'll talk about living with dementia more positively, and support people with dementia to live the life they wish to live.
It doesn't stop there. Children will take their knowledge and understanding into maturity. That helps us to make social circles and workplaces of the future more dementia friendly – remember they are our future doctors, politicians, bus drivers and teachers. By educating people at a young age we are transforming the landscape for those affected by dementia today and in years to come.
Join us this Universal Children's Day and talk to children, students, and young family members about dementia. You will be surprised by what you will both learn.
Next steps
Discover our resources to help children and young people understand dementia
Read more about the experiences of one of our young Dementia Friends Champions