Stephanie Cvetkovic's auntie is living with dementia. Find out how she got her local community to pull together to raise funds (and smiles) on Cupcake Day.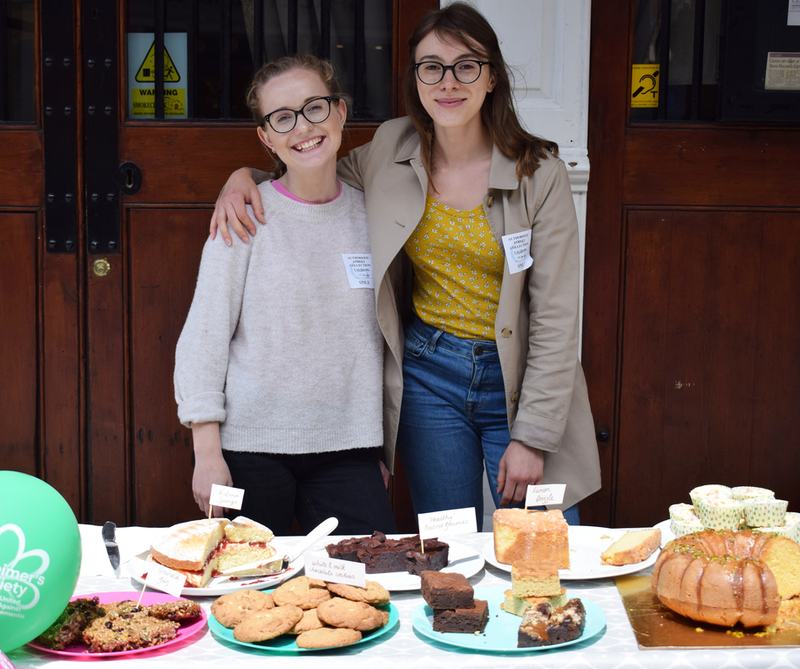 Stephanie (right) selling cakes alongside her colleague Alex on Cupcake Day
Stephanie's story
My auntie is about fifteen years older than my father and his twin brother, an age gap that was – thanks to her cracking dress sense and sharp sense of humour – never really noticeable. That was, until she developed Alzheimer's disease.
Born in Serbia, she moved here with my grandparents when she was in her 20s. My auntie adapted incredibly well to British life, throwing herself at every opportunity that came her way. She was always out and about, going places and meeting people.
It has been truly harrowing for my family to witness such a once-independent and strong woman struggle to go about her day-to-day life as her memory has slowly deteriorated. Not only does she have difficulty holding conversations, she has lost almost all of her freedom when it comes to getting out of the house due to the confusion and resulting panic it can cause her.
Auntie's sweet tooth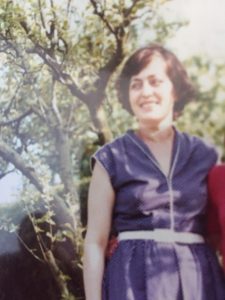 Stephanie's auntie Bosilka moved to Britain in her 20s

My Auntie has always had a sweet tooth, particularly when it comes to cake. With this in mind, and after seeing an advert for Cupcake Day at work, I rallied my colleagues at Expert Home Tips and got to work. I hoped to plan a Cupcake Day that the whole of Guildford could get involved in.
I was overwhelmed by the enthusiasm and support I received at work. It quickly became clear that this wasn't only a cause close to my own heart, but for many others too.
As Cupcake Day approached, the office was filled with chatter about cake, as we each decided what sweet treats we'd like to sell on the big day. In the end, we settled for a classic Victoria Sponge (my auntie's favourite), Lemon Drizzle, Chocolate Chip Cookies (great for the kids!), Granola Bars, and Beetroot Brownies (for the health conscious).
Support in the community
Although we had more than enough to sell between us, I wanted to do more. Not only to raise as much money as possible, but also awareness. I spoke to several local, independent cafés and we were lucky enough to receive several donations. I was already overwhelmed by the generosity of Guildford, and we hadn't even started selling yet!
We had permission granted from Guildford Borough Council to set up a stall on the High Street with two collectors. Luckily we were blessed with good weather and there were plenty of people about. Before we'd even finished setting up, we received lots of attention with people asking about the cause, admiring our treats and giving donations.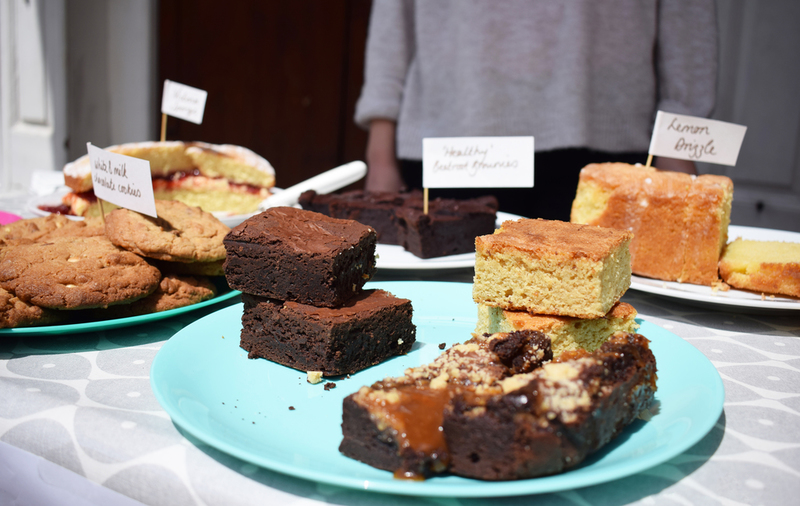 A selection of cakes on display for Stephanie's Cupcake Day
Pulling together
It was heartening to hear the stories of others with relatives living with Alzheimer's, and I was again astonished at the generosity of the public. By the end of the day, we had raised £144.30 – much more than we had anticipated. We were filled with pride, not only due to our own efforts, but for the community pulling together to raise money for this great cause.
Of course, I saved a few slices for my auntie, and relayed the adventures of the day to her. I haven't seen her smile like that in a long time – this alone made the hours of baking more than worthwhile! Here's to many more years of making my auntie smile.
Next steps