Complete the symptoms checklist
If you're worried about yourself or someone close to you, complete our symptoms checklist and show it to a GP or health professional. You can fill in the checklist online or print it out and complete it offline.
Complete online
Print a copy
We're here to support you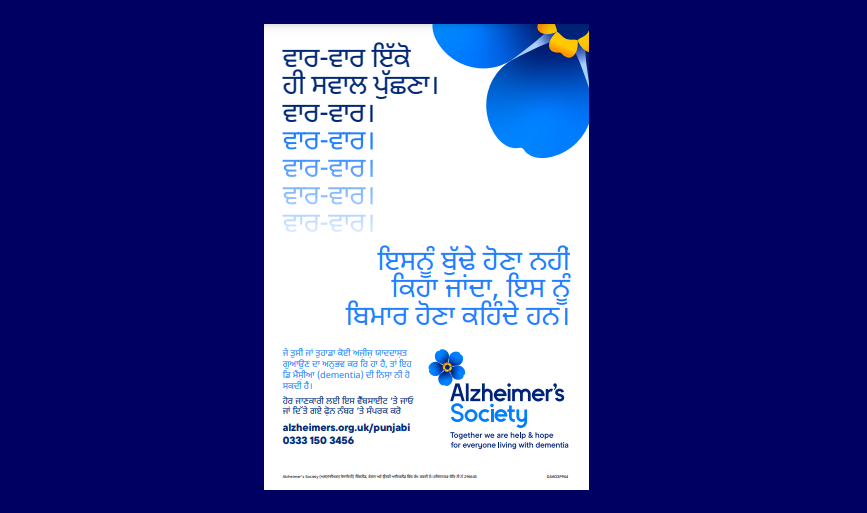 What is Dementia Action Week?
Dementia Action Week (15-21 May) is an awareness raising campaign. Each year, Alzheimer's Society works with individuals and organisations across the UK to encourage people to act on dementia. This year's theme is dementia diagnosis.
We're encouraging those who are worried about dementia to use our Royal College of GP's accredited symptoms checklist. We're also offering practical advice on what to expect during and after the diagnosis process.
We want to encourage those who might be living with undiagnosed dementia to:
understand and recognise potential dementia symptoms
come to Alzheimer's Society for guidance and support
feel empowered to take their next step
improve the diagnosis process for both them and healthcare professionals.
For Dementia Action Week updates follow Alzheimer's Society:
With a sustained drop in dementia diagnosis rates, we undertook research to understand the key barriers to and benefits from getting a diagnosis.
As well as misconceptions around memory loss being a normal part of ageing, we found being in denial and specialist referral times are the biggest barriers to getting people to seek a diagnosis.
Research shows that the biggest barrier stopping people seeking a diagnosis was thinking memory loss is a normal sign of ageing.
We found 9 in 10 people living with dementia said getting a diagnosis had befitted them, with on average two to three recognisable benefits.
Of those we spoke to who waited to get a diagnosis for two or more years, three in five wished they had got that diagnosis sooner.
Getting a timely diagnosis means you can:
get practical advice from professionals and organisations
plan for the future
feel a sense of relief knowing your next steps.
And most importantly, you can avoid reaching crisis point.
Support Dementia Action Week