With the help of some four-legged friends, Chester Zoo has been home to an Alzheimer's Society Dementia Café. Zoo Ranger Pippa tells more.
You may have heard of a Dementia Café. But what about a Dementia Café with a couple of Asian elephants? Zoo Ranger Pippa describes how the team at Chester Zoo have been supporting people affected by dementia, with the help of some four-legged friends.
Chester Zoo is home to a close knit family of Asian elephants including some adorable calves, who were an obvious hit with our Dementia Café visitors.
How it all started
Last year, Alzheimer's Society was looking for the perfect venue in Chester to host a Dementia Café. Whilst searching for a location, they heard that many of our staff here at Chester Zoo had received training to support those living with dementia.
After initial meetings between the Zoo and Dene Residential and Nursing home, it was agreed that the zoo would be a great spot for the new café. The team here was ecstatic!
Hosted at Bembe Coffee Shop, the café offers a dementia-friendly environment where people living with dementia, and their families and carers, can come along for some fresh coffee, a cake and a catch up. All whilst enjoying a view of the zoo's warthogs, black rhino and Asian elephants!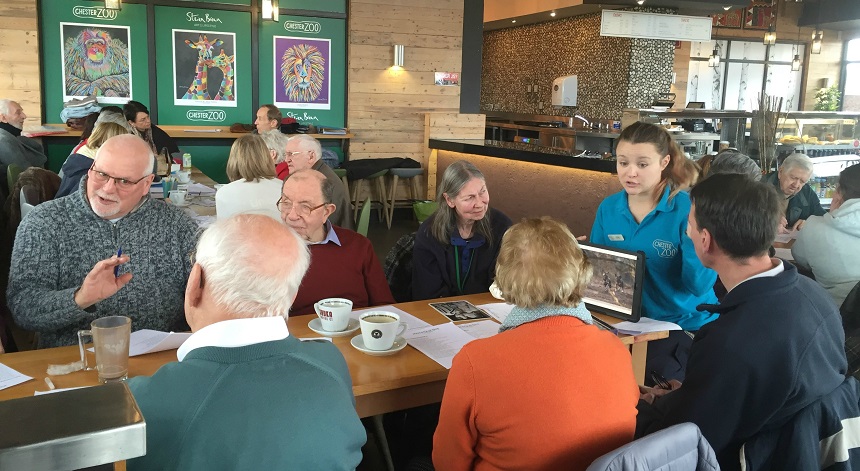 Me at the café talking to some of our visitors about the range of animals we have here at Chester Zoo.
Finding out about the incredible animals
The coffee mornings have become very popular. As well as meeting other families affected by dementia, visitors can get help and information from the Alzheimer's Society who bring fun themed quizzes, games and crosswords. Service users can also flick through scrapbooks with reminiscence-style themes, such as Victory in Europe Day.
Often, our Discovery and Learning team will deliver a short talk about some of the amazing animal species (and life-size skulls!) here at the zoo; leaving lots of time to go around the tables and chat to each visitor, showing them photos and interesting animal artefacts.
Our team always look forward to the coffee mornings. We've built some great relationships with the regular visitors who enjoy trying to get our help answering the quizzes – which I am particularly bad at!
The talks are a great conversation starter. They give us a chance to hear all the amazing memories from past zoo trips - including some incredible adventures of animal spotting in the wild!
These mornings are really special to us as they provide those living with dementia, as well as their families, friends and carers the opportunity to get together in a relaxing environment and enjoy a nice cup of coffee.
We'd love you to come and join us! The Café meets from 10.30am on the second and fourth Monday of every month. You can find more information on the Chester Zoo website.
Not near Chester? Find your local services
Dementia Cafés are a great way of getting information, advice and peer support. Alzheimer's Society will often invite other speakers and organisations to talk, including The Carers Trust, Age UK and British Red Cross.
An opportunity for people to meet others in similar situations, it can provide a support network for those who need it. Peer support group facilitator, Amy Robinson, said:
Regular meetings can help to improve people's overall health and wellbeing. It can also help to reduce social isolation and bring people together in the local community.'
Would you like to attend a Dementia Café or activity group? Search for your local dementia services.