The Dementia Friends programme teamed up with Dementia Nigeria to announce Dementia Friends Nigeria.
Philippa Tree, Senior International Officer, discusses how Alzheimer's Society works with Dementia Nigeria to promote dementia awareness in the fight against the world's biggest health epidemic.
I felt shame. I practically disowned him, and I stopped visiting him altogether. He died within the year, and all I felt was great relief and release – all mine. It is now almost 10 years after his death. I now know that he must have had dementia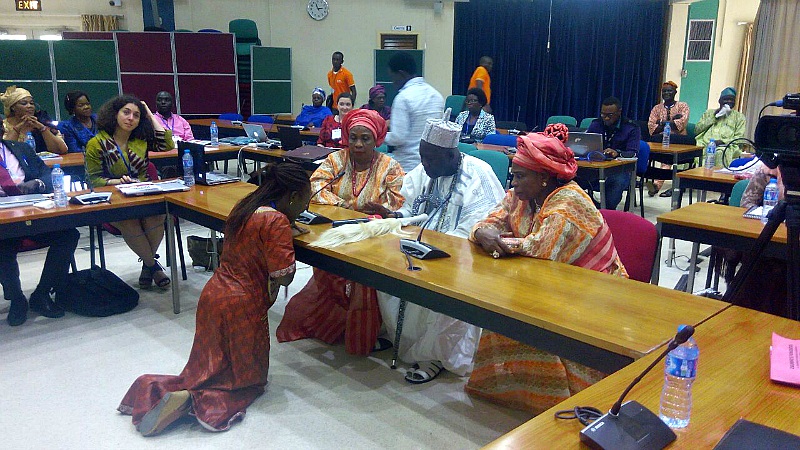 About a year ago Kikelomo Laniyonu Edwards, founder of Dementia Friends Nigeria, and Director of Rossetti Care Ltd, told the story of a woman whose father passed away with dementia.
It was an incredibly sad story which highlighted the level of misunderstanding surrounding dementia and the general lack of support available for those living with the condition.
However it also showed hope and a sign of change. This very same woman became one of the first Dementia Friends Champions in Nigeria, and a very vocal one at that! Now within her village she is helping to spread awareness of what dementia is, and explaining how her community can make a big difference by doing simple, small actions.
What is Dementia Friends Nigeria?
The Dementia Friends programme was launched in Nigeria on 28 January 2016 by Dementia Nigeria and with support and guidance from Alzheimer's Society.
Using the UK's Dementia Friends programme outline and materials, adaptations were made to roll the programme out to change the way the nation thinks, acts and talks about the condition. In the space of a few months there were over 21 Dementia Friends Champions in 19 of the 36 states.
Each Champion was given a target of creating 100 Dementia Friends, and Information Sessions were delivered in schools, hospitals, places of worship and elsewhere within the villages and towns. Through this word of mouth people's perceptions and attitudes towards dementia have begun to change, and over 80,000 people have now become Dementia Friends.
The most popular strategy employed by Dementia Friends Nigeria was to get individual village Chiefs and elders involved, who would then cascade the learning to the lower Chiefs and then to individual households within their communities. Getting key respected members of the community engaged in the programme really helped to give the Dementia Friends messages some weight.
Since January 2016 the Nigeria Dementia Friends programme has gone from strength to strength. A huge success is the recent appointment of His Imperial Majesty, Oba Saliu Olasupo Adetunji, The Olubadan of Ibadanland, as the Grand Patron of Dementia Friends Nigeria. Since becoming Grand Patron he has attended large awareness raising events, and is hosting the one year anniversary celebration.
How has the programme helped communities?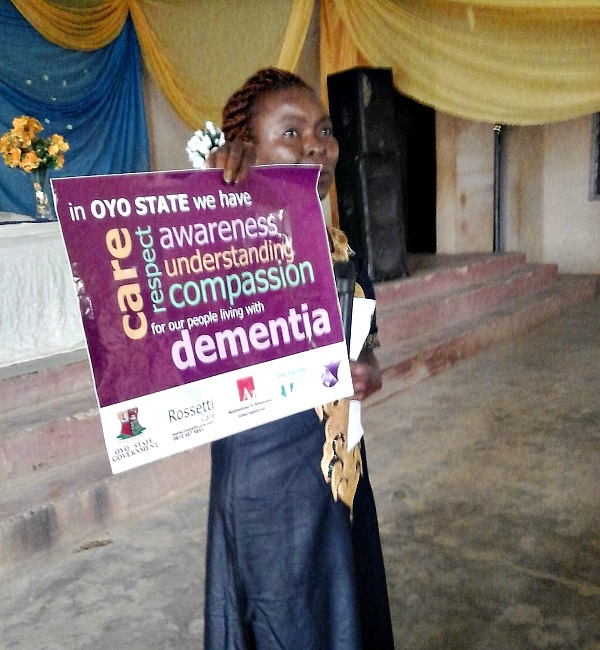 Dementia Friends Nigeria's one year anniversary event is taking place on the 4 February 2017 in the centre of ancient Ibadan. Already there is a growing sense of excitement and enthusiasm and people from across the States of Nigeria have confirmed their attendance. The venue location was chosen by Oba Saliu Olasupo Adetunji himself as he wants everyone, 'from market women, farmers and craftsmen to have the opportunity to celebrate and to learn about dementia'.
Kikelomo Edwards describes, 'The transformation of those communities in just months is astounding! Now we have people within those communities talking openly about their family members who are living with Dementia! They are no longer ashamed. They no longer feel the need to hide'.
Rolling out a Dementia Friends programme in Nigeria isn't an easy feat. With a population of over 180 million covering an area of almost 400,000 square miles, it is challenging to spread the word far and wide.
Kikelomo explains 'To say the roads are not the best in the world is a gross understatement; the supply of electricity, telephone and internet is very unreliable in many parts of the country. The poor are very poor. I commend all those who volunteer their time and efforts in this awareness campaign amidst all these odds!'
Why is international work with dementia so important?
With over 47.5 million people living with dementia worldwide, dementia has become the biggest global health epidemic facing our generation. Despite the rise in prevalence, many people with dementia experience loneliness and social exclusion and in some parts of the world, are branded as witches or are accused of madness. Now more than ever it is important that we work together to create communities that include and empower people living with dementia.
Nigeria is playing a big part in leading the way for other countries in Africa to step up and take action. Alongside Nigeria, Alzheimer's Society has supported over 15 countries to develop or deliver Dementia Friends programmes.
Through this collaboration and sharing of best practice, a global Dementia Friends movement is forming, one in which Alzheimer Associations across the world can work together to tackle the global challenge of dementia.
A lot of work is needed to support a societal shift towards acceptance and inclusion of people affected by dementia, but together we can make a difference.