Bryn the dog is a Side by Side volunteer who works as a therapy dog. Read about what he got up to in January in his work with dementia.
Not every dog can be a therapy dog you know. Most of us make fabulous friends in some way or another, but it takes just the right temperament to be a volunteer like me ...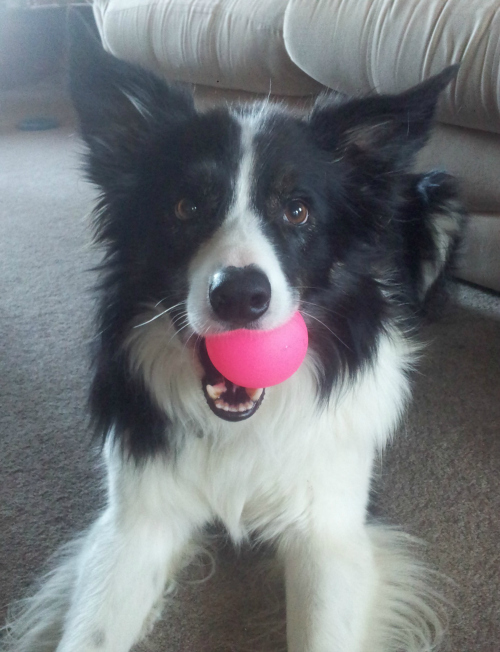 I know about this as I have a furry little sister called Kelsey. She joined our home a couple of years ago after my mum and dad adopted her from a local rescue centre. I wasn't too impressed at first as I was used to being the only dog – and between you and me Kelsey can be very annoying! I'm sure all big brothers must find this but honestly, she has too much energy at times, and she pesters me to play when I would rather take a nap. She is also quite noisy, and even my mum tells her to be quiet when she starts barking at the crack of dawn for her breakfast.
My mum tells me we must be kind to Kelsey though and try and forgive her funny ways, as she had such a terrible start in life. Some other humans were very unkind to Kelsey before she came to us, and for months she was too scared to do anything other than sit quietly in her bed in the corner of our kitchen. She has gradually changed though and is now much more confident - but only with the people and in the places she knows. Kelsey loves to play, and chase a tennis ball, and explore, and in her own way she is a happy little girl. But she can't completely get over her difficult start, and she will probably never be confident enough to walk up to someone she doesn't know for a fuss, or to lie quietly if there is an unexpected noise. This is fine for us, as we all love her anyway and we know to adapt to her habits. The reason I'm telling you all of this though is that Kelsey will probably never be calm and confident enough to be a therapy dog.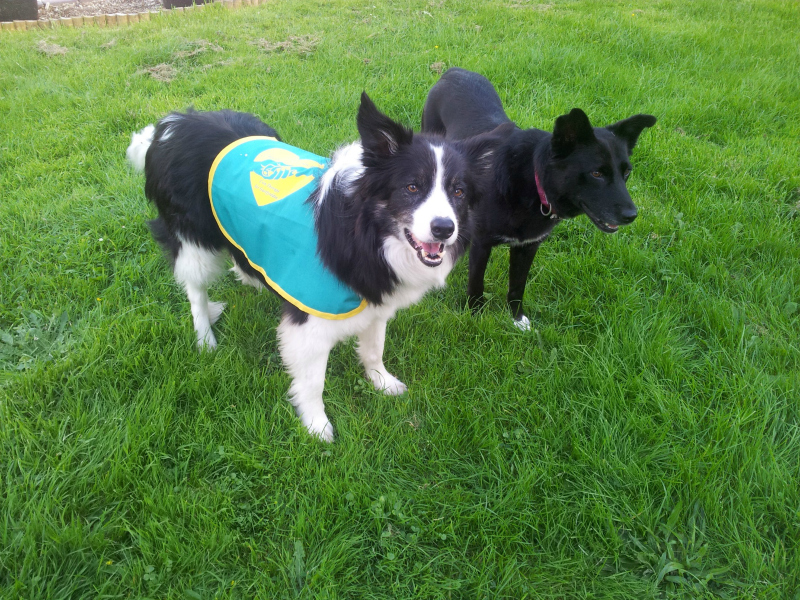 Furry and friendly therapy dogs
If you do have a furry friend with the right temperament though, please think about giving volunteering a go. It's great! You humans like to say that size doesn't matter, and that goes for therapy dogs too. My vet was telling me the other day that she has recently assessed a great dane to be a therapy dog. My first thought was wow – that's a huge volunteer! But then the vet explained that this dog will be going to visit patients in hospital, and her head will be at just the right height to reach over the edge of a bed for an ear rub. So you see, we can all have a role to play.
Sharing memories
We were telling Rhiannon about Kelsey when we visited last week, and apparently it's not just us dogs who have annoying little brothers and sisters. Rhiannon has two younger brothers, and she said that when they were young they could be very irritating. They all used to play tricks on each other, and their mum would tell them off. But they still loved each other of course and had some fun too. Rhiannon told us that one day when they were young she and one of her brothers were bouncing on their mum and dad's bed. They were having great fun playing – until some of the bed springs broke! They didn't know what to do and so they took the broken springs outside and hid them under a bush. Their mum and dad never mentioned it and so to this day they don't know whether anyone realised what they had done. We were saying that as Rhiannon's brother still lives on the same farm maybe he should go and look in the bushes and see if the springs are still there, nearly 65 years later!
We are off to see Rhiannon again this weekend as we always do, and Kelsey will come with us, but wait in the car. Luckily she loves the car and naps quite peacefully for an hour or so. Then after our visit my mum will take us both for a really long walk, what a lovely day for us all.
Love from Bryn xx