Malayka Rahman-Amin, Research Translation Manager at Alzheimer's Society, tells us about a therapy for people with advanced dementia, and how her role supports researchers to make a real-world impact.
What is 'Namaste care'?
Ensuring that people in the later stages of dementia receive excellent care is a priority for the Society, and I've been working closely with researchers involved in Namaste care.
Namaste care aims to enhance quality of life in the later stages of dementia, when people can feel isolated and unable to join in with activities around them.
Developed in 2013 by Joyce Simard in the US, Namaste care helps the person to remain connected to others by focusing on their emotional as well as physical needs.
'Namaste' is a term from Hinduism meaning 'to honour the spirit within', and this is what Namaste carers aim to do by engaging a person's senses through sound, touch, smell, taste and sight. This can include hand massages or sharing familiar food or drink.
The person's life history is used to tailor interventions – a former golfer could benefit from interacting with a golf ball, while for a knitter this could be a ball of wool.
What have researchers learned?
The University of Worcester's Association for Dementia Studies has led research to see how Namaste care may be made more available in the UK, supported by one of our three-year implementation grants.
These grants are designed to help researchers find ways to put evidence from their research into practice.
Isabelle Latham, managing the research project, says they have observed many benefits due to Namaste care, as well as insight into how care homes can introduce this approach effectively.
Isabelle says, 'We have seen weight gain, increased hydration, reduced agitation and restlessness, and increased communication and awareness. We have also learned a lot about the challenges of using Namaste care and what care homes need to do to make the change successful and long-lasting.'
'Through our project findings, care homes all over the country will benefit from the experiences of our case study care homes.'
- Isabelle Latham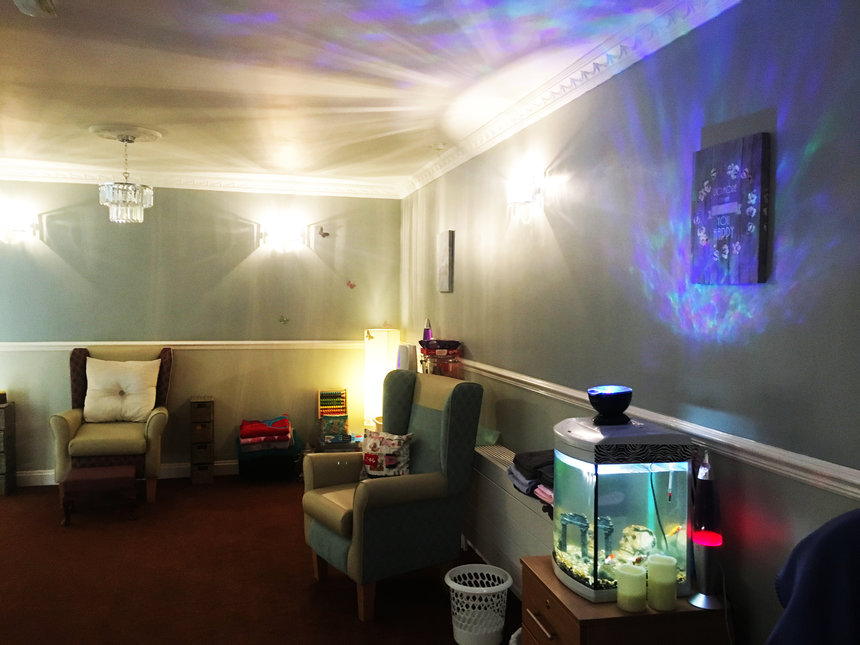 The image above is an example of the calm and welcoming atmosphere created for Namaste care – soft, gentle moving lights, tactile items, gentle music and pleasing aromas.
Making an impact
The project has been testing Namaste care in six care homes, through group sessions for people with advanced dementia.
Four of the homes have committed to continuing to provide Namaste care after the testing finishes this summer – a good example of how this type of research can have a sustained impact.
To help spread the word about the benefits of Namaste care further, we have awarded the project team further funding to produce a film showing the approach in action.
Find out more about this research
The researchers will present further news at Alzheimer's Society Annual Conference, taking place in London on 21-22 May.
Conference details
Care and cure magazine: Spring 19
Care and cure is the research magazine of Alzheimer's Society is for anyone interested in dementia research.
Subscribe now
More from Care and cure magazine: Spring 19:
Care and cure is the research magazine of Alzheimer's Society is for anyone interested in dementia research.
Subscribe now