Learn about a trial in Dorset to test global positioning system (GPS) tracking insoles within the shoes of people with dementia.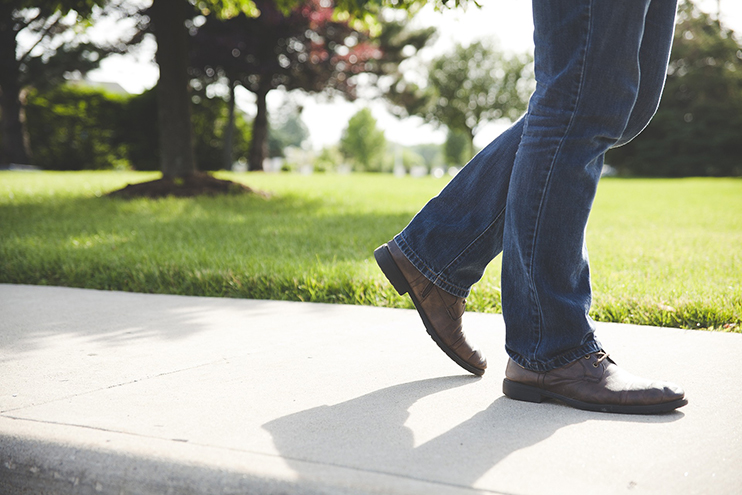 Walking about
As a person's dementia progresses, they might feel the urge to walk about and even leave their home.
Although walking can be a positive form of exercise that relieves stress and boredom, there can also be risks.
In order to help keep people with dementia safe when walking, the NHS in Dorset is testing a new global positioning system (GPS) device.
It is common for some people with dementia to spend long periods of time walking around in their home or trying to leave their home to walk outside.
Learn more
Testing the tech
People with dementia who consented to take part in the trial were given GPS-fitted insoles, known as SmartSoles, to test out. The insoles can be discreetly tucked into shoes and easily swapped between different pairs.
The aim of the insoles is to enable the person to be independent as well as safe. If the person walks away alone they can be easily located using a smart phone or computer that is connected to the insoles via an app. A notification is sent to the carer's mobile phone from the GPS tracker as soon as the person with dementia walks outside of a defined area, such as a garden or care home.
Sally Copley, Director of Policy, Campaigns and Partnerships at Alzheimer's Society, said
'Becoming lost and disorientated is a serious concern for people living with dementia and their loved ones – not only can it put them at risk of harm and stop them from being able to live independently, but also can cause great stress to families and carers.


'The use of GPS tracking for people with dementia is a contentious issue. Our research has shown that, when used appropriately, it can provide reassurance and even save lives. People with dementia told us that they want the technology to be easy to use and putting it in slippers could achieve that, but it's also important that it's only used when it's wanted.
'Ultimately it's a personal decision but it's crucial we find ways to help the 850,000 people living with dementia in the UK keep their independence. That is why we recommend that these technologies are discussed as early as possible after a diagnosis, so that the person living with dementia is able to give informed consent and, if they want to, begin benefiting from these potentially lifesaving devices, that will give them the confidence to go out and about without fear of getting lost.'
Our research
Alzheimer's Society has funded research in this area. Dr Ruth Bartlett at the University of Southampton worked with people with dementia, carers and the local police to find out whether GPS devices are appropriate and if they help people to remain independent for longer.
Find out more about the research project, funded by Alzheimer's Society, that explores GPS technology for people living with dementia.
Learn more
Results of the study
The study is now complete. Results suggest that GPS devices can be a useful tool when introduced at a stage when the person with dementia can consent and maximise the benefits to their independence.

This will help to inform dementia care policy and provide people with dementia, carers and police with practical guidance for the use of this technology.
Care and cure magazine: Autumn 18
Care and cure is the research magazine of Alzheimer's Society is for anyone interested in dementia research.
Subscribe now
More from Care and cure magazine: Autumn 18:
Care and cure is the research magazine of Alzheimer's Society is for anyone interested in dementia research.
Subscribe now