Sandra Barker has been a member of our Research Network for five years, coordinating our volunteers across Yorkshire and Humber. Here she shares how our Research Network is making waves internationally
Patient and public involvement (PPI) is now common practise in research based in the UK. However, until recently PPI was a new concept in Norway.
Two years ago, a team of Alzheimer's Society staff and volunteers were invited to Norway by the Norwegian Health Association (NHA). They spoke about the Research Network and its success so far at a meeting in Oslo.
Fast forward to September 2019, the NHA came to Sheffield, to learn about how Alzheimer's Society and the local NHS trust involve people with dementia in research as well as in providing and commissioning local services.
The perspective from the UK
Who are the Norwegian Health Association?
Norwegian Health Association is a voluntary organization with volunteer-led dementia groups across Norway.
They aim to combat dementia by funding research, highlighting ways to prevent dementia, providing information and influencing government and politicians.
Sharing our experience internationally
The key issues that the NHA wanted to explore with us included why we volunteer for the Research Network; what makes it work for us, particularly in the regions away from London; the impact of our involvement on the research we fund and the views of researchers who work with Research Network Volunteers.
Volunteers, researchers and a member of Alzheimer's Society joined us to share their experiences with a team from the NHA.
A buzz in the room
As volunteers, it wasn't hard to articulate what is so fantastic for us about being part of the Research Network but it was still so good to hear from our researchers how they benefit from working with us.
We must never underestimate the support they get from us.
The buzz in the room was brilliant. There was so much enthusiasm for involving people affected by dementia in research. 
For their part our new, Norwegian friends really enjoyed the day and went away even more full of enthusiasm to involving people affected by dementia in research in Norway.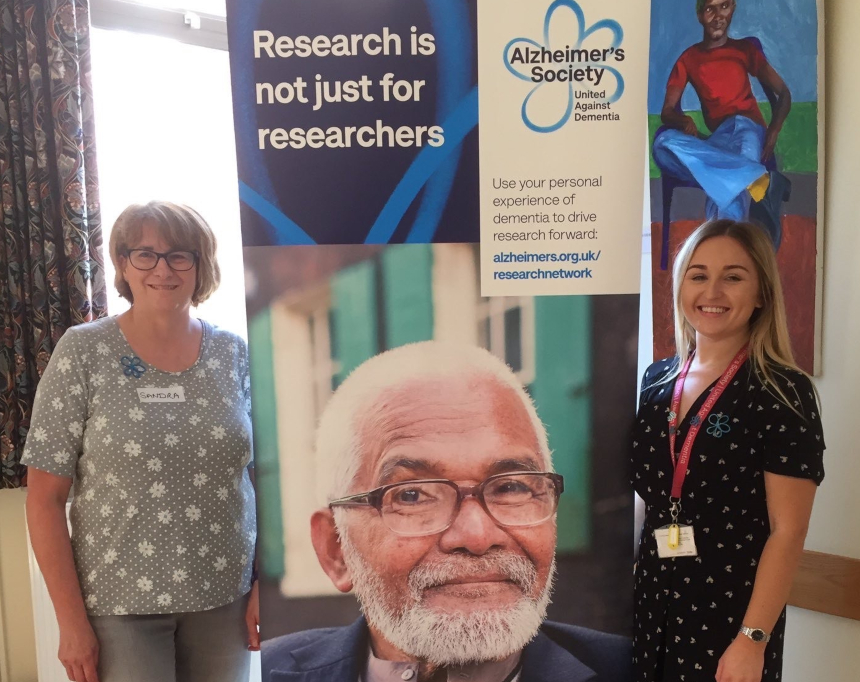 ​
​​Sandra with Ciara Lihou, Research Engagement Officer at Alzheimer's Society
The perspective from Norway
Gry Caroline Arnes, Norwegian Health Association shares her thoughts on her time in the Sheffield:
PPI at the Norwegian Health Association
Back in 2017 the NHA began a project looking at involving people with dementia and their next of kin in dementia research. The aim was to develop a model for recruiting, training and following up volunteers who want to be involved in research.
We looked to both the UK and Denmark to find inspiration and advice on how to work with PPI.
Off the back of this project the NHA is now offering training for researchers and PPI representatives, and have developed a recruiting strategy, with the aim of establishing a pool of volunteers that wants to participate in research.
We have also established a panel of people with dementia and their next of kin, to review applications from researchers for funding from the NHA dementia research programme.
What we take back to Norway
The UK is ahead of Norway when it comes to PPI in research, so it was truly inspiring to come to Sheffield and learn more about your work.
Some of the lessons we took back with us were:
• Not to underestimate the impact for the volunteers.
We had the chance to hear stories from several very motivated volunteers. They told us that using their personal experiences of dementia to influence research made them feel valued.
They felt it was important to contribute to research that might make living with dementia easier in the future and they found the knowledge they gained about research very rewarding.
Another a key factor for successful PPI was the attitude of the researchers towards the PPI volunteers including the language they use.
As one of the Research Network put it, 'Language can make you feel respected or it can make you feel like nothing'.
• Not to underestimate the value of PPI in basic research
The researchers were unanimous in praising PPI as a tool for broadening their knowledge about dementia and giving them motivation and focus to their work.
It is also an opportunity for researchers to practice presenting their work in a way that is understandable to lay people, and expanding their network. In some cases, PPI volunteers lighten researchers' workload by helping with, for example, literature reviews.
But it was underlined that for PPI to work it had to be person centred in the sense that it was tailored to the needs of the skills and preferences of volunteers
The visit to Sheffield gave us new inspiration to our work with PPI in Norway and we do believe we have made some new friends.