Facing up to a dementia diagnosis of PCA
As with any diagnosis of dementia, being told that you have posterior cortical atrophy (PCA) can be difficult to accept. Fiona Madden finds out how one man has chosen to approach this.
When 70-year old Paul Draper from South London was diagnosed with posterior cortical atrophy (PCA), one of the rarer causes of dementia, his first reactions were of self-pity and distress. However having spent most of his life in the army and being a confident, independent man he says he soon picked himself up and dealt with the diagnosis in his own way.
'I was gutted when I was told. I sat on a log outside the doctors and cried like a baby. Then I slapped myself in the chops and said "get on with it".'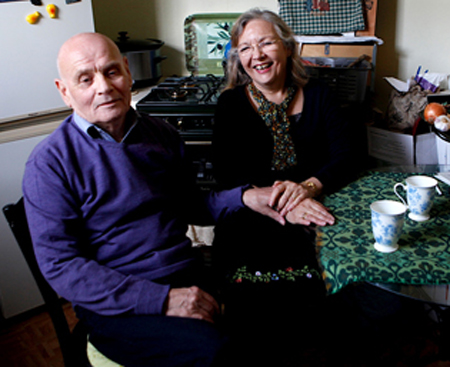 Although Paul initially found the diagnosis hard to accept he was able to face up to the situation with the help of others including his wife of nearly 50 years, Jasmine, and Dementia Support Worker Tania Broughton.
Tania explains that it was difficult when Paul was first diagnosed so she spoke to Jasmine initially, only talking to Paul about what to expect once he felt he was ready to know.
Stepping back
Loss of independence was something that Paul primarily found hard to deal with. When he was told that he couldn't drive anymore his initial feeling was anger. He was informed by the DVLA that he needed to take a test and so Paul had a session using a car simulator at the Queen Elizabeth's Foundation Mobility Centre in Surrey.
Paul says,
'I had some good fun on that for half an hour. They told me there was nothing wrong with my driving – I felt reborn.'
Despite this, Jasmine preferred Paul to stop driving because he had started to ask where things were and she didn't feel as safe in the car with him as she had before.
She says it was difficult to tell their three sons about the diagnosis, though they had been aware there was a problem for a while. Her own father had passed away with dementia a few years earlier.
Paul says,
'There was a slight change in attitude towards me from my sons – they were kinder. I felt very grateful.'
However, Paul struggles with having to step back from his former family role. Jasmine explains,
'He had always been the man of the house and now his sons and wife do everything. He battles with that, he doesn't like it.'
Problem solving
Paul cannot commend his wife enough for 'putting up' with him.
'I don't have a problem with dementia, my wife has the problem. I'm just carrying it around but she lives with it. I'm fantastic because I've got great people around me.'
He believes that it is important for Jasmine to have her own space and to give her time to herself.
'I cannot praise my wife enough. She is one special, special lady. I need her but I don't want her to be chained down and stop what she's doing.'
To give her space Paul visits his sister or walks the dogs – or they walk him as he light-heartedly puts it – among other activities.
'I go into London sometimes. If I get lost I go up to the most attractive blonde I see to ask for help. I got a cross dresser once… That was a shock!'
Paul's eyesight has recently started to be affected by his PCA but fortunately he is still able to go out by himself.
Funding and support
Paul feels strongly about the lack of funding that Jasmine has been given to assist with his care, despite having fought for his country.
With his tongue firmly in his cheek, he says,
'I want to politely thank David Cameron for the support he gives my wife as a carer – £3 a week.'
Although Jasmine feels they could have done with more help when he was first diagnosed, Paul says he has had great support not only from his wife but from doctors and local services in the borough of Sutton. He jokes,
'If you're going to get dementia I suggest you do it in Sutton.'
The coping mechanism that seems to work for him in general is carrying on regardless.
'If I can't find something it's not because of the dementia, it's because it was in the wrong place.'
Paul has become an Ambassador for Alzheimer's Society, speaking at events and training sessions, and he is keen to get involved with fundraising in the future.