Read about Sir Terry Pratchett's dementia diagnosis of posterior cortical atrophy (PCA), a rare type of Alzheimer's disease.
In 2007, Sir Terry Pratchett publicly announced that he had a rare form of young-onset Alzheimer's disease, called posterior cortical atrophy.
A docudrama on BBC2 followed the literary career of the beloved author, who was well known for his humorous and thought-provoking fantasy novels. 
Tim Shakespeare, former Research Communications Officer at Alzheimer's Society, discusses what is known about posterior cortical atrophy. 

Before he joined the Society, Tim carried out research into this type of atypical Alzheimer's disease. Here, he describes how PCA affects people and what research is taking place.

Please be aware this post discusses the end stages of Alzheimer's disease, which some may find upsetting.
Sir Terry Pratchett had a type of dementia that affects vision, not memory
For many people, the first time they heard of posterior cortical atrophy (PCA for short) will have been when Sir Terry Pratchett announced his diagnosis with the condition. Sir Terry was only 59 at the time.
PCA often starts much earlier than more common types of dementia with diagnosis typically happening in a person's mid-50s or early 60s.
We don't have exact numbers but there are about 42,000 people in the UK with a form of dementia diagnosed before the age of 65. This is known as young-onset dementia. Only a small proportion of these are likely to have PCA though because it's a rare type of dementia.
The back of the brain
Posterior cortical atrophy is caused by Alzheimer's disease starting in an unusual place in the brain – at the back.
This is different from more typical Alzheimer's disease, which tends to start in the middle of the brain, and so it causes different early symptoms.
The back part of the brain is where we make sense of the information coming from our eyes.
It's where we work out what objects are around us, how big they are (or how far away), whether they're moving, and how they all fit together in a three-dimensional landscape. 
An example of how vision is affected
The back part of the brain works out that the white plate pictured below is a separate object from the white table underneath it.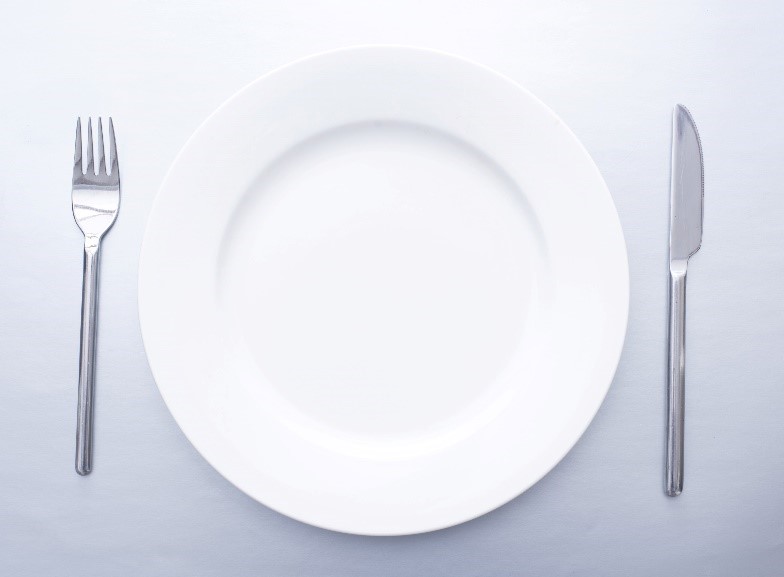 When this part of the brain gets damaged by disease, the first problem is being less able to see things properly.
The person's eyes may be perfectly healthy but they can't 'see' the plate.
Symptoms of PCA can also include difficulty reading, recognising objects and judging distances
A person with PCA may also have problems reading because the shapes of the letters and words appear jumbled or don't seem to mean anything.​
Some types of thinking are also affected which aren't directly visual but still rely on this part of the brain. These include problems with spelling and arithmetic. This is probably because these skills rely on us being able to 'see' the way the word is spelled in our inner eye, even if we don't actually see it in real life.
As the disease progresses, the person will start to develop other symptoms, such as problems with thinking, memory, and language.
Although PCA is rare, the visual problems it causes can also happen with more common types of dementia
Thanks to many wonderful volunteers with PCA who take part in research studies, we have learned a great deal about helping people with dementia who are having problems seeing things clearly.
This includes using better contrast and colours in living spaces and avoiding confusing patterns wherever possible.
Raising questions about posterior cortical atrophy
From a scientific point of view, there's an interesting question that could be answered with research into posterior cortical atrophy.
People with PCA, like Sir Terry Pratchett, have the hallmarks of Alzheimer's disease in their brain (clumps of toxic proteins called amyloid and tau) but these clumps are found in the back of the brain.
In Alzheimer's disease, these toxic proteins are found in the memory centres, which is why memory loss is one of the main symptoms associated with this condition.​
The reasons why Alzheimer's disease can affect different parts of the brain in different people are not understood. There must be some genetic, lifestyle, and/or environmental risk factors that cause the visual areas to be vulnerable or the memory centres to be protected in some people.
Finding out what these are could give us important insights into Alzheimer's disease.
It's also important to improve our understanding of the symptoms that people with posterior cortical atrophy experience so that we can support them better.
Some of these symptoms might seem quite unusual, for example, some individuals have a disordered sense of balance and they might experience dizziness or lean to one side.
Dementia research for PCA funded by Alzheimer's Society
Alzheimer's Society previously funded Professor Sebastian Crutch at University College London to investigate these balance problems. This project found that people living with PCA have a 'tilted' representation of their body posture within their brains, which could affect the way they interact with the world around them.   
We are currently funding Dr Keir Yong at University College London, who is investigating how to improve coordination in PCA. Dr Yong's project aims to understand how dementia affects activities that involve reaching and coordination such as eating and dressing. This aims to inform the development of strategies that promote independence in people with posterior cortical atrophy and Alzheimer's disease.
A progressive condition
As with other forms of dementia, there is no cure for posterior cortical atrophy, and how quickly the symptoms progress depends on the individual person.
Treatments that work for Alzheimer's disease may help relieve symptoms for some people with posterior cortical atrophy, but over time the disease progresses to affect more aspects of thinking and more aspects of everyday life.
Sir Terry Pratchett grappled with the issues around the later stages of Alzheimer's and discussed them in the years following his diagnosis.
The period when someone with dementia is approaching the end of their life is difficult and emotional.
People with dementia have the right to dignity and a 'good death' and people may wish to discuss these issues in different ways and at different stages.
For those who wish to find out more, there is information about end-of-life care on our website. 
You can also call our Dementia Connect support line on 0333 150 3456 to speak with our advisers, or discuss your experiences of dementia within our online community, Talking Point.
Get your copy of our factsheet
This article was first published by Tim Shakespeare in February 2017 and most recently updated by Simon Wheeler and the Research Engagement team in February 2022.