Read about Terry Pratchett's diagnosis of posterior cortical atrophy (PCA), the rare form of Alzheimer's disease.
In 2007, aged 59, Sir Terry Pratchett publicly announced that he had a rare form of early-onset Alzheimer's disease, called posterior cortical atrophy.
A docudrama on BBC2 followed the literary career of the beloved author, who was well known for his humorous and thought provoking fantasy novels.
Here, Alzheimer's Society Research Communications Officer Tim Shakespeare discusses what we know about posterior cortical atrophy.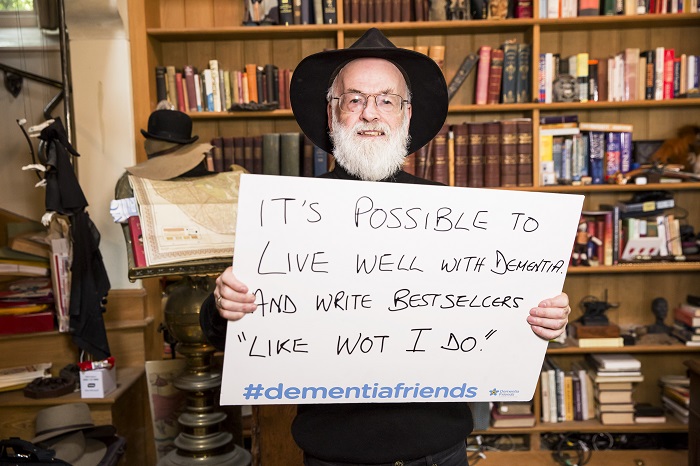 ​
Before I joined Alzheimer's Society, I carried out research into posterior cortical atrophy - the rare form of Alzheimer's that Terry Pratchett was diagnosed with.
In this post I describe what it is, how it affects people, and what research is taking place.
Just to warn you, the post discusses the end stages of Alzheimer's disease which some may find upsetting.
Terry Pratchett had a type of dementia that affects vision, not memory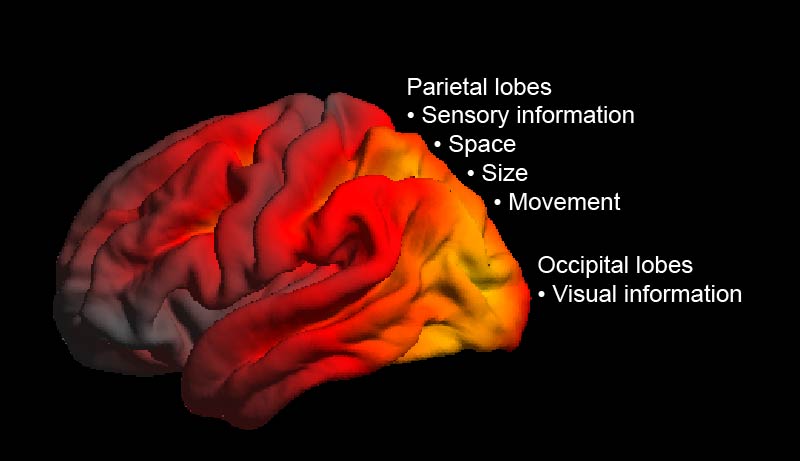 ​
For many people, the first time they heard of posterior cortical atrophy (PCA for short) will have been when Terry Pratchett announced his diagnosis with the condition.
Posterior cortical atrophy literally means 'back of the brain shrinkage'. The back of the brain is where we interpret visual signals from the eyes and posterior cortical atrophy affects the ability of the brain to process these signals.
Symptoms of PCA can include difficulty reading, recognising objects and judging distances. Problems with spelling and calculation are common, as these skills rely on similar areas at the back of the brain.
Memory and language skills are usually less affected in the early stages of the condition, but as the disease spreads to more parts of the brain, people may develop more typical symptoms of Alzheimer's disease such as memory loss and confusion.
Vision and perception can be affected by other types of dementia too, but in posterior cortical atrophy these are the first and most severe symptoms.
People tend to develop posterior cortical atrophy at a relatively young age, in their mid-50s or early 60s. We don't have exact numbers but there are about 42,000 people in the UK with a form of dementia that started before the age of 65, and of this group only a small proportion are likely to have posterior cortical atrophy.
Raising questions about posterior cortical atrophy
From a scientific point of view, there's an interesting question that could be answered with research into posterior cortical atrophy.
People with posterior cortical atrophy have the hallmarks of Alzheimer's disease in their brain (clumps of toxic proteins called amyloid and tau) but these clumps are found in the back of the brain.
In Alzheimer's disease, these toxic proteins are found in the memory centres, which is why memory loss is one of the main symptoms associated with this condition.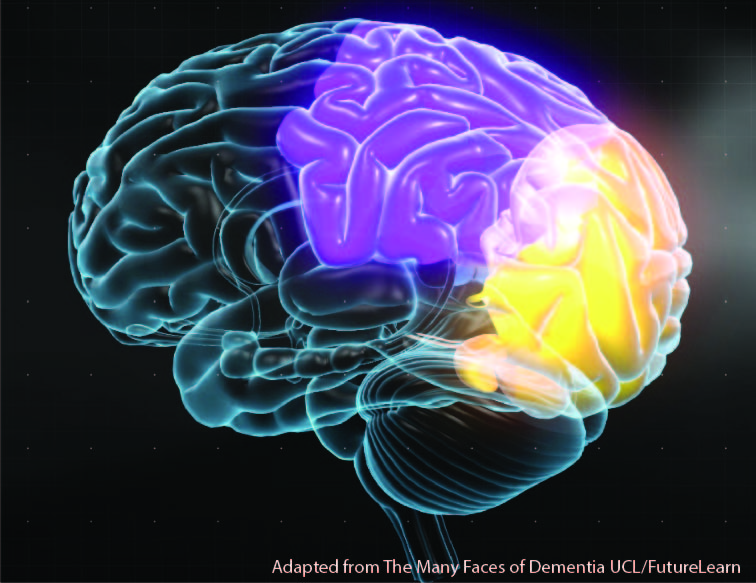 ​
The reasons why Alzheimer's disease can affect different parts of the brain in different people are not understood. There must be some genetic, lifestyle, and/or environmental factors that cause the visual areas to be vulnerable or the memory centres to be protected in some people.
Finding out what these are could give us important insights into Alzheimer's disease.
It's also important to improve our understanding of the symptoms that people with posterior cortical atrophy experience so that we can support them better.
Some of these symptoms might seem quite unusual, for example, some individuals have a disordered sense of balance and they might experience dizziness or lean to one side.
Alzheimer's Society has given research funding to Professor Sebastian Crutch at UCL to investigate these balance problems. We hope the project will improve understanding, detection, and management of these more unusual symptoms.
A progressive condition
As with other forms of dementia, there is no cure for posterior cortical atrophy, and how quickly the symptoms progress depends on the individual person.
Treatments that work for Alzheimer's disease may help relieve symptoms for some people with posterior cortical atrophy, but over time the disease progresses to affect more aspects of thinking and more aspects of everyday life.
Terry Pratchett grappled with the issues around the later stages of Alzheimer's and discussed them in the years following his diagnosis.
The period when someone with dementia is approaching the end of their life is difficult and emotional. People with dementia have the right to dignity and a 'good death' and people may wish to discuss these issues in different ways and at different stages.
For those who wish to find out more, there is information about end-of-life care on our website.