Dementia Hero Awards 2023
The 2023 Dementia Hero Awards recognise and celebrate the involvement and participation of people affected by dementia in activities and projects, centering the people affected by dementia as our Dementia Heroes.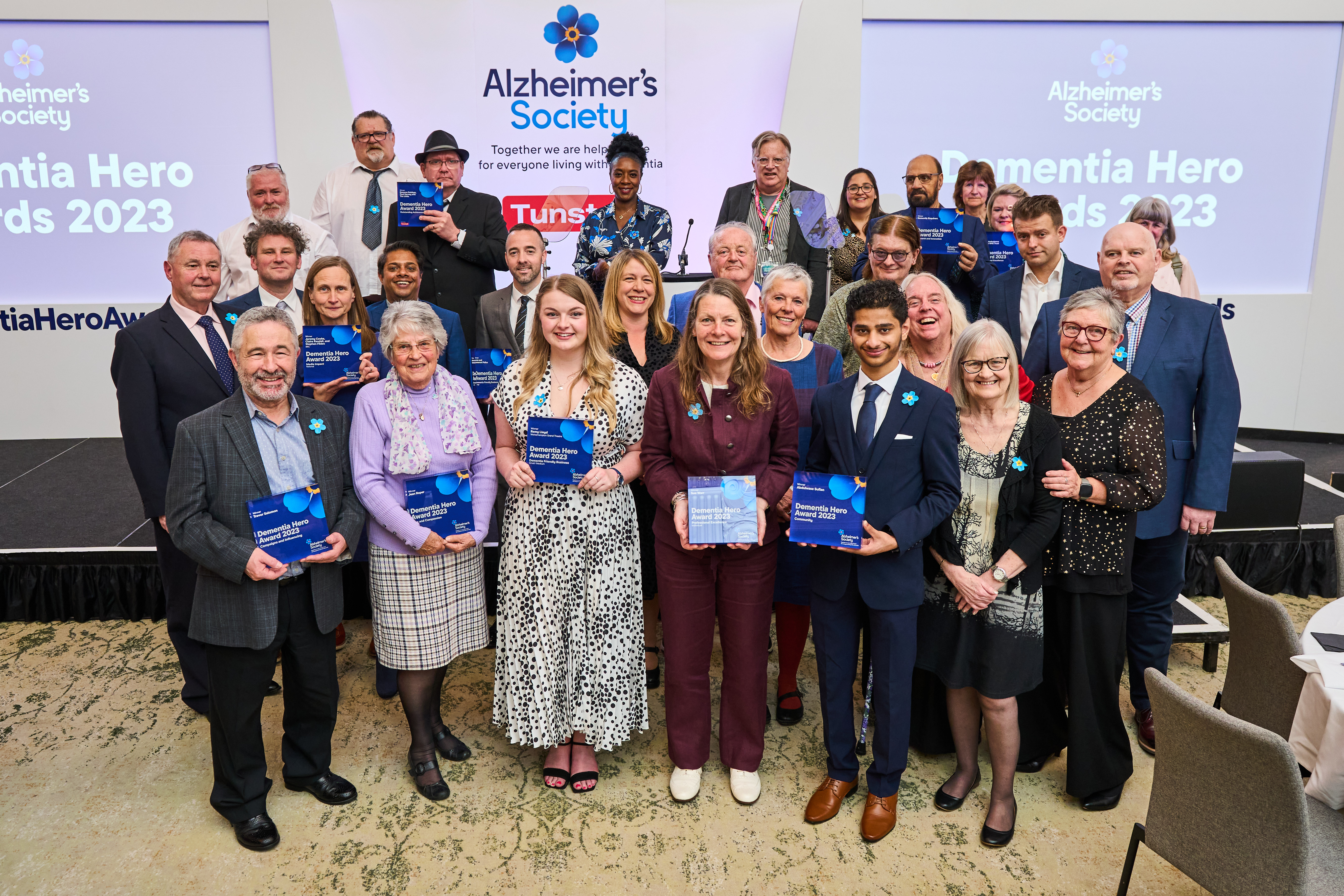 Register your interest for 2024
Complete our registration of interest form and be the first to hear about our plans for Dementia Hero Awards 2024.
Register here
The winners were announced on Friday 28 April 2023 at a national awards ceremony at The Grand Hotel in Birmingham, which was hosted by Alzheimer's Society Supporter and Good Morning Britain newsreader, Marverine Cole.
Many amazing entries were considered by our judges from across England, Wales and Northern Island, with 11 awards handed out on the day to our winners.
The ceremony was attended by nearly 200 guests, celebrated professionals, community groups and members of the public, for their inspirational achievements that best demonstrate the impact of meaningful involvement of people affected by dementia.
'This is my first time hosting the Alzheimer's Society Dementia Hero awards and I am truly honoured to be in the room with such incredible people, who are dedicating their lives to helping others dealing with the condition. The awards being held in Birmingham is particularly poignant for me. I'm a Brummie, born, bred and proud, and my family and my husband's side of the family - who are from the Black Country - have witnessed the effects of dementia during this decade: both on the person living with it and their carers. That means I deeply understand the adversity people are going through. So, these awards are a magnificent celebration of selfless people from across the UK.' – Marverine Cole, Broadcaster and Alzheimer's Society Supporter.
We're proud to have co-produced the Awards with people affected by Dementia. Our lived experience group have been involved at key stages of the Awards, from planning to judging to speaking about their experiences of involvement at the Awards ceremony.
We welcomed to the stage two of our ambassadors, Joy Watson and Hilary Doxford, as well as Chris Maddocks, who is a lived experience trustee. The trio have been involved in decision-making for the awards and answered questions about their experience of being part of this process.
We'd like to thank all our winners, finalists, judges and everyone who helped us celebrate at this year's Dementia Hero Awards 2023.
Highlights
You can watch highlights of the awards here:
Our winners for 2023 are:
Winner - Eamonn Dobbyn, Paul Harvey and Tim Little
Region - East of England
Eamonn, Paul and Tim are three amazing volunteers who are working to transform the lives and future of others with dementia. They do this because they have personally experienced what it means to live with dementia and the impact that getting a dementia diagnosis in their forties has had on them.
Winner - Trevor Salomon
Region - London
Trevor is a person affected by dementia; his wife Yvonne lives with Alzheimer's. He is retired (having previously worked in marketing) and now dedicates much of his time to supporting dementia organisations like Alzheimer's Society and Dementia Carers Count with their campaigning. He is a tireless advocate for Yvonne and people affected by dementia, and has been instrumental in Alzheimer's Society's influencing work over the past year and beyond.
Winner - Dementia Enquirers
Region - National
Dementia Enquirers are people with dementia from across the UK who have been leading and controlling their own research, as well as leading and controlling a dementia led research programme. They have been developing their own skills as dementia researchers, have challenged prevailing research systems, have developed new and accessible dementia research resources, and trained academic researchers to better involve people with dementia in research.
Winner - Temporary Inspector Stuart King
Region - South West England
Almost 8 years ago Temporary Inspector Stuart King established the Avon and Somerset Dementia Safeguarding Scheme. He introduced the scheme in response to an increasing number of missing person and welfare concern reports involving people living with dementia. The scheme has helped thousands of people and allocates NFC assistance devices, along with GPS trackers which are applied for through the bespoke on-line Herbert Protocol form. This data is instantly accessible to Officers in the case of a missing person search. Inspector King has also established a support group called the 'Avon and Somerset Dementia Forum'. This support group has an on-line presence on facebook and continues to support people across the South West.
Inspector King has assisted many other forces to replicate the scheme and it is now available an many other areas across the UK. The use of NFC technology has been recognised on a global stage by the RFID trade organisation.
Winner - Remy Lloyd Outreach Manager – Access and Inclusion at Wolverhampton Grand Theatre
Region - West Midlands
Remy Lloyd is Outreach Manager – Access & Inclusion at Wolverhampton Grand Theatre. In 2019 she developed a fortnightly dementia café with a theatrical twist. The cafés are free to attend and provide those living with dementia, their loved ones/carers with two hours of live entertainment, refreshments and the chance to meet people in a similar situation. Remy also created a memory café for those living with dementia from the Black, African & Caribbean communities.
Winner - Avon and Somerset Police
Region - South West England
Avon and Somerset Police is the territorial police force responsible for policing across Bristol, Bath and North East Somerset, North Somerset and South Gloucestershire. The Avon and Somerset Dementia Safeguarding Scheme has supported over 2,000 people and reduced the risk of the individual becoming missing or coming to harm.
Winner - Abdul Wase
Region - North West England
Abdul Wase is a Liverpudlian youth volunteer and recognised as a community icon by his peers for supporting Yemeni elders and people with dementia. He led his peers and community, to better understand dementia and support elders to live culturally engaged lives and approached House of Memories to collaborate. Abdul is the inspiration for the development of Connecting with Yemeni Elders Heritage project, a new bi-lingual addition to the My House of Memories app.
Winner - Claire Kendall, Jeremy Cooke and Stephen Fildes, BBC
Region - National
Claire, Jeremy and Stephen work tirelessly and fastidiously to bring to the attention of as wide an audience as possible, issues affecting a broad spectrum of people. They are particularly good at showing social injustice in all of its forms. The current issues around dementia have been highlighted by them and have reached a global audience.
Winner - ITV Wales
Region - Wales
ITV Wales have consistently delivered ground breaking and sensitive coverage of the many issues people living with and affected by dementia face in Wales. In March Katie Fenton interviewed Samia Egeh about the importance of culturally appropriate services for people living with dementia from the Somalian community in Cardiff. For Dementia Action Week Mike Griffiths and interviewed artist Frances Issacs who is living with dementia about her diagnosis. The interview was so powerful that it became the headline story on the national news bulletin on the Monday after Dementia Action Week,
Winner - Sue Warr
Region - South West England
Sue Warr is the manager of the team at Prama Life. Sue is responsible for all staff at Prama Life who are delivering 61 weekly clubs, groups and activities, working across Bournemouth, Poole, Christ Church and East Dorset. The activities include, Memory lane groups for people living with dementia or memory loss and their carers, pop ins, lunch clubs, art craft groups, befriending, community connectors, telephone friendship groups, dementia carers groups, etc.
Winner - Welsh Ambulance Service NHS Trust
Region - Wales
The Welsh Ambulance Service have an exciting dementia programme, based around the needs and rights of people living with dementia, and have a co-productive and continuous engagement approach to their work to provide better patient outcomes and experiences. Engagement with people affected by dementia tells them that our environments can often be stressful and difficult for people, especially in an emergency.
Winner - Jean Roper
Region - Yorkshire and Humber
Jean is an eighty year old lady who after losing her husband to Dementia, dedicated her life to helping others affected by this disease. She is at her happiest when she is helping others, be it shopping, gardening or just chatting. She is a unique character with such an open, welcoming, loving and caring nature. Jean was instrumental in starting the Coffee Pot Memory Café in Drighlington.