Two years on from becoming a Dementia Friends Champion, Kian Borg-Jackson is helping to raise awareness in his school. Here, he explains why no part is too small in the fight against dementia.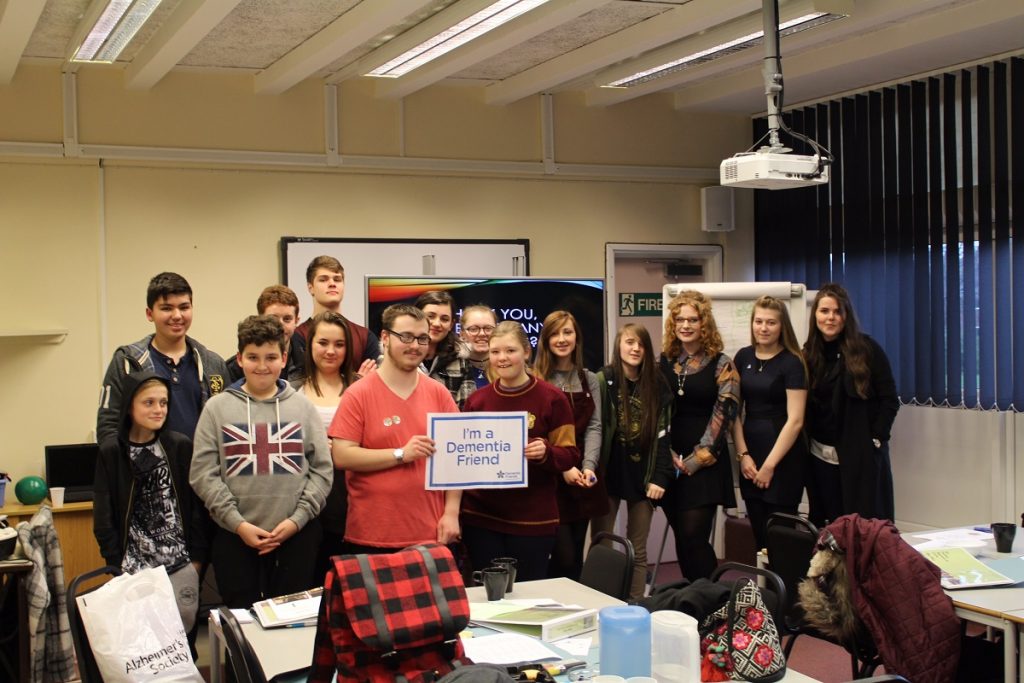 Kian (back, left) pictured with his peers after delivering a Dementia Friends Information Session in school.
I first got involved with Alzheimer's Society two years ago after one of my school friends told me their grandma had dementia, but not Alzheimer's. I had always thought they were the same thing.
After a quick search online I found the Society's website and learned more, then watched an emotional video of a woman describing how dementia had affected her life. Before I knew it I had signed up to become a Dementia Friend.
Young people and dementia
In general, other young people I've met have very little awareness of dementia. The information we receive comes from the media—specifically social media— so a lot of what we learn is either wrong or misleading. Dementia Friends Information Sessions are a great first step towards clearing up those misconceptions. The Sessions can also give young people the knowledge and confidence to support people with dementia in their everyday lives, whether members of their family or the public.
Around the same time that I became a Dementia Friend I also started my two year term as young mayor of North Lincolnshire, so I decided to work with Alzheimer's Society in my role. This meant training as a young Dementia Friends Champion so that I could deliver Information Sessions to my peers.
The first Session I delivered was with the youth council, which was a big success. The day was easy to organise and deliver using activities provided by Alzheimer's Society, but what really surprised me was how involved the young people were. Almost all the people I spoke to said they knew someone with dementia. This Session would allow them to have more understanding of what that person is going through and help them to communicate better.
Back to school
Seeing this success, I wanted more young people to have the opportunity to become Dementia Friends. I realised the best way to do this would be through schools, so I approached senior members of my school, South Axholme Academy, as a starting point.
After hearing my proposal, the school was enthusiastic about putting it into action and helped me to organise Information Sessions for the students. I started by delivering a Session to the peer mentors at my school as a trial to see if it would be well received, and again everyone found it enjoyable and useful.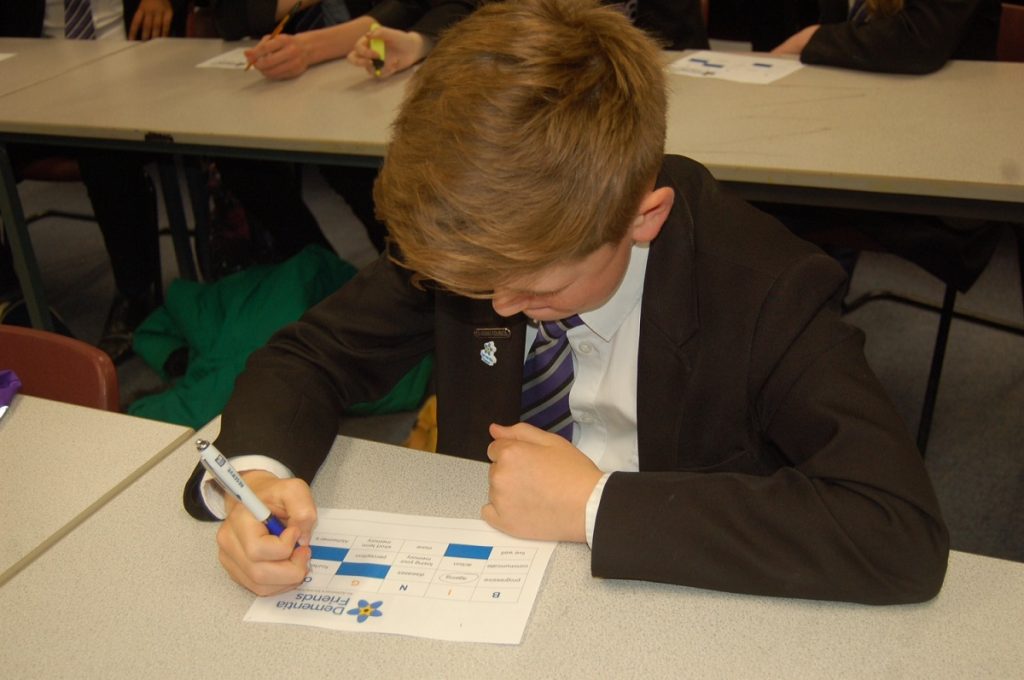 In order to reach a larger amount of young people though, I needed more Dementia Friends Champions. I got in touch with Alzheimer's Society and organised for a group of other Champions to come into school to deliver the Sessions. So far at my school, we have delivered Information Sessions to half of year seven, half of year 10 and our student school council. The plan is to eventually reach every student in the school.
Next stop, parliament?
To organise this in school, I also had lots of support from a member of staff called Mr Andrews, who was keen to help. After seeing how well the Dementia Friends Sessions went, he suggested that we nominate ourselves for the Speaker's School Council Award, which acknowledges schools that make a difference in their local community. Not only would my school be up for the award, but if we win we have the opportunity to go to parliament and raise awareness of Alzheimer's Society's work. We've not heard back yet from the people who run the competition but we've got our fingers crossed!
Since I got involved two years ago, I've learned that there's no small part you can play in this fight against dementia. Whether you become a Dementia Friend or Champion, raise awareness in your local community or raise money, it can all make a big difference for somebody living with dementia.