Our Public Affairs and Campaigning Assistant reflects on delivering a Dementia Friends session, organised by Diane Abbott, in Parliament for the first time.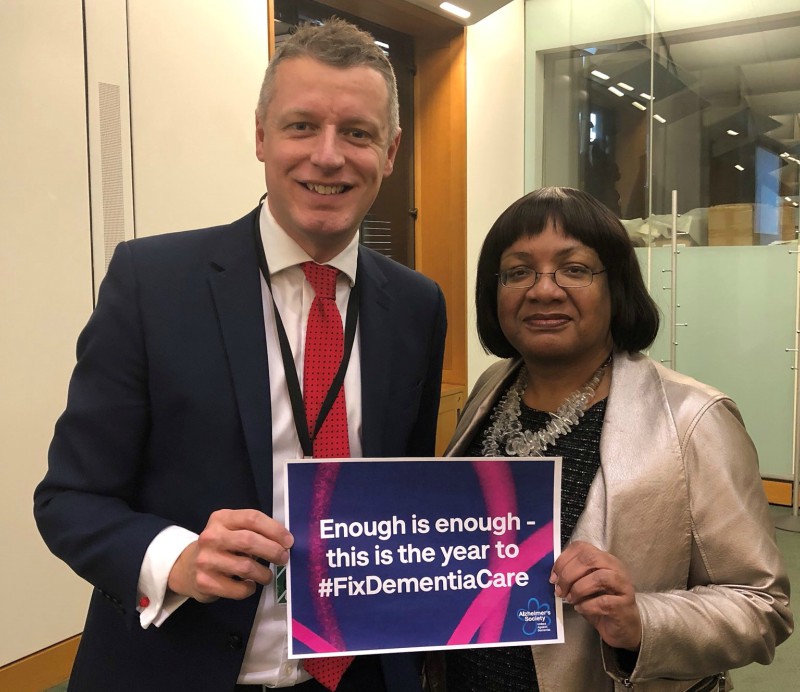 We know that despite significant progress in awareness and knowledge of dementia across society, people with dementia are still facing stigma in their communities.
That's why in the Public Affairs and Campaigning team, we are working with the Speakers of the House of Commons and the House of Lords. We want to create the first dementia-friendly parliament in the world.
Not only would this improve the experiences of people with dementia when visiting Westminster, but this would also keep people with dementia on the agenda for when Government draft policies and legislation.
What better way to create a dementia-friendly society than leading by example with our MPs and Peers?
Galvanising support from parliamentary colleagues
On 7 February, I delivered a Dementia Friends session organised by Diane Abbott, MP for Hackney North and Stoke Newington.
Like many other MPs from across the house (almost 150!) Diane became a Dementia Friend in November last year. She had visited one of our local services to meet people in her constituency with dementia.
Diane saw the benefit of both MPs and their staff becoming Dementia Friends. This would help them to support their constituents living with dementia.
She worked with us to invite her colleagues from all parties to the session, asking them and their staff to join us at a Dementia Friends session. Diane attended on the day to say a few words about her experience of becoming a Dementia Friend.
There was a mixture of both MPs and staff in attendance. While it's important to make sure MPs understand the realities of living with dementia, parliamentary staff are likely to have as much interaction with constituents. It's great that Diane identified this and worked with us to make sure both staff and MPs became Dementia Friends.
Pledging to Fix Dementia Care
All the MPs attending the sessions pledged their support for our Fix Dementia Care campaign.
Our campaigners have been busy contacting their MPs and asking them to show their support. Many of the MPs who attended our sessions had already heard of the campaign through our emails.
If your MP is aware that dementia and social care matters to you, they are more likely to make this their priority. We can work with MPs and, united, hold the Government to account on their promise to reform social care.
The session was another great step towards our goal of a dementia-friendly parliament. We want to ensure as many MPs and government staff as possible are Dementia Friends. We are gaining support for our Fix Dementia Care campaign.
Get involved
You can also email your MP if they have not already taken the action.
Together we will #FixDementiaCare.