James is a young artist with autism who helps to care for his grandmother, Joan. She moved in with James and his mum when the first coronavirus lockdown made Joan isolated and confused. Now Joan, who has vascular dementia, and James are regularly enjoying artistic activities together and both benefit from them.
My 87-year-old grandmother, Joan, came to live with me and my mum, Jane, a year ago when she urgently needed more help. Although I wouldn't call myself a carer, I know what it's like to be involved in care.
My granny was diagnosed with vascular dementia in 2017 when I was 16 years old and at high school. I didn't know much about dementia at the time.
Mum and I just thought my grandmother was forgetful because she was in her eighties.
Granny had helped me a lot when I was very young. I was diagnosed with autism in 2004. She used to go with my mum to different medical appointments concerning me to help out as it was a difficult time and she gave us much support.
I have learned more about dementia since then. I'm a visual learner so I like to watch programmes and films, like 'Still Alice' and 'The Father', rather than try and read factual information. They help me understand dementia more clearly.
Worried about memory problems
Granny has been forgetful for as many years as I can remember. There have been panic situations where Granny would take the wrong bus home, lose her debit card, or phone us repeatedly 8, 9 or even 10 times a day. But my mum and I realised how much more confused she had become when we went to stay with her.
Granny no longer seemed able to find many things in her house. She spent so much time looking for them, almost going round in circles!
There was a pattern of events with other things like lost keys or false teeth, which seems funny but at the time really wasn't! We would be searching everywhere and hours later, Granny would just say something like, 'Oh here it is!'
Concerns about Granny living alone
Mum noticed there was hardly any food in Granny's fridge and the washing up hadn't been done for a couple of days. Granny didn't seem bothered at all about this as if it really didn't matter.
My mum and I went straight out to the supermarket to buy enough food to last a week as the freezer was also quite empty.
Mum would clean the kitchen and doing her best not to get upset by finding half-eaten food left in odd places like drawers.
Granny became more and more short-tempered and irritable, especially if she couldn't find something. She refused help and never wanted anything repaired, replaced or modernised in her house unless absolutely necessary.​
My grandfather, Peter, had always done the work in the house. He was an electrical engineer and could also do all the different jobs like plumbing, woodwork, painting and decorating, fixing anything really.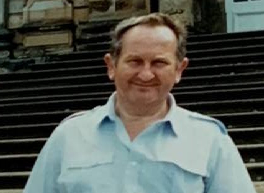 My grandfather (pictured above) passed away from cancer in 2004 when I was three years old.
Living together since the start of the pandemic
My mum had previously suggested Granny should come to live with us, but Granny always refused. She always said she was going to live the rest of her life in her own home there and she would not be moving.
But Granny started having more problems at the start of coronavirus.
During the first lockdown, my grandmother had felt so isolated and confused.
At the time, the local pharmacy said they were so over-worked that they no longer had the time to put Granny's tablets in the dispenser she was used to. Changes to such a regular system caused her to become confused.
A care agency used to send a lady who would help Granny a few times a week for an hour or two. But the carer became ill with early symptoms of coronavirus so had to self-isolate. This meant that my granny was on her own, without us there and without my uncle and aunt being able to go and see her.
When Granny became confused with the tablets and took them wrongly, she started becoming ill, disorientated and much more confused than normal.
Granny had the choice to stay at her home or to come back with us. She said, "Yes please" to moving, so Mum and I made an emergency trip to collect her.
Before she came to live with us, Granny was much thinner and very tired all the time.
Now she is used to living here in the Yorkshire Dales, and enjoys playing the same tunes on the piano with one hand and drying dishes with my mum. Her favourite activity is doing word-search puzzles!
It has been hard for me to adapt but I have noticed that my grandmother is happier living here.
A shared benefit of art therapy
Granny no longer feels she lives in 'Isolation' – the title of the artwork I created of her (below) using discarded scratch cards.
Her loneliness is represented in the picture I collaged with the table being bare apart from one cup and saucer.
I made her wedding ring shine gold in the collage as symbolism for how much she misses my grandfather. She was much more sociable when my grandfather was alive.
Art has helped me over the years to feel calmer because of my autism. Art is also helping my grandmother with her condition as it helps her feel focused and calm.
Like so many old people who have been feeling isolated during the national lockdowns, what my grandmother needed was more company.
Thankfully she is now able to attend a dementia-specialist group three times a week. She loves it and has made new friends.
The joys of art activities
In her activity book, my grandmother's choice of colours is perfect and she is extremely tidy.
This form of art therapy has been very beneficial as it is calming and she enjoys successfully achieving the end result by herself!
Get your copy of our activities handbook
The activities handbook is for anyone who is caring for a person with dementia. It will help you suggest enjoyable and engaging activities for the person you're caring for.
About the handbook