Real exchange between people with dementia and Side by Side volunteers
From the February/March 2016 issue of our magazine, Andrew Bence meets people involved in a pilot project bringing volunteers and people with dementia together.
The best relationships are based on genuine exchange. Andrew Bence meets people involved in a pilot project bringing volunteers and people with dementia together.
Former engineer Vernon Braithwaite comes into the lounge of his residential home, arm in arm with his daughter Juliana, and greeted by his friend Angela Phillips.
Looking on – rather like a proud parent herself – is Megan Jones, who runs the Side by Side project in Lambeth, south London that put Mr Braithwaite and Angela in touch.
Side by Side helps people with dementia to keep doing the things they enjoy with the support of a volunteer. One of the Society's priorities for the coming years, the number of local pilot projects is currently being increased from 17 to 26. The aim is to roll the service out across England, Wales and Northern Ireland by April 2017.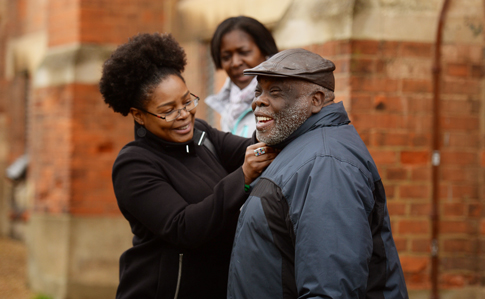 How are Megan and her colleagues managing to make the project a success in Lambeth?
She says,
'The challenge lies in recruiting able volunteers and carefully matching them with our clients. We ask people for a commitment of at least two hours a week for a minimum of six months.
'Relevant experience is helpful, but not necessary. It's the person's motivation that matters most, what drives them to want to volunteer.'
Personal experience
There is no doubting Angela's motivation.
'My late father had dementia. He lived distance away, and I struggled to get him support. Another person visiting him regularly would have made such a difference.'
Soon after her father died, Angela read about Side by Side.
'My children are grown up now, so a commitment of a few hours a week was not going to be a problem. And with Dad in mind, the chance to help someone in this way was very appealing.'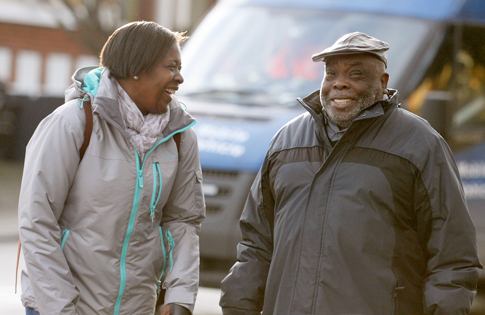 Side by Side's matching process gives the person with dementia the choice about who they would like to meet. Volunteers write a short profile of themselves, outlining their interests and pastimes.
Mr Braithwaite wanted someone to go for walks with him, and Angela liked keeping fit and going for walks. In the company today of a couple of strangers, Vernon is understandably reticent, but his bond with both daughter Juliana and Angela, his new friend of four months, is evident.
Making a difference
Juliana is a senior social care administrator and has only praise for Side by Side.
'Megan and Angela are fantastic. They keep me fully informed and I know I can rely on them. Seeing Angela every week is making such a big difference, isn't it Dad?'
There is a pause. Mr Braithwaite mulls the question over. 'Yes,' he says, judiciously. Father and daughter's eyes meet and they burst out laughing.
Juliana is not deterred.
'It has made a difference. Dad has become more sociable, more talkative – believe it or not! And even his memory has improved.
'Getting out and about gives him something else to think about and talk about. Coping is one thing – we can cope – but Angela is helping Dad make the most of his life.'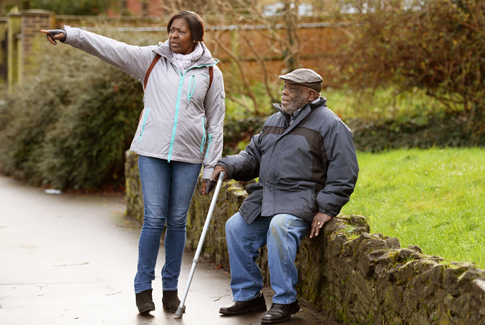 Successful pairings
We all go for a walk, and while Angela and Mr Braithwaite chat, Megan recalls some of her other successful pairings.
'One gentleman and his volunteer share an interest in history. They look at books together and recently visited the Imperial War Museum.
'The gentleman spent time in hospital recently and my volunteer asked if he could visit him there. Theirs has become a genuine friendship.
'Another client, a former teacher, said she wanted someone she could teach knitting to. "I don't need help!" she said, "But I could help someone else."
'And she has, much to her volunteer's delight. Like all the best relationships, theirs has been mutually rewarding.'
Strength to strength
Mr Braithwaite and Angela's relationship goes from strength to strength. On their weekly walks they have now sampled two local social clubs, enjoying coffee, lunch and afternoon activities in the company of others.
Emboldened by his renewed social life, Mr Braithwaite recently took himself off to a beginner's computer class.
'He does remind me of my father,' admits Angela on our way back to Cedar Court. 'They both came here from Barbados in the 1950s.'
There are affinities here that Side by Side's matching process could not have predicted, and the programme creates these opportunities for people to discover new common ground.