A book for children and a practical, one-stop guide to dementia
From the May 2015 issue of our magazine, Janet Baylis, Manager of the Society's Dementia Knowledge Centre, reviews a children's book and a one-stop guide.
 Stonebird by Mike Revell
This debut novel is aimed at children aged 10-13 and told from the perspective of 11-year old Liam. His grandmother has dementia and his family move to be nearer her care home.
Liam is bullied at his new school, while his mum, struggling to cope with her mother's advancing dementia, starts to drink heavily.
The tale's realism is balanced by the fantastical Stonebird gargoyle, which comes to life, and a kind teacher who introduces Liam to the power of storytelling.
Quercus (2015), £8.49; ISBN: 9781848667174, from www.quercusbooks.co.uk and elsewhere.
​
Dementia: the one-stop guide by June Andrews
This is an authoritative, practical guide to caring for a person with dementia, written by the Director of Stirling University's Dementia Services Development Centre.
She gives clear advice to family and friends, based on her experience of working with people with dementia and backed by research.
It has a positive tone and adopts a can-do, person-centred approach to finding ways to cope better.
Profile (2015), £9.99; ISBN: 9781781251713, from www.profilebooks.com and elsewhere.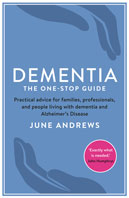 ​
Subscribe to Dementia together magazine