Improving fire safety at home for people with dementia
From the February 2015 issue of our magazine, fire safety at home is an important issue for everyone and particularly for people living with dementia. Danny Ratnaike finds out about additional support offered in Merseyside.
We'd love to hear your views on our online articles from Living with dementia magazine - please give us your feedback.
Fires at home are a particular risk for people with dementia, and getting the right help could make a big difference to how long someone is able to remain independent.
Jenny Welsh, District Prevention Manager for Wirral at Merseyside Fire and Rescue Service, recalls a woman with dementia who recently benefited from their support.
'She was a smoker and had been leaving burns on her clothes and chairs. We installed smoke alarms and provided fire retardant bedding and throws for the furniture, and as a result she was able to stay at home for a further six months.'
Jenny's team was contacted by the woman's son afterwards to say what an impact this had on her wellbeing.
Jenny says,
'This lady had a retirement flat in a lovely area and knew all the people there - taking her away from that before she really needed to move would have been a great shame.'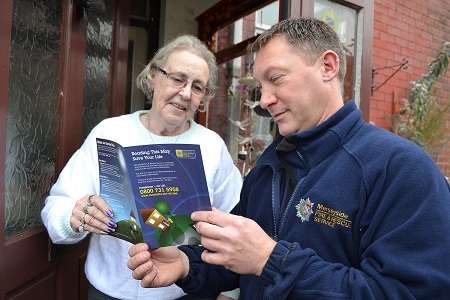 Focus on prevention
Fire and rescue services have become much more focused on prevention in the last 15 years. They increasingly recognise that some people - including older people and people with dementia - need additional support.
Joanne Henderson is Liverpool's Central Prevention Manager and her team visits people at greater risk of fire. As well as conducting home fire safety checks and providing smoke alarms, fire retardant bedding packs and other equipment, they also put people in touch with agencies that can offer additional measures such as gas isolation switches.
Joanne says,
'Once the person is known to us we can work with them and our partners to put safety measures in place.

'Every person is unique and therefore has different needs. Each visit we carry out is specific to that person's needs and wishes.'
They can even refer people to an occupational therapist or for a benefits check and help with central heating.
Jenny says,
'We work with key partner agencies and we refer to each other all the time. Dementia is a key issue for us.'
Fire hazards
Fire becomes more of a risk as dementia progresses for a number of reasons.
Jenny says,
'People with dementia can go back to old ways of doing things.

'We've seen people who've put electric kettles on the hob, melting them and causing a fire, or using old-fashioned chip pans.'
Other hazards include leaving gas or electric heaters near curtains and furniture or using them to dry clothes.
Jenny says that forgetfulness and confusion about how to use equipment such as microwaves can also cause problems.
'Getting the seconds and minutes mixed up or putting things on for far too long - that's caused a number of incidents.'
In one tragic case, a woman died in a fire caused by a wheat bag that she used to warm her bed. Wheat bags are heated in the microwave and used to treat aching muscles. If they are kept in bedclothes or anywhere well insulated, they can continue to heat up and start a fire.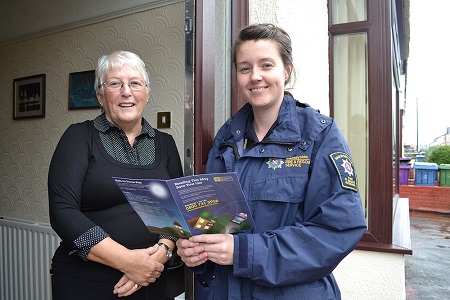 Jenny says,
'If you use a wheat bag, follow and keep the instructions for reference. Make sure it's kept in good condition and is of good quality - if the condition deteriorates then throw it away.'
In case of fire
People with dementia may find it more difficult to escape or understand the situation if there is a fire. The Merseyside service has been using its community connections to help address this.
Jenny says,
'We can put a note on the system if someone's vulnerable that will come up if there's a callout to their home, so the people going will be armed with a bit more knowledge.'
Dave Shanahan, Watch Manager at Crosby Fire Station, has arranged training for firefighters in his area to recognise when someone may have dementia and so support them better. Within six months, crews throughout Merseyside will be trained.
Dave advises people to leave relatives' contacts by their telephone for emergency services to find easily. He remembers the difference this made to a recent callout to a woman with dementia who had a kitchen fire.
'We were able to reassure her and contact a relative straight away who could talk to her.'
Jenny says that all fire and rescue services have a duty to provide fire safety advice.
'Get in touch with your local service to explain your situation and ask for advice.'
Phil Garrigan, Merseyside's Deputy Chief Fire Officer, is proud of his service's work in this area.
'The safety and wellbeing of people with dementia is really important to us and if we're able to support them in the home then we will do what we can.'
See our factsheet Safety in the home, or call 0300 303 5933 to order.