Loraine adores her father, Martin, but says she has watched the progression of his mixed dementia for long enough. Loraine shares the emotional experience of her dad not recognising her, the challenges of non-verbal communication and other difficulties that the later stages of dementia can bring.
I remember my dad, Martin, as the gentle soul. A rare breed with the most gentlest of ways. A kind man with strong religious beliefs that I truly believe he felt at peace with in his darkest of days.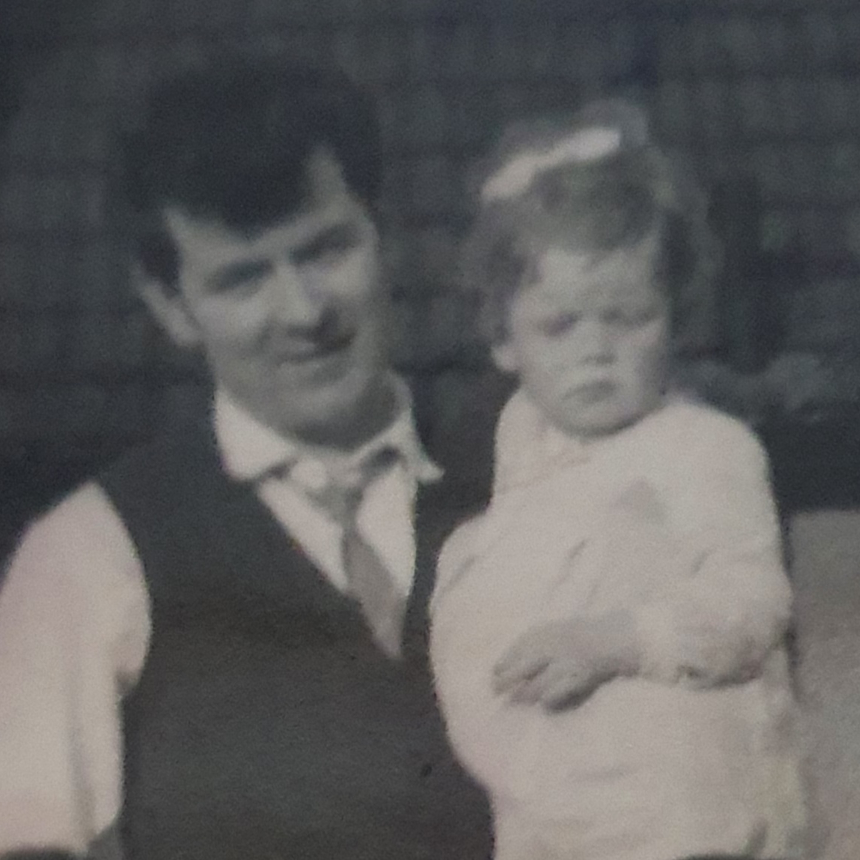 ​
Boy, do I have some treasured memories! From far back as I can remember, my wonderful dad loved animals. It showed the real kind soul within him.
For my 8th birthday, I asked for a dog. My mother's reply was "You can have one, but don't get a black poodle or a boy." Dad and I returned with a black, male poodle. We named him Peppi! Dad smoothed it over as always with this bundle of fur that joined our family and lived a happy life with us.
Dad emigrated from West of Ireland when he was only 18 years of age. On travels back to Ireland to see his family, Dad would always pullover on the side of the road if he saw somebody stranded with a broken down vehicle. Numerous times I recall this happening with Dad in the pouring rain helping a complete stranger. 
Precious moments between a grandfather and grandson
My most memorable, precious time with Dad is when I had just had my youngest son, Conner. Dad was at my bedside within a few hours holding Conner with a huge smile. He suddenly looked up at me and said "Conner is going to be special". Roll on a few years, Conner was diagnosed with autism.
Dad and Conner have the most closest bond between them. Conner always trusted my dad implicitly for his kind, calm love for him.
Endless hours my dad would sit with Conner just in silence. The bond was and still is incredible.
Conner is truly devastated and never stops trying to talk to him. My dad really did bring the best out in his grandson. The look of love in Dad's eyes for Conner is truly precious and I thank Dad for giving this to him as with autism, like Alzheimer's and dementia, it's a cruel, lonely world to be in.
Noticing changes in Dad
My dad's dementia journey started nine years ago.
One day he had gone to change his car tyres, which was only a 15 minute journey from home. Three hours later, after calls to hospitals and family members searching for Dad, he finally arrived home.
After a story about a mix up with tyres that he told us (we knew it wasn't true) we soon realised Dad had lost his way home. He had pulled over into a lay by and sat there. Then he eventually made his way home.
At the time it was put down to "old age".
Fast forward nine years later after endless falls, wandering the streets after walking out the back door unnoticed, six admissions to hospitals and having to be sectioned due to his escalation of this awful disease, he was eventually transferred permanently to a nursing home.
I can't tell you how immensley proud I am of him and the determination he has shown to try and stay with his family throughout his deterioration of Alzheimer's mixed dementia.
Living in residential care
I have watched my dad endlessly beg for help to take him home. I've listened to him talk about his mum who died 30 years ago. He also asked me last Father's Day "Who are you?" when I gave him his card!
I can't describe the pain and torment I feel watching the proud family man, with so much pride, that ALWAYS wore suits, shirt and ties, now resort to wearing a pad and having round-the-clock care with no verbal communication.
Dad has held my hand with tears falling down his cheeks with a soul-searching look into my eyes but unable to communicate with me.
The only way he communicates now is with tears. My recent visit was greeted with the nurse saying when he heard my name he started to cry.

This is a photograph of Dad and me from last year. This picture takes pride of place in his bedroom at the nursing home and in my home.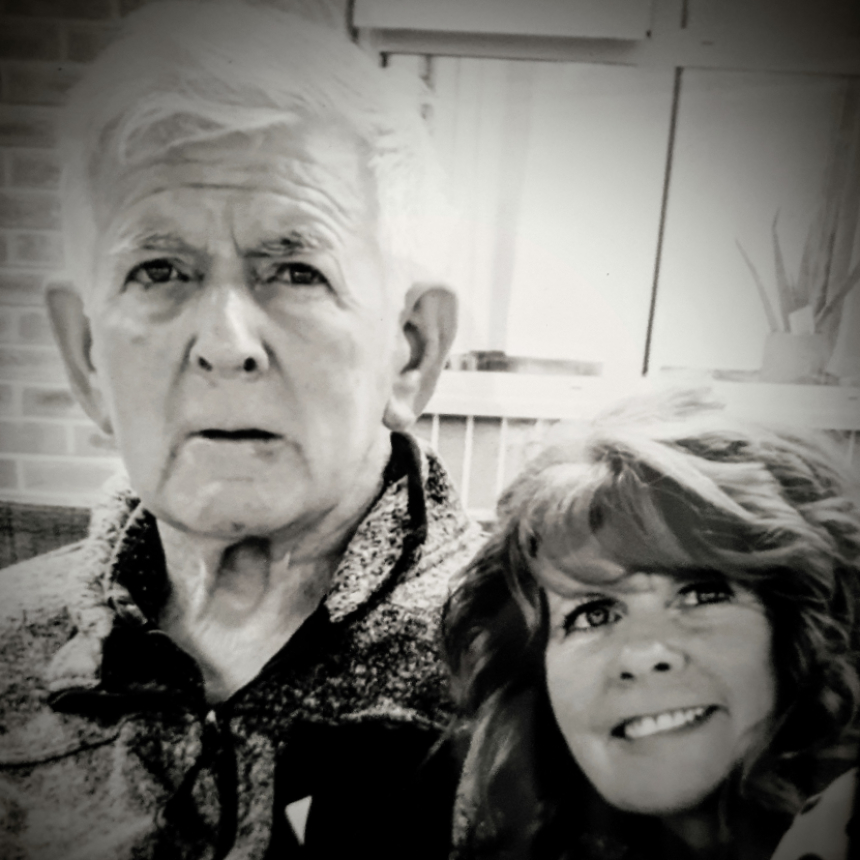 ​
I have lost count of the times I have broken down, tormented myself when I have to leave him after our visits. I have cried endlessly in the car and felt completely broken knowing after the 55 years Dad has loved and protected me that when he needs it most of all, I can't return it.
The one thing that I can give my dad is the unconditional love that he gave to his family.
I tell him every visit how much he is loved and how much of a good father he has been.
I don't know how much time we have left? He is in the final stages. My one wish now is that Dad goes in peace. Dementia has tormented him cruelly and ravaged him for long enough.
If there's one thing I know I can hold onto, it's the truest words I have ever heard:
Dementia can take away and destroy the memory, but it will never take away the love in someone's heart.
I hope some families find peace reading my journey, knowing that they are not alone.