Oscar-nominated actress Carey Mulligan is Alzheimer's Society's Global Dementia Friends Ambassador. To mark World Alzheimer's Day, Carey discusses the urgent need to tackle dementia stigma on a global scale.
'I want every person in every corner of the world to be dementia aware'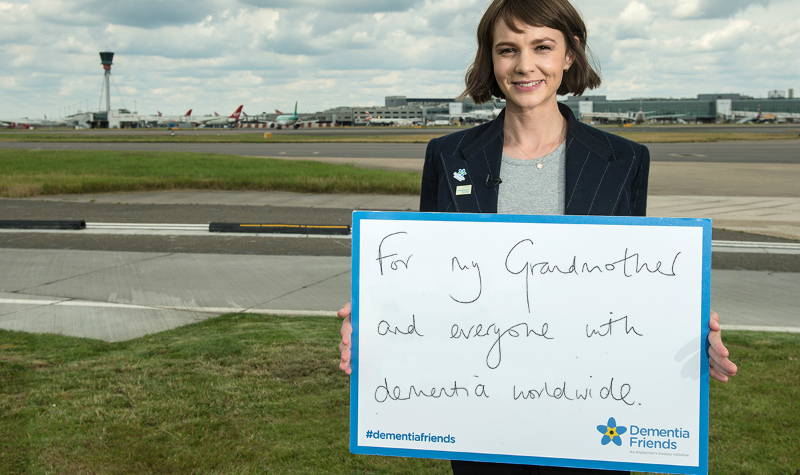 I was recently at a busy London tube station and noticed a queue forming ahead at the Oyster barrier. I looked ahead, too, and saw an elderly woman. She was at the barrier trying to use a paper ticket on the Oyster reader, repeatedly. She was clearly struggling. Not one person stopped to ask her if she was okay.
It was so evident to me that the woman had dementia. In that moment, I was more conscious than ever that we're living in a society that isn't fully dementia aware.
Dementia is the biggest health crisis facing our society today. 850,000 people in the UK have dementia – over 47million people live with the condition the world over.
There's a long way to go until society fully accepts what it actually means for a person to have dementia – and to think, act and talk about it in a way that means a person with dementia feels included and involved in their community.
My personal experience of dementia comes through my dear grandmother Nans. Nans has had dementia for about 15 years – and in that time I've seen a huge amount of change in her.
We've always been incredibly close. She was – and is – the warmest, most intelligent and gentle woman. She is the single most influential person in my life aside from my parents.
My earliest memories of Nans showing symptoms of dementia include her losing her way home on a short walk to the village, a walk she had taken hundreds of times before. I remember sitting down to a meal with her and watching her stare at her knife and fork having completely forgotten how to use them.
Today Nans rarely communicates verbally and most of the time her eyes are closed. Sometimes it feels like she's not there anymore and that we just can't reach her. However, she is very much still there and there is so much more to Nans than the dementia. For every visit that ends in tears of sadness, there are visits where we weep with joy. Like her 90th birthday party where her carers came in on their day off to join her close family and the friends she has known her whole life as they gathered to celebrate her.
One of the positives that has come out of our experience is being able to better see the world through the eyes of someone who is living with dementia. That elderly woman in the tube station could so easily have been Nans and I want to live in a society where she would not have struggled alone while people passed her by.
We all desire a more empathetic and compassionate society and I'm passionate about promoting greater awareness and tackling stigma around dementia, To that end, Alzheimer's Society recently asked me to be the UK's first ever Global Dementia Friends Ambassador.
The Dementia Friends initiative is doing amazing work in England and Wales. The biggest social action movement of its kind in the UK, there are 1.6 million people signed up to take action and change the way people think, act and talk about dementia.
Yet dementia doesn't stop at UK borders and stigma is still rife in parts of the world.
In some countries, people with dementia are locked away or seen as being "mad".
At the moment, there's not nearly enough awareness around dementia and as a global society we have a duty to change that.
Being the UK's Global Dementia Friends Ambassador will enable me to inspire change the world over, as well as on our doorstep. From leading a Dementia Friends session for young people in LA to mark World Alzheimer's Day to meeting world leaders and encouraging them to take dementia stigma seriously, I'll be doing everything I can.
I've been asked many times what being a Dementia Friend – and undertaking this role – means to me. It means living in a society where we are dementia aware – whether that's of the best way to support a loved one with dementia symptoms or an old lady showing signs of confusion at an Oyster barrier. It means a society where people look out for others – where they are warm, friendly and helpful.
It means everyone with dementia being treated with the respect and dignity they deserve, and not feeling ashamed or afraid. It means creating a world where every person in every corner of the world is dementia aware.