A man whose late wife had dementia has left Alzheimer's Society a gift in his will
Don Day, whose wife and mother-in-law both had Alzheimer's, is leaving a legacy to the Society and wants others to think about doing the same.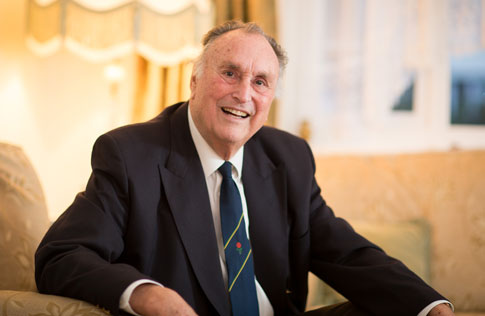 Don says,
'My mother-in-law was committed to what I would call an "asylum" 30 years ago, as there wasn't an appreciation of Alzheimer's disease at that time.'
'Alzheimer's Society has done a great deal to bring to the notice of the public that Alzheimer's is a degenerative disease, not a mental condition. With my wife, the Society assisted me in what I should be doing and how I should be doing it.'
Legacy ambassador
Don, a former financial managing director, says his estate will be worth a substantial amount, all of which will come to Alzheimer's Society.
Although Don decided to leave an unusually large legacy to the Society in his will, every gift is valued highly. After looking after family and friends, even 1 per cent of someone's estate can do much to support our work.
Don is now one of our legacy ambassadors, promoting legacy giving at events and through the media. He spoke at a legacy event in Derbyshire earlier this year, and will speak at a carol concert in December.
Don sees being an ambassador as returning the Society's support he received as a carer, also helping with legal matters after deciding to donate his estate.
Down a staircase
Pat, Don's late wife, was diagnosed with Alzheimer's eight years ago. Don cared for her at home for three years, which he describes as having been a '26-hour day, nine-day week' role. Pat would leave the house looking for her dad, who had been dead for 10 years.
Don says,
'Eventually it was safest for her to be in a home. We found a place with kind people that ticked all the boxes.'
Pat lived there for four years before she died in March.
Don says,
'Alzheimer's is like going down a staircase,' says Don, 'but sometimes the steps are two inches deep and sometimes they are two feet deep.
'You don't know when the next step will happen or how deep it will be.'
Vital funds
Don hopes his sizeable donation will help fund vital research into dementia. He compares the work needed to the strides made in cancer awareness and research.
'By bringing cancer to the public notice and getting voluntary contributions they went a long way to cracking it.
'Alzheimer's Society can fill a gap in the research, but you've got to keep at it. If one avenue is blind then you try another.'