Learn more about our work at Alzheimer's Society Legacy events.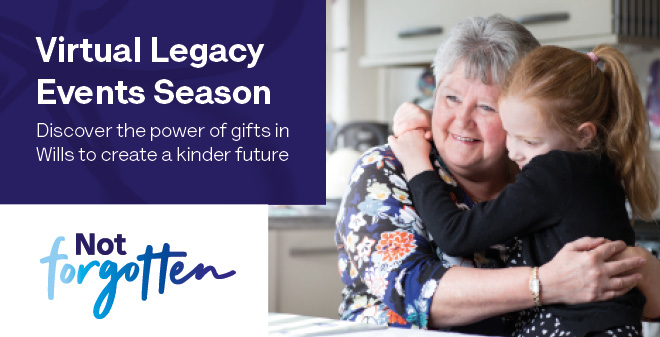 A gift in your Will to Alzheimer's Society is a legacy to future generations and an investment toward a dementia-free world.
We know it is an important decision, and we want you to have all the information you need about our plans to revolutionise research, care and public knowledge about dementia.
This April we're delighted to present our spring Virtual Legacy Events Season. You'll be able to hear from staff, volunteers and supporters about how our work impacts the lives of people affected by dementia, and the power a gift in your Will could have to ensure people living with dementia in the future are not forgotten.
Our events are free for anyone to attend and we'll be hosting them on Zoom, so if you would like to attend one of our virtual events, please email us at [email protected]
Spring Virtual Legacy Events Season
Our services through the pandemic
Thursday 15 April 2021, 1pm-2pm
Over the past year, Covid-19 has changed everything for people affected by dementia. During this event you will hear directly from our staff and volunteers to get an insight into what we've been doing to provide support for those affected by dementia through this extremely challenging year.
Campaigns - the Covid-19 care home crisis
Tuesday 20 April 2021, 2pm-3pm
We'll be showing you how our campaigns and policy team at Alzheimer's Society make change happen for people affected by dementia. You'll be hearing directly from those involved in helping loved ones see each other in care homes over the last year, during the pandemic. This timeline event will set the scene for how policy changes are made, from identifying need to implementing change on a local level.
Let us answer your Will-writing questions!
Thursday 22 April 2021, 1pm-2pm
Gifts in Wills help us ensure that people affected by dementia are not forgotten. Join us to find out everything you've ever wanted to know about Will-writing, why gifts in Wills are so important to us here at Alzheimer's Society, and how we can help you to get your affairs in order.
If you would like to attend one of our online events, please email [email protected]
Not able to attend any of these events? If you would like to hear about future Legacy events, send us an email and we'll be in touch.