A range of books on prescription can help people with dementia and carers
From the July 2015 issue of our magazine, Reading Well Books on Prescription for dementia recommends books that people affected by the condition may find helpful. Andrew Bence meets people at a reading by one of the authors.
After her mother died, Lucy Whitman began writing about her experiences as a carer. She went on to interview 20 fellow carers in the hope that collectively their stories might help others.
Her book, Telling tales about dementia: experiences of caring, has been doing just that since 2009.
It was one of 25 titles chosen for this year's Reading Well Books on Prescription list for dementia, endorsed by professionals and supported by Alzheimer's Society. They are widely available, including from public libraries in England.
Enfield Town Library, in north London, hosted a reading by Lucy to mark Dementia Awareness Week, part of a series of events promoting Reading Well.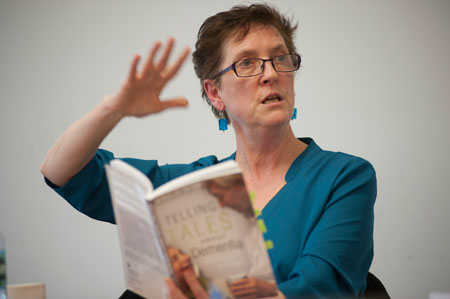 Shared experience
Extracts from Lucy's book touched on familiar issues and themes, each made all the more powerful by personal testimony.
Marilyn, a mental health nurse, found that despite her professional background, she was wholly unprepared for the impact her mother's dementia had on family life.
Peggy struggled to find the right support for her sister Kathleen, whose combination of Down's syndrome and Alzheimer's was little understood at the time.
Debbie described the most difficult decision of her life - the day she decided her husband, Chris, should move into a care home.
For Steve there were few positives in his mother's last years, but the unintended humour of some of her utterances - grandson Rubin becoming Rhubarb, a man described as arriving 'with a very important moustache' - would make them both laugh.
Recommended reads
Of the other titles on Reading Well's list, Lucy's favourites include the reference book Alzheimer's and other dementias, which she clung to as a novice carer.
She also recommends And still the music plays, with its tenderly written and engrossing insights into behaviours that are challenging, and Dancing with dementia, Christine Bryden's vivid and optimistic account of life with the condition.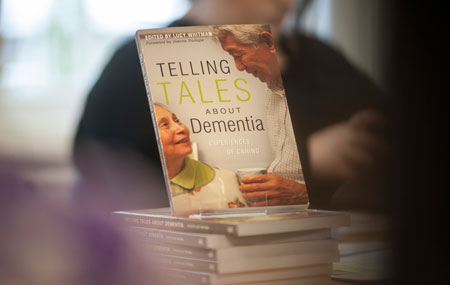 The only fiction on the list is Still Alice by Lisa Genova, recently made into a film, and Grandma, a children's book by Jessica Shepherd.
Lucy bristles slightly at the suggestion that more fiction should have been included - perhaps a natural reaction for someone instinctively protective towards those who have, like her, known dementia for real.
However, fiction can also tackle the darkest and most difficult human experiences, firing the imagination and helping us learn about who we are.
Through the fog
Among the library audience in Enfield is Marianne, who says she knew nothing about Alzheimer's when her late mother was first diagnosed.
'I didn't know where to turn. These books would have been a huge help. But for us it was like walking through fog. Now I'm an expert. Even my GP defers to me on matters concerning dementia.'
Sitting opposite and listening carefully is Sadie with her daughters, Siobhan and Ruth. Everything these women say confirms the need for words of information, advice and encouragement to be made readily available to all who need them.
They say that their GP has given them little advice or insight into the journey ahead, and no suggestions as to where they might find support. Here, among informed and sympathetic strangers, the fog begins to lift.
Libraries for all
Lucy tells her audience,
'Arm yourselves with information. Information is knowledge, and knowledge is power.'
It's a particularly apt message given the location of the meeting. Today's libraries are unique social spaces for people of all generations. At their best, such as here in Enfield, they are comfortable, welcoming and well resourced.
With something for everyone, the Reading Well collection is just one reason for people affected by dementia to reacquaint themselves with their local library.
For more about the Reading Well Books on Prescription for dementia.
Lucy Whitman's new book, People with dementia speak out, is published this September by Jessica Kingsley.