Media volunteers help public awareness by sharing their stories
From the May 2015 issue of our magazine, while our celebrity ambassadors give fantastic support and a well-known face to the work of Alzheimer's Society, local people's stories can really help to keep dementia in the public eye.
Media volunteers are people with dementia, carers, friends and family who share their experiences to raise awareness of dementia, local services, Dementia Friends or fundraising events such as Memory Walk.
Pat Mitchell's husband, Cliff, has Alzheimer's and vascular dementia and she is a media volunteer in Bristol.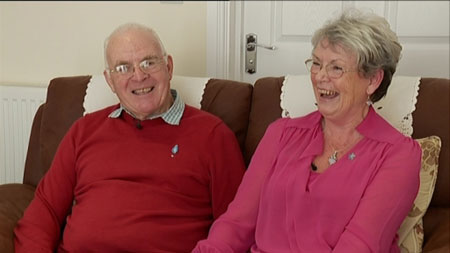 Pat (pictured with Cliff) said,
'I didn't think that this was something I would do, but I enjoy speaking about what we've learnt on our journey with dementia.

'Being filmed for ITV's Text Santa was a little nerve-wracking, but it's good to know we can help benefit others through sharing our story.'
Taking part in TV or radio interviews is a great way to reach a wide audience. Giving quotes and stories to newspapers can also make all the difference to how well the Society features in local and national press.
Jo Cunningham, a media volunteer in the West Midlands, said,
'At times it can be difficult to know what more we can do to help a family member who's living with the reality of dementia.

'Telling others who may be in a similar situation what support is available and helping to break the silence around dementia is one way I know I can do something really valuable.'
For information about how to become a media volunteer, please call 0117 967 9071 or email [email protected]
If you'd like to share your story with us, for potential use in the media or to raise awareness, fill in our form here, and we'll be in touch.