Choosing the best care home for someone can be a long and painstaking process
From the June 2015 issue of our magazine, choosing the right care home for a person with dementia can be a long and painstaking ordeal. Luke Bishop talks to a daughter who found the process particularly frustrating.
For Sue Bainbridge from Derby, finding a care home for her late father, Ray, involved more than six months of searching, visiting and applying.
Ray had been in a hospital dementia unit since June 2014, and sadly passed away there in March shortly after Sue had found a suitable care home place for him.
Apart from finding a care home that could care for someone with his advanced stage of dementia, Sue found that homes felt unable to deal with some of the ways his behaviour had changed, such as no longer sleeping at night.
She says,
'As soon as you say that to some care homes it really puts them off. One care home did assess him and told us they couldn't take him as he didn't sleep and were very negative about that.'
Very independent
Ray was diagnosed with Alzheimer's disease in May 2013, although his family had noticed signs of dementia some years earlier.
Ray lived at home with his wife Valerie until last summer, and after she had a stroke in 2009 he was also her carer. Even immediately after his dementia diagnosis he continued to care for his wife with relatively little help.
Sue says,
'Mum and Dad were very independent. They had always been that way and, while we would try to support them at home, Dad was reluctant to have anyone going around and helping out.

'My dad, despite his own problems, was looking after the physical side of things because of my mother's mobility problems.'
Meanwhile, Valerie dealt with areas that Ray found more difficult.
'Between them they seemed to be coping for a while.'
From early 2014 Valerie was in and out of hospital for several months due to complications from an infection. Initially Ray went with her and the hospital's intermediate care team arranged for him to be supported at home during Valerie's hospital stays.
However it soon became clear to Sue that it was no longer safe for her father to live by himself.
'He would wander off and say he was trying to "get home". One of the neighbours found him walking about and drove him back home.

'He was persuaded to go into some respite care but became aggressive and lashed out at some of the staff, and so he couldn't stay there.

'So the community psychiatric nurse arranged for him to get a placement at a local dementia unit.'
Appropriate care
At an initial funding meeting with her local authority, Sue was surprised to receive a list of only seven or so care homes that would be appropriate for her father's late stage of dementia.
She researched all the homes on the list, checking their inspection reports on the Care Quality Commission (CQC) website. She paid particular attention to how they were rated for administering medication, as her father often refused to take his.
Sue secured a place for Ray at one care home early on in her search. However he was sent back to the dementia unit after only two days as the home felt he had been discharged from hospital too early.
Another care home said they were unable to take Ray because of the particular symptoms of his dementia, while another simply didn't return Sue's phone calls.
She says,
'Unfortunately there was a definite dip in my dad's condition when he went to the first care home and was sent back - he never quite recovered from it.'
As Ray's behaviour continued to change, Sue says that care homes appeared to be put off further.
'Looking for other care homes was complicated by the fact that he stopped sleeping during the night and so would make noise and move around.'
Stressful process
The process of searching was stressful for Sue, an only child and mother of three. She had a great deal of support from her husband, Ian, who accompanied her on visits and helped with her caring responsibilities. The staff at the dementia unit were also supportive.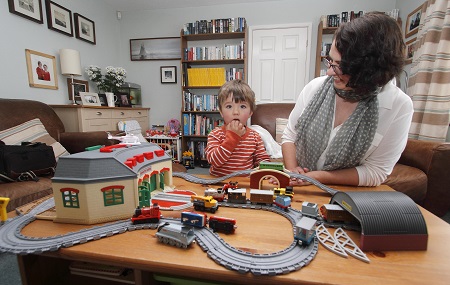 'They obviously encouraged us to look for care homes for Dad but did not put any pressure on us - as long as they saw that we were trying to find somewhere suitable for him they were more than happy to continue to care for him.

'It was an excellent facility and what we really had been looking for was somewhere as good as there.

'Dad received wonderful care right up until the end, which was a comfort for us. I feel that he was very lucky to be placed in the dementia unit even though it was an incredibly tough thing for us to do.'
Long and difficult
Shortly before Ray died Sue did find a care home that accepted his needs, though she had to go outside of her local authority area to do so.
Looking back at the whole process she adds,
'I never expected it to take so long or be so difficult to find a suitable care home.

'I found it particularly disappointing that care homes who advertise as taking people with dementia don't always, in reality, accept people with advanced dementia and the difficult behaviours this can bring.'
Looking for the right care home
For inspection reports and ratings for registered care homes in England see the CQC.
Inspection reports in Wales are available from the Care and Social Services Inspectorate Wales and in Northern Ireland from the Regulation and Quality Improvement Authority.
A number of websites enable people to search for local care homes, including one run by the Elderly Accommodation Council - www.housingcare.org
Care homes can decide whether or not to accept a new resident. If not, this is usually because they cannot meet their care needs or do not have space. If an individual or their carer feels they have been rejected on discriminatory grounds they can complain to the care home, and if this is unsatisfactory then the complaint may be escalated.
If a resident's needs change greatly and these needs cannot be met in their present care home, the home may request that a more suitable place is found. For example, the person may now need nursing care rather than social and personal care. It is worth consulting the contract to check that it covers the grounds given for this.
See our factsheet Selecting a care home or call 0300 303 5933 to order.