people at a south London dementia cafe look at new women's fashions designed for easier dressing.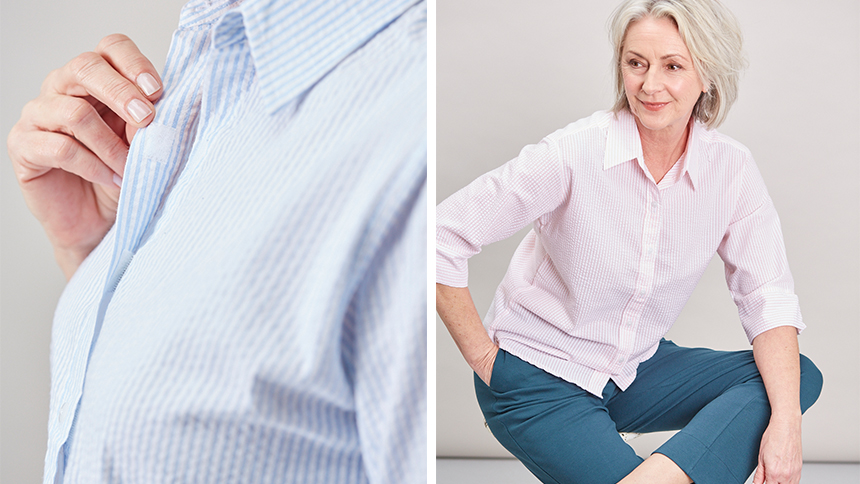 'Camilla' shirt from the Able Label
Primrose Cafe had just moved to a new venue in Bermondsey, south London, when we visited with some specially designed women's clothes for them to try out. The clothes were from the Able Label's latest range, many of which are available in our online shop.
Shop for easywear clothing and many other daily living aids in our online shop.
Visit shop
As people with dementia and carers arrived to catch up with each other's highs and lows, Katie Ellis was on hand to show them how the Able Label's clothes could make dressing and undressing easier.
Katie founded the Able Label after seeing how Parkinson's disease dementia affected her gran's ability to dress herself, and the impact this had on her gran's independence and sense of self. She was determined that women with similar conditions should be able to dress themselves in the clothes they like for as long as possible.
Attractive
While they are designed to be attractive, none of the Able Label's clothes have buttons or other fiddly fastenings, using strong velcro pads instead.
At Primrose Café, Bernie told Katie how her mother is finding it difficult to work zips, and so velcro could be helpful.
'Our clothes have the option of opening at the front,' added Katie, 'so you don't need to put them on over your head. The stretchy fabric on our jersey styles mean that putting your arms into the armholes is easier too.'
Although Caroline wondered if the buttons on one top – which are decorative only – might confuse people, Katie said, 'We've found that people find the buttons helpful because they can tell exactly where each velcro pad is.'
Bernie appreciated the importance of supporting a person with dementia to remain as independent as possible.
'I try to keep my mother doing stuff for herself – use it or lose it!' said Bernie. 'I don't want to do things for her automatically, until she actually needs it.'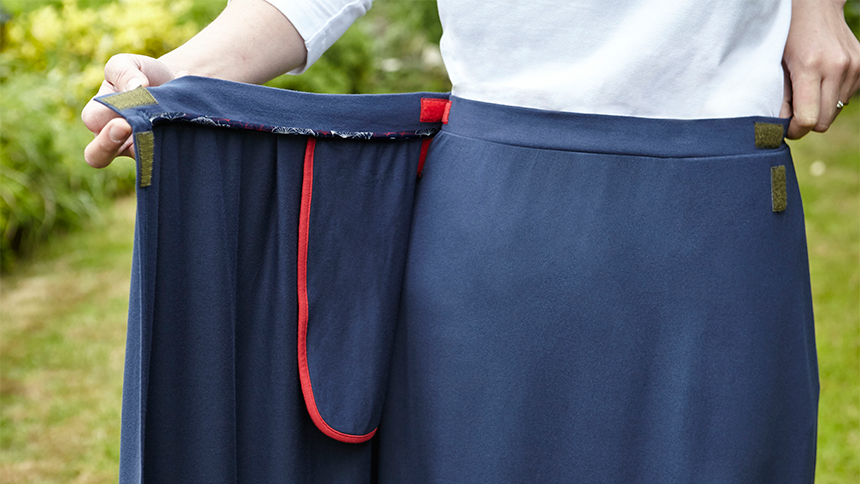 'Debbie' wrap skirt from the Able Label
Easywear
As Jean admired a soft pink 'Camilla' shirt, her daughters, Linda and Jan, recognised the fabric as seersucker.
'You used to wear seersucker, Mum!' said Linda. Seeing how simply the velcro pads could be done up at the front, she added, 'That would be much easier for you.'
Jean also liked the 'Charlie' woven floral shirt, saying, 'It's pretty!'
Katie pointed out that the tops were cut in a way so they would still look great and feel comfortable if someone spends a lot of time sitting down.
Showing them a pair of black 'Frankie' trousers, Katie said, 'Our trousers are jersey, and you just pull them up, with no fastening at the waist.'
Feeling the material, Linda said, 'They're similar to what you wear, Mum, but softer. And you just pull them on, not like when you wear your jeans.'
Linda also appreciated the fact that sizes were defined clearly.
Quality
Although clothes from the Able Label aren't the cheapest available – £45 for a cape and £47.50 for a seersucker shirt or a pair of jersey trousers – they are VAT exempt if bought for a person with dementia, which means almost a fifth off the price.
Katie noted that the prices compare well to clothes of a similar quality, and Bernie – a machinist – appreciated how much time would go into sewing the velcro pads on securely. The premium velcro used also means that the pads will last, though Katie advised keeping them closed while washing them to help this.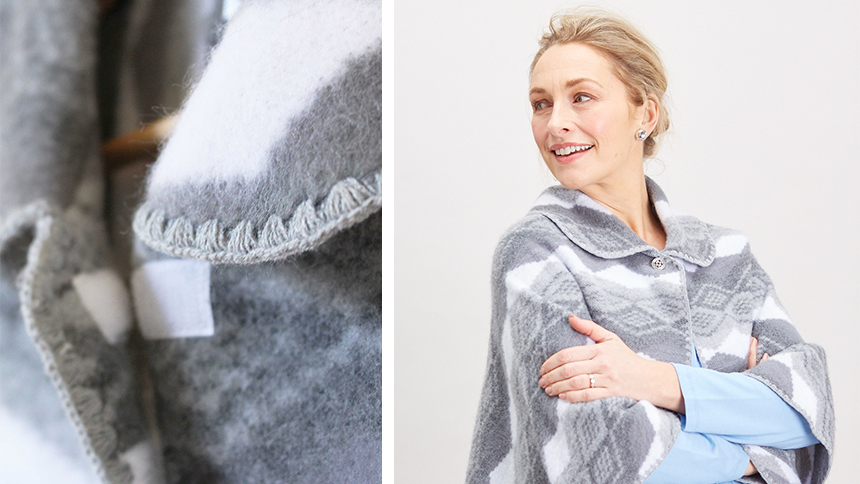 'Lilly' knitted cape from the Able Label
Popular
Katie also brought popular items that have been available in our online shop for some time. These included a 'Debbie' wrap skirt, which can be put on without bending, and 'Lilly' knitted cape, which is one of their best sellers.
Seeing how soft the cape was, Deniz said, 'I like that, I'd buy it as a present.' Then, gesturing to her daughter, she grinned and added, 'But I'd have to ask the boss!'
A number of people enjoyed feeling the fleece-lined 'Anna' non-slip bed socks, which come in a gift box.
'Ooh that is very nice, really nice and soft,' said Jean. 'I'll have a pair of them.'
Linda added, 'You wouldn't have to put slippers on, Mum!'
Next steps
For these and many other useful products, see our online shop.
Dementia together magazine: June/July 18
Dementia together magazine is for everyone in the dementia movement and anyone affected by the condition.
Subscribe now
More from Dementia together magazine: June/July 18:
Dementia together magazine is for everyone in the dementia movement and anyone affected by the condition.
Subscribe now