People with dementia try out a range of fiddle products that promote focus and tactile experiences.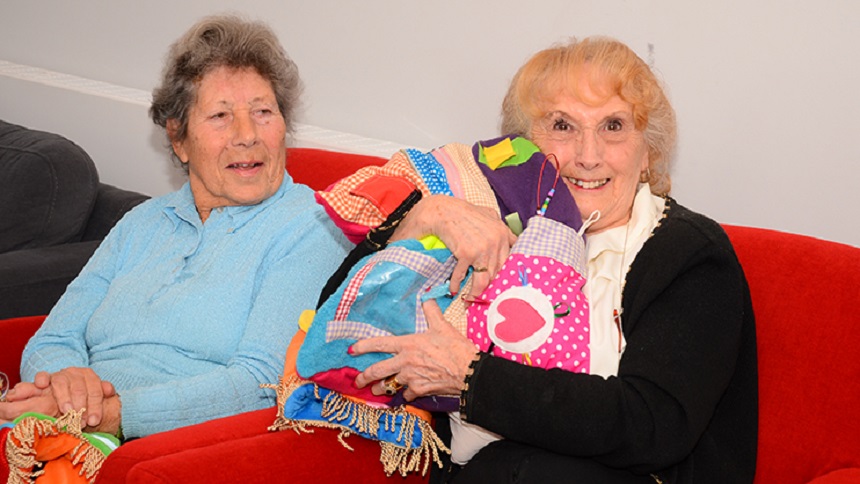 It was Ladies' Day at Marillac day care and support service in north-west London when we visited for our latest round of consumer feedback.
At our Barnet Dementia Hub, a group of women with dementia gave their opinions on a range of fiddle products designed to relax or stimulate.
As well as products that are currently available, the group also tried a prototype cushion that is still in development.
This means that their comments can be taken into account during the next stage of this product's design.
Prototype cushion
The new cushion is designed to provide sensory activities that people with dementia can focus on and enjoy. Made from soft materials, it has 'petals' that open outwards to reveal new textures and features.
The people at the group were interested in feeling the prototype, with Doreen particularly enjoying touching the soft white section, which she said was 'nice and warm'.
Another group member also enjoyed feeling that section, while commenting that she liked the two petals.
The petals were also popular with another group member, who liked how they opened up.
However, there was some confusion about how this product might actually be used. An unconvinced Jessie said, 'It does nothing for me, I'm afraid.'
One person found the buttons difficult to open and close, while another said the colours were a bit dull compared to the Sensory cushion.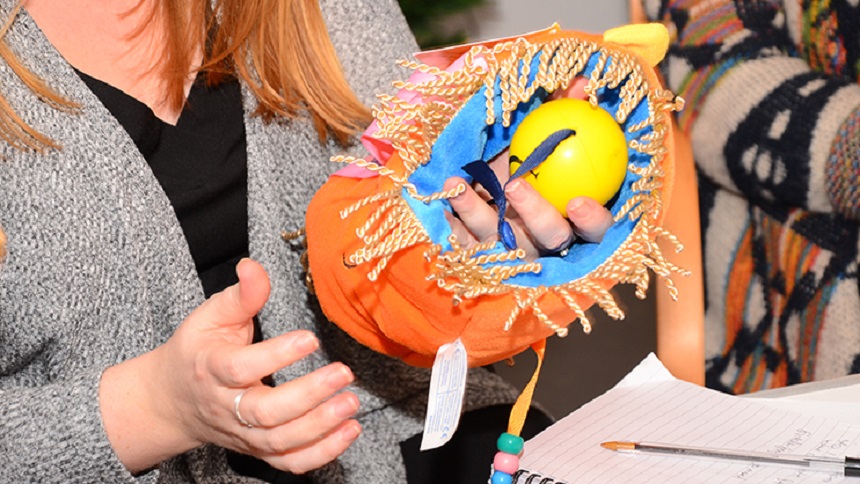 Fiddle muffs
The group tried out two fiddle muffs available from our online shop - one called Friendly lion, and the other called Buttons and beads.
The muffs are designed to relieve tension and restlessness as part of a comforting sensory experience.
'You can do what you like with it,' said Doreen. 'It's lovely - I'll have it!'
They can also be used as hand warmers, and both Doreen and Kim found it warm to place their hands inside.
Kim laughed as she played with one, though concluded that it was a bit too childlike for her.
Doris liked their appearance. 'It's good - very attractive,' she said.
Fiddle muff activity apron
The Fiddle muff activity apron is an interactive apron made of tactile materials. Attachments include a fiddle muff, a squeezable anti-stress ball and removable pockets that can hold photos or notes.
'It's amazing,' said Stella at first glance, though after picking the apron up she found it 'a bit heavy'.
Kim liked its bright colours, however another group member would have preferred them even brighter and without dark denim.
Another person noted that the pockets could be handy for receipts.
Sensory cushion
The Sensory cushion is made of different fabrics that people can explore as a way to focus on an activity or simply to relax. It includes a transparent pocket to keep photos or other items to help reminiscence.
Helena said the cushion was 'big and very soft with lots of pockets and bits to touch'.
She also noted its 'different colours and patterns', while Kim added that it was 'very bright'.
One of the women said the cushion was a good size, though someone else said it was 'too loud' and had 'no sophistication'.
Doris liked the material and said the zips and beads were nice to touch, while another group member enjoyed its textures.
Next steps
For these and many other products, see our online shop.
Dementia together magazine: Feb/Mar 18
Dementia together magazine is for everyone in the dementia movement and anyone affected by the condition.
Subscribe now
More from Dementia together magazine: Feb/Mar 18:
Dementia together magazine is for everyone in the dementia movement and anyone affected by the condition.
Subscribe now