A south London activity group tries out a range of games and some gadgets that speak the time.
Daffodil Activity Group meets in a bright and well-kept community centre in south London once a week.
Dementia Support Worker Sheena Ogilvie and a committed team of volunteers create a welcoming place for people with dementia to enjoy a range of activities.
It was the perfect place for people to try out a range of games and a couple of gadgets from our online shop, any of which could also be great gift ideas.
Shop for gift ideas and useful products in our online shop.
Visit shop
Link and Think
There are four themed Link and Think games – Careers, Celebrity, Hobbies and Transport. Each has 24 tiles with a word on one side, and a large wooden dice with instructions and a question on each face.
With the tiles all facing down, players take turns to throw the dice, giving them a different number of words to reveal before answering questions such as 'Which is your favourite?' and 'What is different about them?'
Paul was delighted to draw his own former job – engineer – in the Careers game, and after drawing 'nurse', Maria had a lot to say about her experiences as a children's nurse.
Stewart's enjoyment of the game was clear, though he said, 'The dice is quite heavy and it makes you jump when it's rolled, as it's so noisy!'
Shelley added, 'This is a great conversation piece – I've never heard Stewart talk so much before about his hobbies and past.'
Jigsaws
Our shop has a range of jigsaw puzzles with different numbers of pieces, including a 63-piece set that features a painting of the Giant's Steps in Cornwall.
As he began to reconstruct this picture, Nicky recalled his own painting and sketching, as well as earlier memories.
'It reminds me of my childhood holidays to the seaside,' he said. Stewart appreciated the jigsaws' design and range.
'The pieces are easy to pick up as they are big,' he said. 'I like the different images the puzzles come in, I could do a different one each time.'
Aquapaints
Aquapaint sets each come with five images that start as a black outline on a white background, but which come to life in technicolour when brushed with water.
Paul liked carefully painting a tractor, 'It makes you forget your worries, so you can relax.'
Gloria noticed the image whitening again as it dried, and said she'd like to begin painting her picture of a romantic couple on a deckchair over again. 'I feel like I've achieved something,' she added.
Shelley said, 'These are very reasonably priced for how many you get, and you can reuse them.'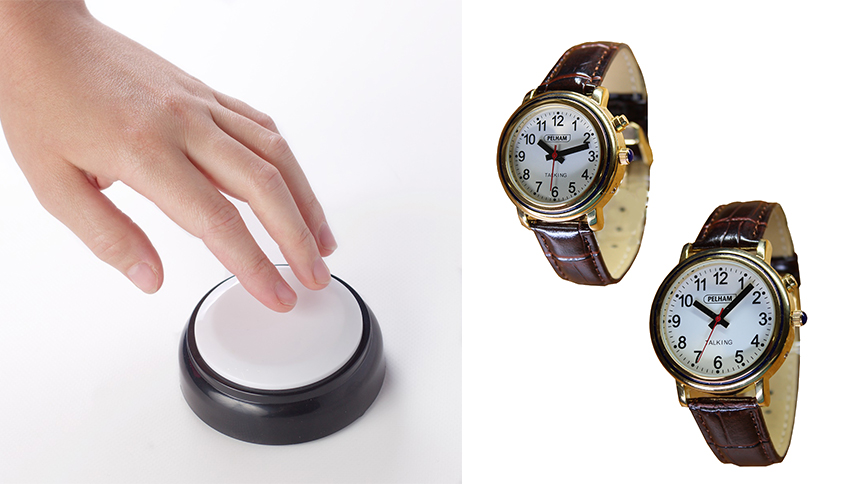 Talking watches
We showed the group two Pelham quartz watches that speak the time when you press a button, a 'women's' design with a 28mm face and a 42mm 'men's' version. Both have crocodile leather-effect straps, and gold coloured dial surround.
Shelley said it was 'a bit expensive' for a watch that didn't also light up, though Stewart thought it would be useful even without doing this.
'The watch needs a light on it,' he said, 'but the face is really big and clear for me to see. It's quite quiet, so I would have to hold it up to my ear to hear the time.'
However, the design was less to his taste, 'It looks like a women's watch more than a men's watch to me, due to the strap and how gold it is.'
Talking button clock
The Talking button clock speaks the time clearly and loudly when you press it, and the date if you press it a second time. It can also be set as an alarm. Maria was impressed by how easy it is to use. 'It's great!' she said.
However, Stewart thought a light on the button would be useful, so that it could be seen in the dark. 'It's very useful and loud enough to hear the time, and the date if needed too,' said Shelley.
Sheena agreed, 'It would be good to have by your bed in the morning!'
Most of these products are exempt from VAT if bought for a person with dementia or other condition – if so, then Link and Think games are £9.99, Aquapaint sets £12.49, jigsaws £9.99 and Talking watches £24.99 each. The Talking button clock is £17.25.
Next steps
For these and many other useful products and gifts, see our online shop.
Dementia together magazine: Aug/Sept 18
Dementia together magazine is for everyone in the dementia movement and anyone affected by the condition.
Subscribe now
More from Dementia together magazine: Aug/Sept 18:
Dementia together magazine is for everyone in the dementia movement and anyone affected by the condition.
Subscribe now