Encouraging inclusion with LGBT communities
Bring Dementia Out was an Alzheimer's Society project to encourage dementia-awareness and inclusion in Brighton and Manchester.
What was the purpose of the activity?
Alzheimer's Society's Innovation Team worked with LGBT+ communities, people affected by dementia and organisations to explore unmet needs in terms of dementia, to develop, and test, a solution.
Preparation:
The Innovation Team decided to use the LIFE model.

​
Preparation
The team looked at research and spoke to experts who have studied about the experiences of LGBT+ people and dementia. They identified that one of the main reasons people affected by dementia in LGBT+ communities had not come forward to be involved in research before, was stigma. 
How people affected by dementia were recruited to the project
The team reached out to experts and people affected by dementia involved with Alzheimer's Society and other organisations.  
The team put in a lot of time for engagement and building relationships and trust within the communities.
A lot of interest in getting involved came from reaching out through LGBT+ networks.
'The more we talked about our work, the more people came forward. I wanted to keep involvement flexible (face-to-face, over the phone, or email) so that people could be involved in the way that was most comfortable them. This took us from three people affected by dementia being involved, to over 20.'
- Natasha Howard
What happened
There were lots of ways for people to get involved in four stages of the LIFE model. For example:
Learn: talking to people to start to understand the challenges, and also helping to shape upcoming sessions together. 

Investigate: group discussion to learn about challenges and prioritise them was complemented by semi-structured interviews for people who could not attend the group session.  Again, there was the opportunity for people affected by dementia to influence the plans for the work.

Find:

50 people came up with over 100 ideas for possible solutions at a creative workshop in London. The participants included people affected by dementia, Alzheimer's Society staff, representatives from the National Dementia Action Alliance, Opening Doors London, Terrance Higgins Trust and many more. LGBT+ people affected by dementia shared their stories to give a range of lived experiences to reflect on.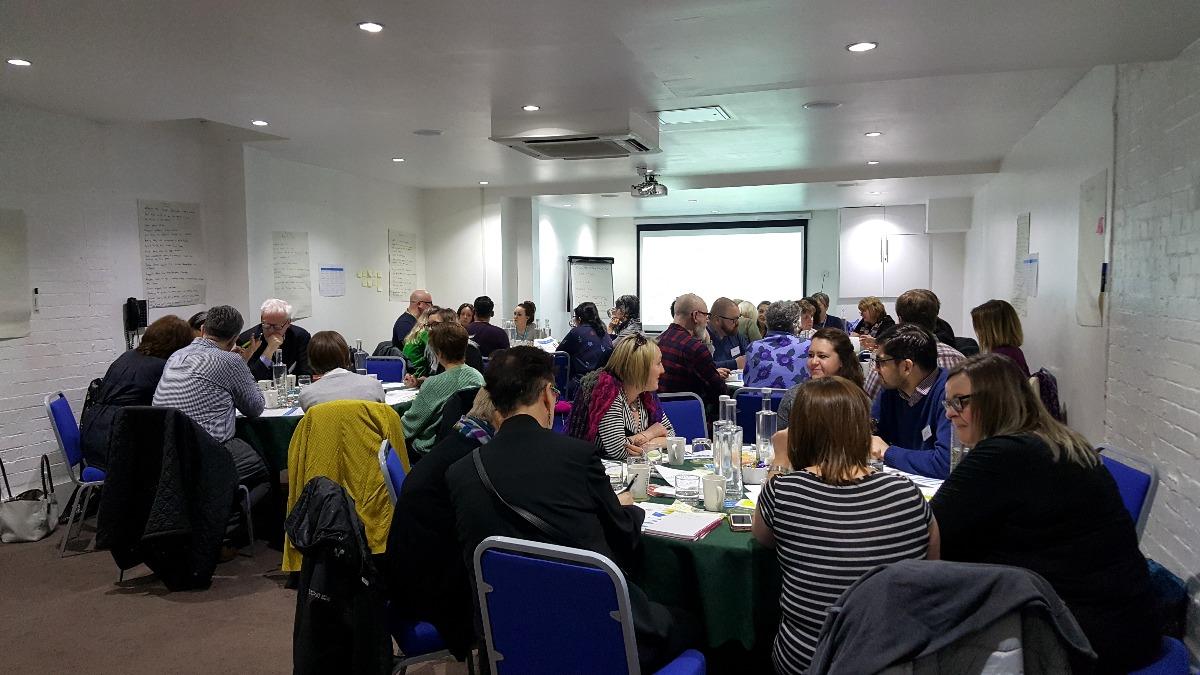 ​
The Innovation Team reviewed all the ideas, creating a shortlist of just five ideas. More involvement activity with LGBT+ people affected by dementia built on the ideas. Then they helped develop an online survey for the wider group of people involved in the project to narrow them down to just two ideas.

A dragon's den style panel, including an LGBT+ person with dementia, helped in deciding which of the final two ideas would be taken forward. The person with dementia was briefed a week in advance (talking through the criteria and encouraging him to feel able to be as frank as he liked in his feedback).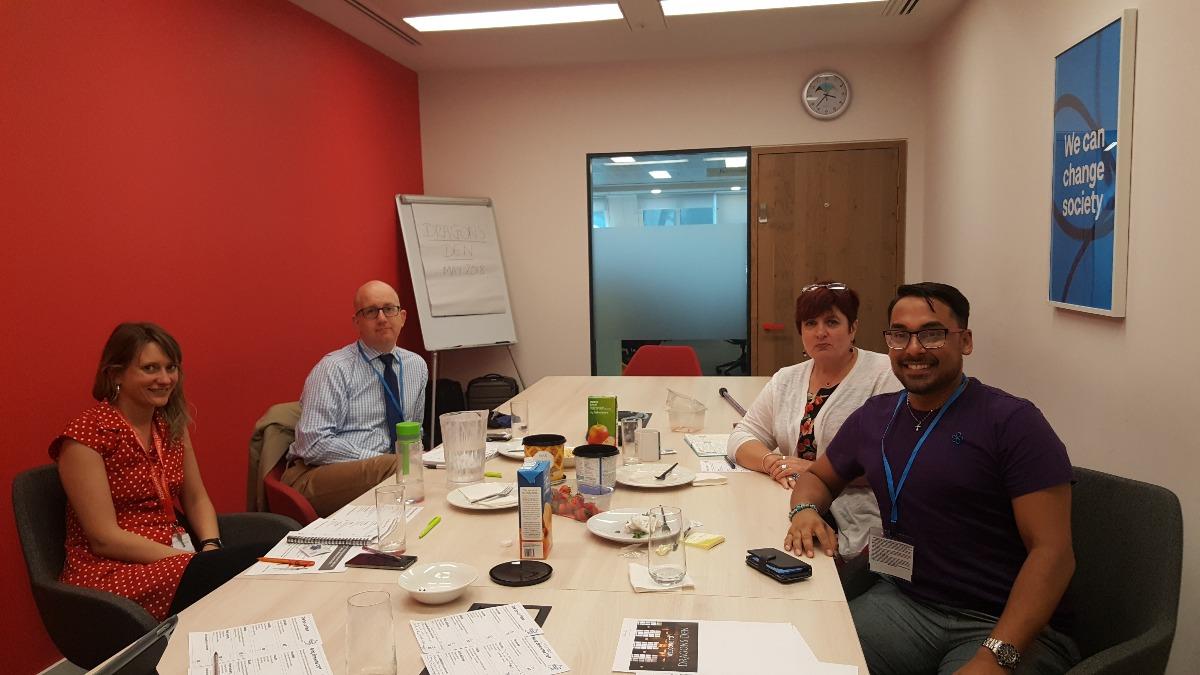 ​
• Experiment stage: The team tested 'Bring Dementia Out' in Brighton and Hove, and Greater Manchester over a two-month period, co-inciding with LGBT History Month.

LGBT+ people affected by dementia were involved in shaping this stage of the work, for example in producing and starring in a video, in testing and developing guides and posters and co-presenting at local community events.   
​
The Results
There has been TV and other media interest reaching many thousands of people, meetings in local communities, including with the LGBT+ people affected by dementia involved throughout the project.  An article in the Manchester Evening News, interviewing Patrick Ettenes, was shared almost 1,500 times in within a month of being published!
What changed for people with dementia
The Bring Dementia Out team identified outcome areas for the project. At the time of writing (early March 2019) it's too early to have much evidence for these, but initial quantitative and qualitative data is encouraging. For example:
Alzheimer's Society staff have better understanding and awareness of LGBT+ and dementia issues including positive language

the video was viewed almost 300 times in the first month
a manager shared the video at a staff away day and fedback 'Fantastic video – received so well at the away day. Teams and staff members have been really enthused by the project and often mention the power the video had to portray the need for better support for the LBGT community.' 

LGBT+ communities have more awareness and understanding of dementia
Feedback from LGBT+ people affected by dementia who were involved in the project
'This amazing new creative project is without a doubt, not only a first, but also making ground-breaking progress that will have a long-lasting legacy and provide an example of excellence.' 

'There's no support groups in the LGBT community for people like me, but when you have to start thinking about what you want to come about, it gives you a different perspective. I asked myself if I want that support, how am I going to get it? Talking it through with other people like me was good. I'm younger than many people with dementia, so I can feel alone. I started spending time with more people in their 50sand 60s, saw how dementia affected them and it helped me not to feel so alone.' 
Learning points
The key thing was being flexible – involvement could be through a phone call, a meeting, as much or as little as you like. So although 5 or 6 people affected by dementia were more visible, a lot more were involved by phone or email – that was very important.'(Natasha Howard)
'The people involved in this piece of work have been leading with us from the front. It has been a true partnership, and something that has made this piece of work as powerful as it can be, coming from the voice of those with experience.' (Natasha Howard)
'You need lots of empathy and understanding. Be bubbly, don't treat it s a classroom, but as a social gathering – that makes people feel at ease – and always be willing to learn even things like if the room is too hot or the lighting or you need a drink. All those little things help - Tasha was brilliant!' (Patrick Ettenes)
Key contact if you want to find out more:
Innovation Team, Alzheimer's Society Email: [email protected] 
Useful Links
BN1 - Brighton and Hove news about Bring Dementia Out including contributions by Chris, Mike and Tom who are all LGBT+ people affected by dementia who have been involved in this project
Brighton Magazine - Bring Dementia Out (Jan 2019)
Bring Dementia Out on Alzheimer's Society website
Interview with Patrick Ettenes about Bring Dementia Out - Manchester Evening News (Jan 2019)
LGBT: Living with dementia - Alzheimer's Society website
News story from National Dementia Action Alliance (one of the project partners)(Jan 2019)
Switchboard partners with Alzheimer's Society to Bring Dementia Out